First of all, our newest island!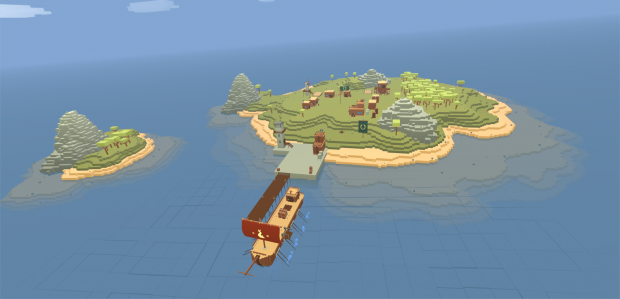 As you can see, this island looks a lot different than the ones seen in our older screenshots and videos, and there's a good reason for that. We were never really happy with our older islands, so we decided to throw them out and start over - the island you see here has been made with brand new custom made tools and is the first of many we will include in Freebooter.
Beyond making the islands faster and easier to make, these new tools allow us to improve the detail we can put into the islands. For example, the underwater sand and cliffs seen in the above screenshot would have taken too long to make without our new tools.
We are very excited about the possibilities for islands this new way of making islands open up for us and we hope to be able to show more islands to illustrate these relatively soon.
We have also added new assets for islands recently - flags and banners. Since they display the icon and colours of their factions, flags and banners serve to inform the player of an islands allegiance.
These are still pretty rough and they will probably be tweaked before release.
That's all we have for today - Thanks for reading! As always if you want to keep up with our work on Freebooter, feel free to track the game here on indieDB.