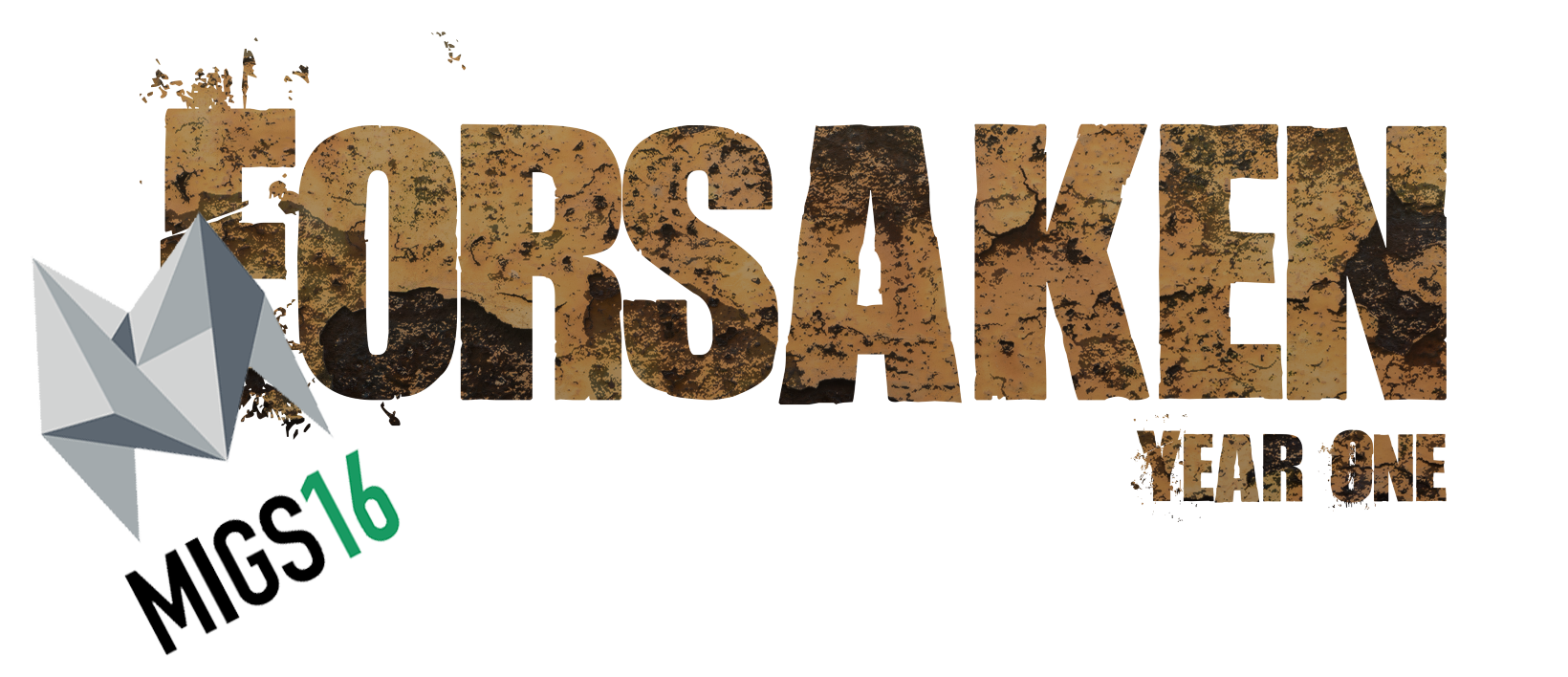 We were at the Montreal International Games Summit (MIGS) last week-end to show "Forsaken: Year One" for the first time, so it is time to look back on this event, and what was learned from it.
I] MIGS Setup
We were setup with an independent booth (a screen, a small space to store our stuff, a visual) and were to bring our own laptop or mobile device to show a playable version of the game or a video, or pretty much anything we wanted.

There was a total of 42 independent games being shown, including desktop, mobile and VR games, in different states of development.

The indie pods were located on the far side of the room, the rest was populated by big publishers, game engines booth and a very fun axe throwing game right next to us.

As mentioned before, it was the first time we went to that type of event, and it was very exciting to meet all the other indie developers (mostly from quebec, but also as far as argentina) and see their projects.
II] What we learned
The first lesson is always be prepared for anything. After about an hour into the first day, our laptop suddenly turned off never to turn on again. Luckily a friend of ours was accompanying us and was kind enough to lend his laptop for the entire duration of the conference… A big thank you to him, and a reminder that it's always good to be well surrounded!
The great thing was showing our project to gamers and other developers, explaining our vision for "Forsaken: Year One" and seeing their reaction to it. Even though we only had an early prototype to show the reactions were overall really good and positive. The art style was not unanimously appreciated and it went from it looks great to it is really bad (which was expected and pretty much correlates with the comments we have had so far).
The next thing we learned is that the game really needs a tutorial or some sort of objectives, as well as a sense of progression and achievements. Right now, we are dumping the player without any guidance and having access to everything available in the game, and that makes the player feel lost and he doesn't know what to do.
We also saw that the interface is not intuitive at all, and needs more iterations.
All this is of course expected since "Forsaken: Year One" is still in the early prototype phase, and has a very different and stylized art style, which cannot please everyone. At some point in the future we will ask ourselves if we should be giving the option to the player of another style or of switching to 3d if he wants.
Finally, the most important thing that we learned is that it is very good and very interesting to have shown "Forsaken: Year One", and for that matter any project, as soon as possible.
It was a great experience, very motivating and interesting, and I cant wait to show the next version, which will add all the things that we have learned, from looking at the other projects, and from all the interesting comments that we received from everyone.
Next update we will be talking about what we are describing what are our plans with "Forsaken: Year One". Talking about its inspirations, and the key gameplay points and how we plan on making our survivors unique and get the player to care about them.