Whew! Started feeling really rotten there at the end of the "break". Had too much going on in my personal life to spend a proper time on Sprout's Tale, but we're back now and, dare I say, with a vengeance.
Our enemies are, unfortunately, still rolling balls, so you'll just have to continue waiting on that front. But the good news is we've now got that awesome darkness effect with enemies that you could see in the 2D version AND we've now got a really cool but not-quite-finished system for the fire burning grass away.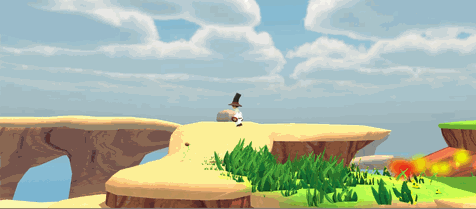 Touching burning grass is deadly!
I've also just about finished the first part, and what will hopefully end up being the larger part, of the main demo level. These will boil down to being basically the first and second levels of the game and
basically active tutorials. There is no reading to do and there are no verbal instructions. Glean from symbols and context like it's 1998, ya'll.
Here is the first forty-some seconds of that level. Don't cheat too hard.
And yes, I forgot to edit out the Unity bar at the top. So sue me. The second part of the level is going to be much more fairy-heavy. You'll have direct control of her actions and you'll need her to light the way, pick stuff up, and generally be your little helper. She's so nice.
I've got the thing mapped out and blocked out in white blocks, so let's see how it ends up.
Stay with us, we're almost ready.