Hi,
So I've spent the last day looking for any great software that will help me model the trees. Of course SpeedTree is the first thing that jumps to mind, its a really great piece of software and after creating a perfect acre tree I found out that, alas its not free and the exported model's poly-count was a little higher than I budgeted for, seeing as it is meant for UDK and Cryengine.
So it was modelling trees the original way, but they turned out fine.
Trees and the overall environment are very important visually due to the nature of the game. I'm going to try my best to create a, what at least seems authentic, medieval environment.
The map might be larger than what you'd expect. So I have plenty of room to go all out with the foliage.
Although foliage wont be something the player will interact or really pay attention to (unless you are a 3D artist or have a weird foliage fetish) its still important to me how they look and I tried keeping them recognizable, not just generic trunk-branch-leaf trees like certain other Medieval Based games did.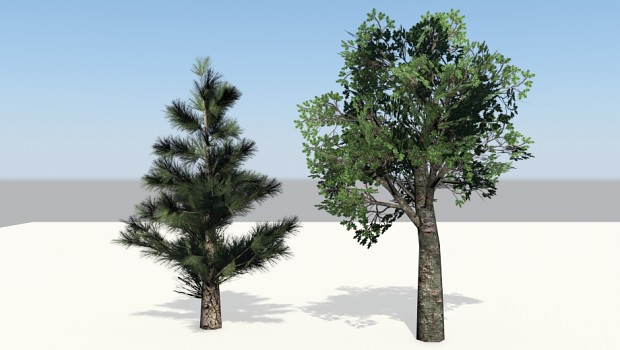 A render out of 3ds Max, Engine programmer havn't implemented texture support for models yet.
They are 1000 polys each and due to my Engine's restrictions, normal maps also isn't an option. Which I'm really disappointed about.
Like before, if there are any questions please ask.
Thanks for reading...
CGO
EDIT: Right after posting this, I realised there might be some confusion regarding the height.
So I imported Ben Jackson.obj, my human sized-bi racial-cube to demonstrate.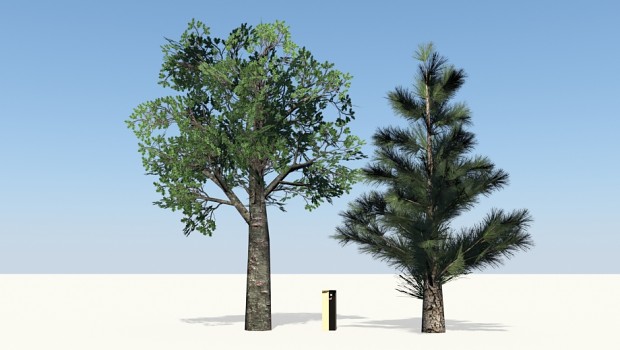 Might still do some minor adjustments...