So when is Flipper being released?
This Friday (9th of August 2013) actually! We've had a wonderful time finishing the game (Read: Crunch time) and making sure that every little feature we wanted in the game was included; although the list is ever-expanding!
Even though we are so near to completion, we have put a demo online for you to play right now so you can check out what Flipper has to offer, you can play it right here.
How much will it cost?
After a long discussion, we are aiming for the $1.99 across every platform. There will be a demo of course for every platform.
What is the "Chaser Mode"?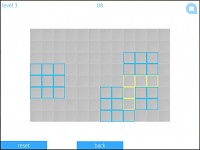 The Chaser mode puts you against a ruthless AI who constantly places blocks for you to match, the faster you match them the more time you earn. Chaser mode never ends but you can try and beat your highscore.
Support for everyone!
Yep, everyone, we've made sure that Flipper works across every device on every platform (minus some of the very old Android phones). So you can enjoy Flipper on your phone (iOS and Android), at home (Windows, Linux or Mac) or on your OUYA.
A new music track
Flipper has a new music track that we think fits very well with the gameplay, we are in the process of adding in last of the sounds before we release but we have a new version online that showcases it!
Whats next?
After the release of Flipper, we will keep adding new puzzles, modes and other content to keep you coming back for more. This was Just a Pixels first project together and its been a great ride, here's to the future!