Hey again everyone! We launched our Kickstarter for First Wonder last week and since then we've been plugging away at editing things, spreading the word and trying to figure out new ways to engage backers. During that original pitch video we showed off a bit of our co-founder Nick Bruty talking with industry legends Brian Fargo (Wasteland 2/Bard's Tale) and David Perry (original co-founder of Shiny Entertainment and Gaikai).
Today we have part one of that developer talk to share with you all and a bit of news about the Kickstarter itself, First Wonder's Steam Greenlight campaign and a few other tidbits. First off, here is the video:
The First Wonder Kickstarter has gained about a little over two hundred backers since our last update and we are still pushing forward with all of our might! We have 23 days to go and we need $465,000 to hit our initial goal, which seems like a huge leap, but we have a few plans up our sleeves and we've still yet to hit a very large portion of the market. If you are interested in the game at all, please give us a hand and share the news with the gaming world. Together we can spread the word.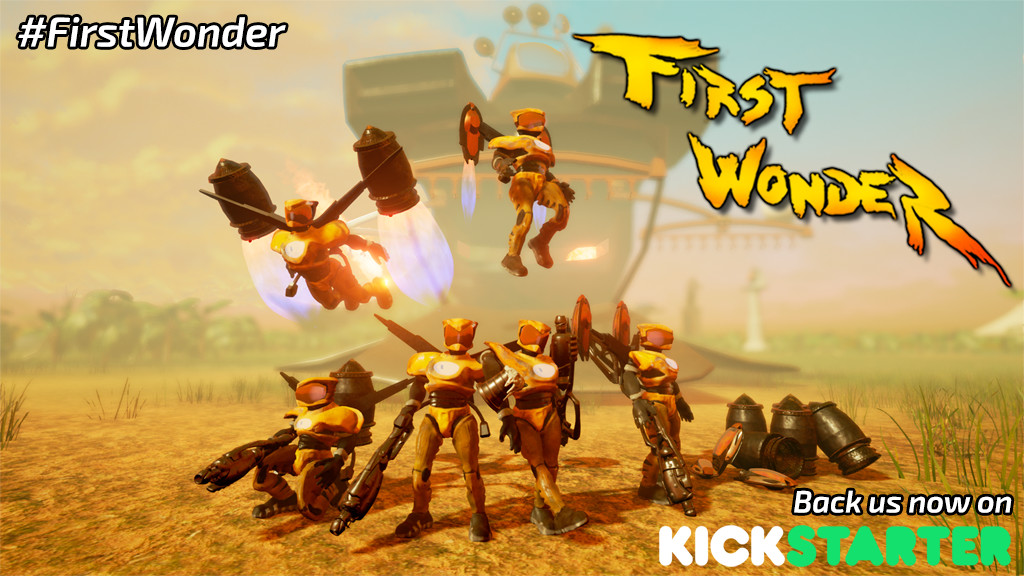 Feel free to use that image if you are sharing news about the game!
In other news, our First Wonder Steam Greenlight campaign is flying along and today it hit #12 in popularity out of the 1,671 games on Greenlight! If you helped us with that campaign already, thank you very much and even if you haven't there is still time to jump on over there to see what it is all about. Even though First Wonder is in pre-alpha, we still have plenty to show off and share with you all!
We've been lucky enough to get a Kickstarter Staff Pick this week and we have also gotten some great press from websites like RockPaperShotgun, PCGamer, Eurogamer, Cliqist and PCGamesN. Here are some quotes from a few of those articles about First Wonder's Kickstarter:
"First Wonder is the spiritual sequel to games you really ought to play: MDK and Giants: Citizen Kabuto" - PCGamesN
"...if anyone deserves to be funded it's these guys." First Wonder has all the makings of another indie classic by the same people that worked on Giants and MDK. - Cliqist
"Across multiplayer and singleplayer, First Wonder will have you smash things as Monstro and zap them as Cargonauts." -RockPaperShotgun
Despite that coverage we still need to push to get more websites to cover us and to let more gamers knwo of our existence. We are currently working on a few ways to strengthen our appeal to those who don't know First Wonder, but more on that later. That is it for this update and to see the whole thing head on over to our Kickstarter page! Check back later for more on First Wonder.