Hey again everyone! Thanks for all of the support with our First Wonder Kickstarter launch post and we are going to keep the ball rolling with this very first update. First off, we are now sponsored by CybertronPC! At PAX Prime and TwitchCon they provided us the computers that we used to show off First Wonder and they ran magnificently. As a part of this sponsorship we have a new (limited) tier on our Kickstarter, the Big Rig Edition, that will get you a custom skinned CybertronPC rig signed by our team, as seen below.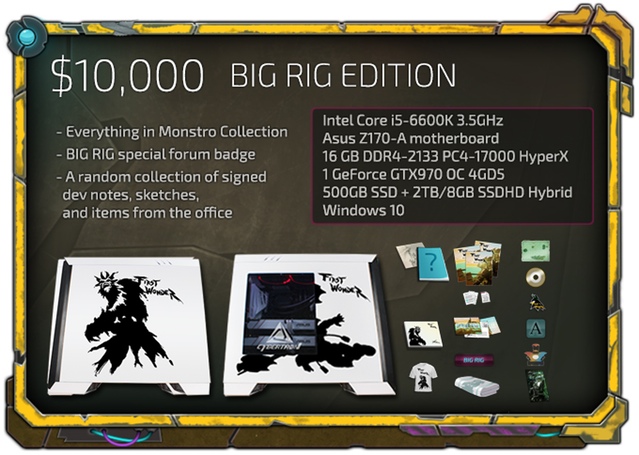 We've had a lot of support so far from many people in the video game industry, and most recently our friends at Larian Studios (who are about to finish their Divinity Original Sin 2 Kickstarter) have started to share First Wonder with their fans. We've also had contact with some other developers and press, but no word on that just yet.
Other than that we've had support from Brian Fargo, Tim Schafer, David Perry and a few others, and we are very grateful for all of that, but most importantly we need support from all of you. That support can come in the form of backing First Wonder, or just sharing news of it on social media, websites or with friends who are gamers. Fans, like these gamers who met us at TwitchCon and backed us on the spot:

We have a long way to go to our $500,000 goal, even with 450 backers so far, and we need you all more than ever! With that said, we haven't shown off a lot of gameplay yet, so here is a video of a recent gameplay session we did with press and it is from the demo that people were trying live at TwichCon last week.
We also have some footage directly from TwitchCon, but the booth next door completely decimated our audio and we aren't quite sure if we are going to share it yet. So, let us know if you would like to see that even with those audio issues! Read our full First Wonder Kickstarter update here and let us know if you have any questions!