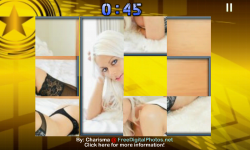 A First Version of the SliderFiesta_GirlTheme
Features of the Demo:
Girl Theme(40 sliding puzzle to play with)
Workable Menu
Intergate with HeyZap for the Achievement and Leaderboard
Tell us what you like in this build.
Suggest your next theme of the sliding puzzle:
Facebook.com
Any bugs with the build,you can comment to this post.
The puzzle is being separated into 4 section with 10 puzzles each:
9 pieces sliding puzzles
12 pieces sliding puzzles
15 pieces sliding puzzles
18 pieces sliding puzzles
You can remove the time limit and set difficulty of the puzzle through the option.
This is currently available on android.
Indiedb.com
Noted:All pictures in the game do not belong to the game,the pictures creator reserved all the rights to the pictures.
Tap on the link below each puzzle for the actual picture!
Please support the pictures creator as without them,this game will not be able to had such high quality graphic!