We have been working hard behind the scenes over the last 3 weeks. Current work ongoing including the coding of the new tractionist crossbow WIP (seen below) for internal alpha testing, redesigning our site logo as well as ongoing work on several models. Recently we have been planning the balancing of the new weapons and teams, we hope that the result will be a different and more enjoyable experience. As well as the balancing we have been looking at the maps which we will be creating, I will not say more at this stage but I can assure you that things are looking very exciting.
We will be working over the next few weeks to put some more work into our homepage Gallery to give the community a better idea of what we are planning.
If you are a fan of the books we encourage you to join our homepage forums and give some constructive comments on our work.
Until then here's a few WIP renders:
Firstly the Tractionist Crossbow - for those times when secrecy is paramount and the noise of a normal gun would alert the enemy.

Secondly a small reinforced bunker - very basic but when ingame will contain some of the commanders modules.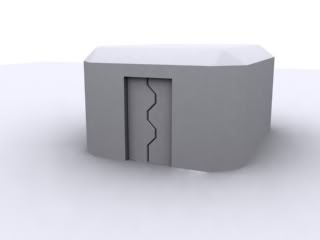 For more images visit out homepage and check out our gallery.
Until next time
General Naga out.