English:
(Excuse my English is not so good)

In the first post I will talk about the general idea of the game, the progress to date and the things I plan to do in the coming weeks.Currently the project is in a stage where I'm developing the various basic mechanics of the game. The game has a basic movement system with the ability to jump (but with some bugs). Has a spell casting system with customized cooldown time for every attack (in the next few days the plan is to add mana costs for spells). Also the game has several NPC that will help you during the course of history and there are many more in development.
As for the ambience of the levels, I have the collaboration of Nano (Ivan Molina) which is doing a wonderful job in the backgrounds of different levels.
Background image of the second scene (in progress):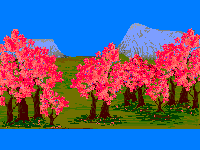 That's all for now :)


---

Español:
En el primer post voy a hablar sobre la idea general del juego, los progresos hasta la fecha y las cosas que planeo hacer en las próximas semanas.Actualmente el proyecto esta en una fase en la que estoy desarrollando los diferentes mecanismos básicos del juego. El juego cuenta con un sistema básico de movimiento con la posibilidad de saltar (pero con algunos bugs). Tiene un sistema de lanzamiento de hechizos con cooldown personalizado para cada ataque (en los próximos días el plan es agregar costes de mana para los hechizos). También el juego cuenta con varios NPC que te ayudaran durante el transcurso de la historia y hay muchos mas en desarrollo.
En cuanto a la ambientación de los niveles, tengo la colaboración de Nano (Ivan Molina) el cual esta haciendo un maravilloso trabajo en los fondos de los diferentes niveles.
Imagen de fondo de la segunda escena (en progreso):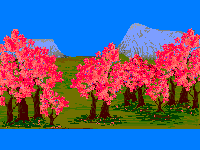 Eso es todo por ahora :)