Hey Everyone ;)
Hello again, this time we have not come empty handed, we actually have something to show you guys. Guess what, Guess what!! Yes it's our UI design. We were able to complete some major work on the UI in the past few weeks. What you see is the first look of some of the work that we've finished, it may as well be the final layout, apart from some minor changes that will be added later. The UI is made up with doodles, just like everything else in the game!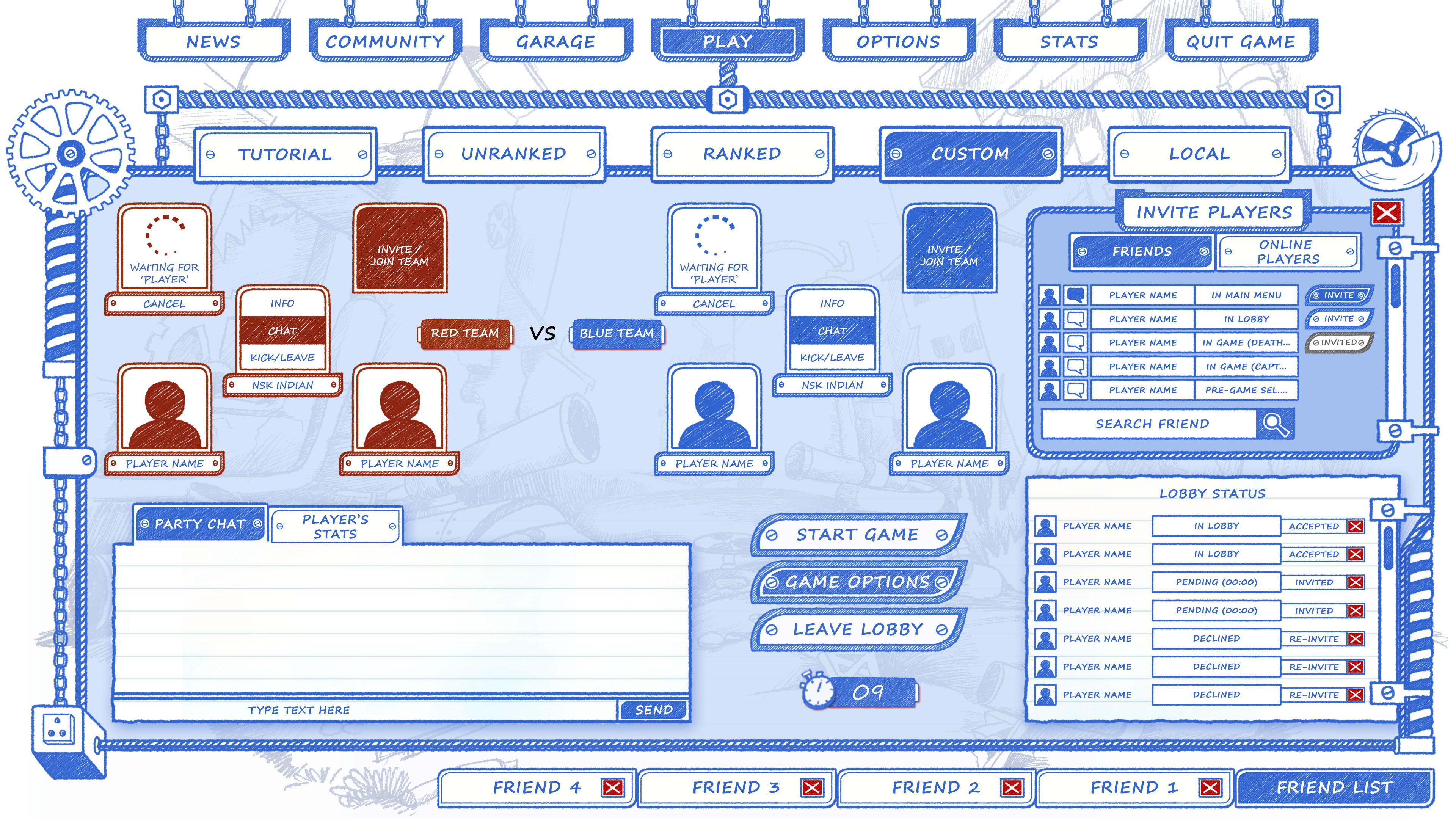 Today we are showing you the Custom Matchmaking option under the Play tab. There are two team both preparing for battle. On the right you can see you friend list from which you can invite your friends to your party. On the right side of each friend you can see people who are already in the party and the ones who can still be invited. At the very bottom of the screen is the chat option, we are currently chatting with 4 friends. On the lower left there's party chat window and along with it is the Start Game, Game Options and Leave Lobby option. Under the game option, the player can customize the settings of that game they are in right now. This is a custom 5 Vs 5 match, in which some of the players have already joined the party, and there are 2 empty slots, one of which shows that a request to join the game is already sent and waiting for the player to accept it, and the other one is the option that the party leader gets on right clicking on the players i.e., info, chat (personal), and kick from the party.
All the other tabs on the top of the screen are pretty straightforward. Under the play tab there are several matchmaking types that you can choose from, such as; Ranked, Custom, Campaign (Single player mode), which will be added later on. There's also other tabs you can see such as the Garage, where you can see a collection of all the Tanks, and the Settings and the Quit Game tab. The News option will show you all the latest updates and upcoming content. Finally, the Community and the Stats option, under the community screen you can see your Global ranking or your team ranking, and in the Stats screen, your personal bests & totals!