The BGP Runner
A little late to the party, but better late than never, the BGP Runner is now online on the Bluish-Green Productions Website!
The BGP Runner is a free component to every BGP Level Builder edition that allows ANYONE to play levels created using the program! Nothing to download, any HTML5 capable device (even your smart-phones) can play the BGP Runner. Check out this video overview:
Click to Play:
The BGP Runner features a Click to Play feature that automatically loads any level embedded in the URL you use to access the Runner! As if it's not easy enough to grab a level code and paste it in when you're going to play the level, the Click to Play feature is just one more way BGP software simplifies the game creation process!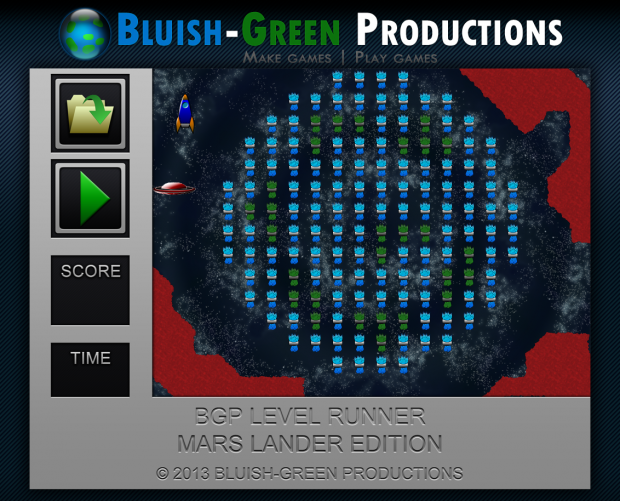 Make Money with Level Builder:
I'm not going to lie here, those URLs with embedded level codes can look pretty unruly! After all, they are several hundred characters long. While you could use any URL shortening service to cut down the length of those URLs, you are allowed to use Adf.ly to shorten the links and make some money back in the process!
If you're going to use Adfly, it's not quite as simple as the video might suggest. As it turns out, Adfly truncates the level code, so it cannot be used alone! Instead, use another link shortening service (I used bitly) which won't truncate the code, then take that shortened URL and feed it into Adfly. Sure it's roundout, but it works! Try it for yourself:
Other link shortening services that work:
Only $0.99:
The BGP Level Builder: Mars Lander Edition recently underwent a price reduction to only $0.99! At such a low cost, you can make it back using Ad embedded links in no time!
BGP Level Builder Mars Lander Edition is available RIGHT NOW on the Mac App Store!

Get started making your own levels today!