Sprints
Since we've jumped on the JIRA and Greenhopper bandwagon, Vince and I have started adapting our development method to be more agile. One thing we have adopted from agile methodologies is the concept of working in sprints. This change has been really helpful as we approach beta and start actually finishing things.
Being on the final stretch of production has meant changing our attitude. We no longer look at features and say "well this is good enough for now, we'll polish it when we get closer to release". Things have to get done, NOW, or they get cut. As a result, we're moving faster than any other time during our production, and working in two-week sprints has helped organize our development work.
Progression
This week we started our Game Progression Sprint. Party of Sin is full of puzzles, battles and exploration sections. We're numbering over 70 puzzles and the same number of battles and exploration sections! This is great, except they're scattered around our levels in no particular order. We have puzzles from 2010 that we used to find difficult, but no longer are, and we have extremely difficult puzzles that were created recently and feature in the third level. Progression is key in a singleplayer adventure: we want to make sure players build up excitement as they complete Party of Sin. A huge re-organization was needed.
Enter the Post-It Note
The biggest challenge with fixing the game progression is the sheer number of puzzles we have an all the dependencies between them. We want to make sure that players learn the tools they need to solve a puzzle before they arrive to it. Our weapon of choice to deal with this problem: the Post-It note. After all, we wouldn't be game developers without a giant wall of post-its.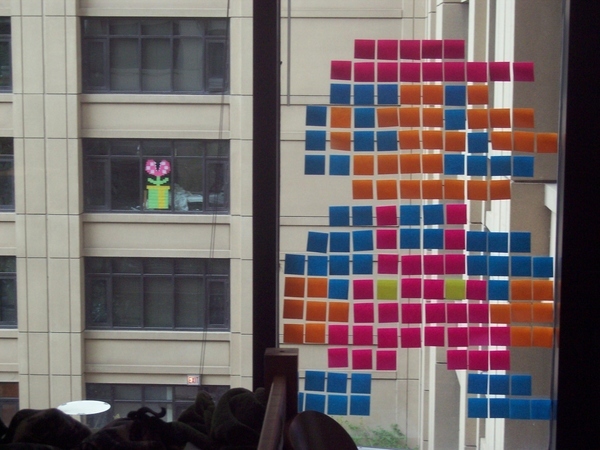 Game developers and post-its have a long history.
We took each puzzle, wrote it up on a note, and started re-arranging things. After a few hours of rearranging the wall, our plan started making sense and we transferred it into the computer.
Our next two-weeks are now entirely dedicated to re-arranging the puzzles in the game to ensure good progression. No coding will be taking place! Once we're done with this sprint, the game should be playable End-To-End, and that will be an awesome feeling!
After our post-it discussions, Alex visited the office equipped with beer and much fun was had playing Starcraft II 2v2 Money Dump games!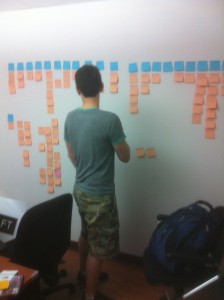 Alex gazing in awe at the post-it wonder!