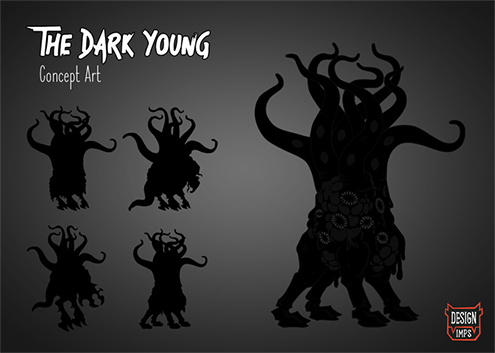 It's been almost a month since the launch of our mini-game Fhtagn! - Tales of the Creeping Madness and we are excited to announce our first major content update, lovingly called the "Dark Young update". Okay, okay, we admit we could have chosen a subtler name and if you know anything about Lovecraft, it will be no surprise to you who the new Ancient One will be, but we just couldn't resist! So without further ado … Iä! Iä! Let's get this party started!
What can you expect:
The Dark Young update includes a new cult who worships the All-Mother. This cult is far more back-stabbing than the Dreaming Eye, since Mother does not look kindly on failing and her children know that she will not suffer the weak to live.
To help even the most altruistic player embrace their inner backstabber, the game mode includes two new mechanics. "Disappointed Mother" will cause the player to spawn Dark Young across the map and let's just say they didn't come to congratulate you on a job well done. "Survival of the fittest" gives players stacks of "Not it!" whenever they pass an event or complete special objectives. At the end of the game players will use their stacks to determine which of them will be the sacrifice, but beware, Mother will not be happy if there are no snacks for her little babies.
These are just a taste of what you can expect! We are looking forward to have the update in your hands as soon as possible!
If you haven't done so yet, you can get your copy of the base game on Steam.
Fhtagn! is a choose-your-own-adventure mini-game where you can play as one of four cultists intent on releasing the Ancient One. Fhtagn! is intended to be a short, replayable game where you experience ludicrous, action-packed and hilarious stories in a Lovecraftian setting.
Why would you want to play Fhtagn!:
The game shines in co-op with friends.
Hilarious, ludicrous and fun stories (it's a laugh a minute).
It's casual and easy to get into.
What is better than zombies… crazy doomsday cults of course!
To end the world – for reasons.
Great jazzy/swing soundtrack.
Neo-noir visuals (we swear we didn't make that word up).