Salam! I hope everyone's doing well.
First off, a big thank you to everyone who downloaded my UDK Time of Day Cycle System and for the positive feedback regarding it. Being a developer who's in the learning and experimentation phase of game development (that is the entire purpose behind Feud), it feels great to have my work appreciated and I think of it as a big step in the right direction.
This week, I worked on developing the Ghost Hunt game mode for Feud. In this mode, the blue team consists of only one player (the Ghost). All the Ghost has, initially, is a sword. The Ghost has complete Invisibility, disengaged only by taking damage, but cannot use Jet boots. The opposing team (Red) can use Jet boots but not Invisibility. Initially, I had planned on Red not being able to use Jet boots either, but I ended up dropping the idea. The mode is round based. Each round, a player is picked to be the Ghost. He then has to try and take out all the players on the opposing team or survive the round, while the Red team has to find him and take him out.
Today, I finished work on the mode. Both Instant Action and Multiplayer are functional now, but with a small difference between the two. In Multiplayer, any bots that might have been added in to the game will not be considered in the selection of the Ghost allowing only human players to assume that role. The following image shows the scoreboard for the Ghost Hunt mode running in Instant Action. As described, the Blue team has only one player, the Ghost, while the rest are on the Red team.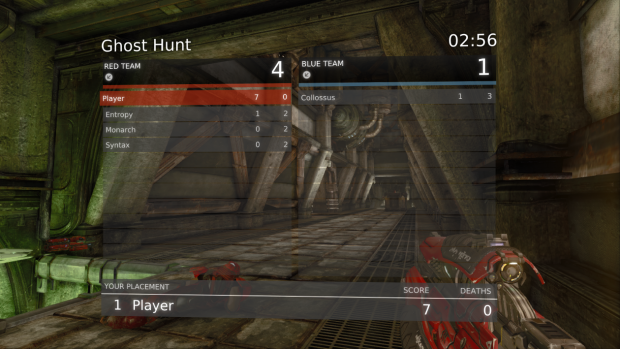 Next up, I'll be working on implementing Kabaddi mode. I'll also be designing a separate map for it. Kabaddi mode and its map will probably be the last things I'll work on before wrapping up development for Feud.
Thanks for reading! As always, looking forward to feedback.