Greetings Pioneers!

We hope you're enjoying the new buildables and lights, many thanks for all the feedback we've received so far!

We are looking to get a hotfix out soon for a few bits and pieces, including an issue where trees and swamp trees are sometimes leaving behind indestructible duplicates after they are mined.

This week, in between work on yesterday's update we have been busy with upcoming features and designing and planning for the next stages of development.

Here's what we've been up to:

John - Lead Designer

Hey guys,

It's been a long week of testing designs, sorting flights to SXSW, talking to press and setting targets for major milestones! We've also had an amazing amount of great feedback from the community regarding the changes to the Build System and have tried to convey that the initial implementation of Fortifications are most definitely a halfway-house...

So, last week I said that we would share some of the full design ideas for the final phase of the Build System with you, and true to our word, here it is.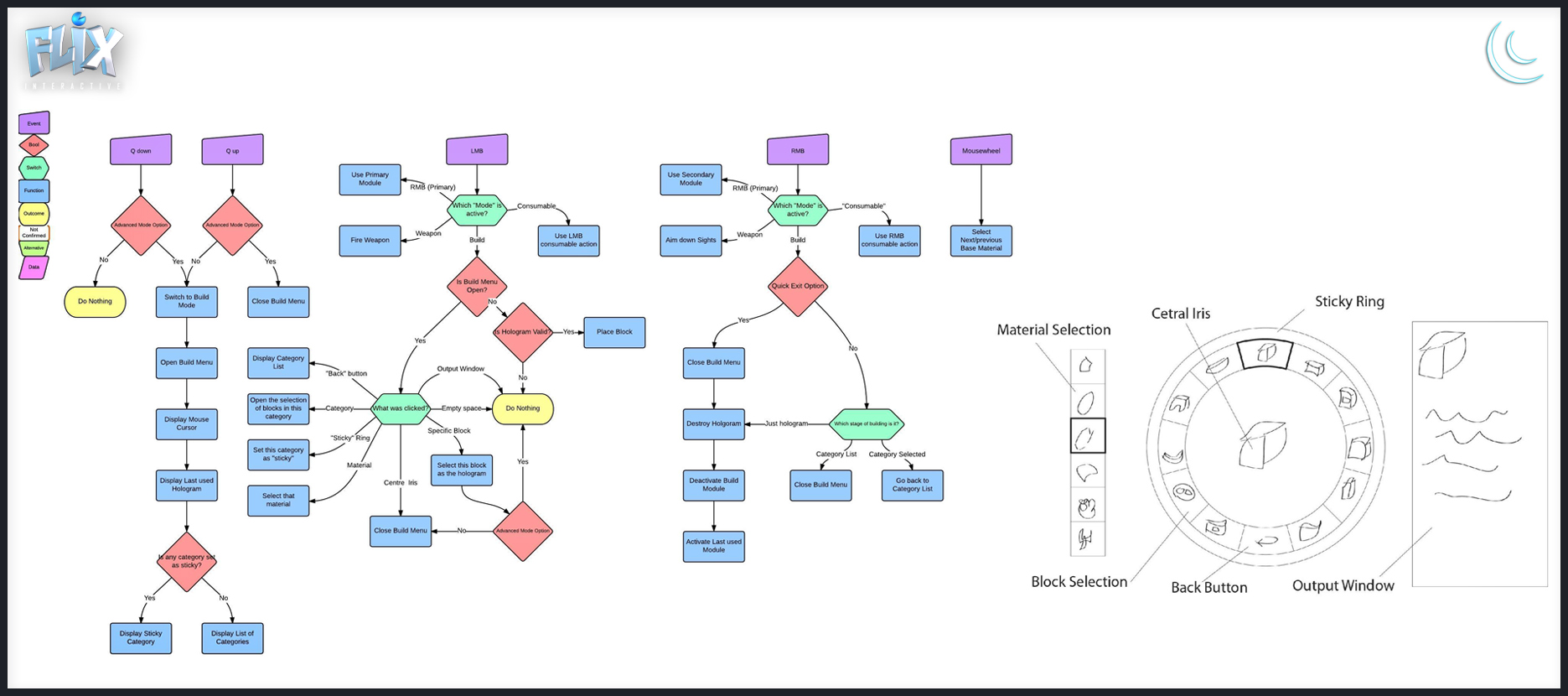 The current Build System has been said to be convoluted for new users, whilst current players (including some of the team) find it a little clumsy. So we decided to revamp the interface to use the Radial Menu designs that we concepted when we first started to rework it a while back. This also means that Build Mode will be separated from the standard Tool Primary Modules and will instead become a standard fixture of all Tool models (1, 2 and 3). The new default "Build Mode" button will be accessed by "Q" and should work as depicted below.

Categories show first, with the last item selected in the centre;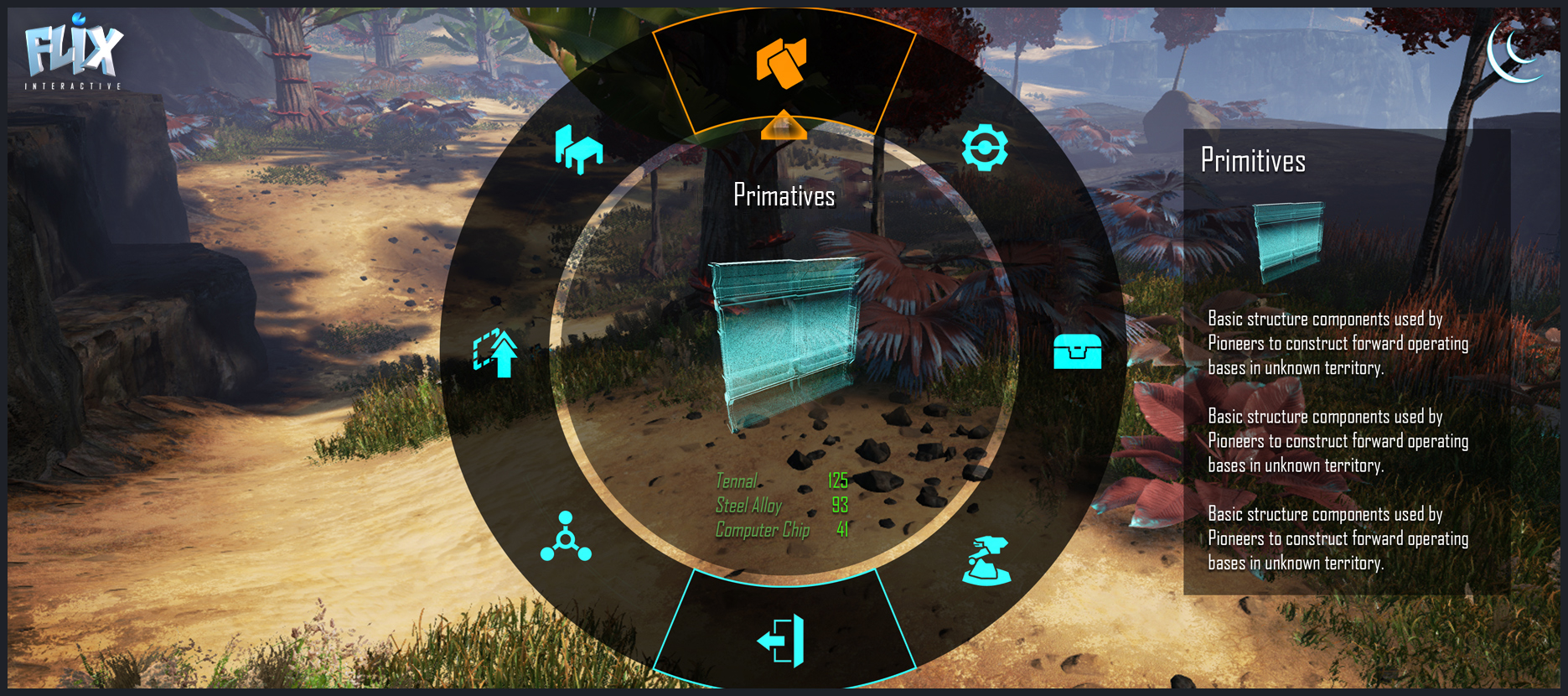 ...then the Category Items;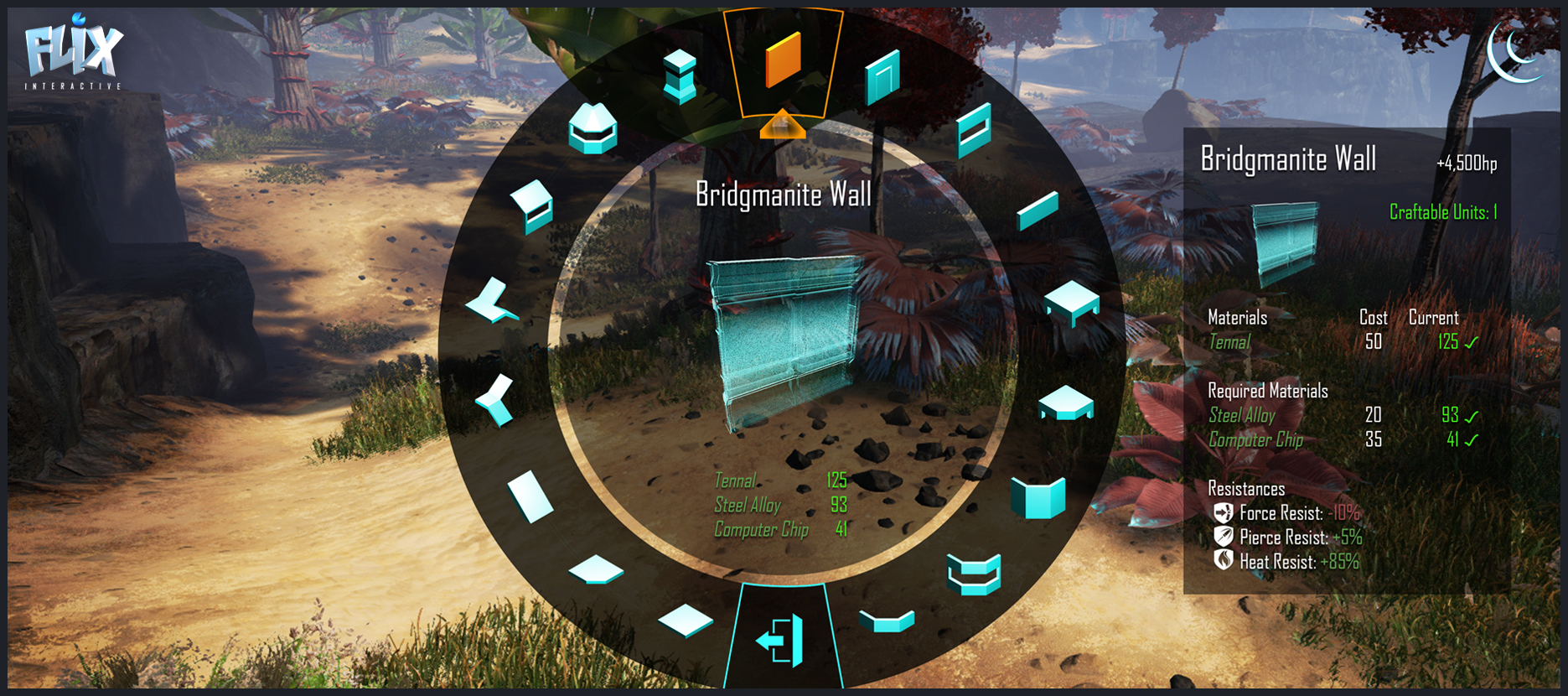 ...finally, the Materials, which you can also scroll the mouse to select as before (not depicted here).

We also have an advanced controller option that allows for a slightly tweaked version of the current build mode, with a quick way to open and select the specific Item and/or Material that you want directly.

To see more, including an initial idea of Category group buildings and how Modification system works, check out this link to the designs here :: Trello.com

PLEASE GIVE US YOUR FEEDBACK ON THE TRELLO CARD!



Lee - Technical Director

This week I've been looking at ways to try and optimise the way the AI planners work and also the way new creatures are spawned into the world. I've also been dealing with bugs as and when I can. Some of the bug fixes made it into the latest release.

Tristan - Senior Developer

Today I'm in the Norwegian Fjords. As a viking I have undertaken my new mission of skiing whilst eating waffles and drinking coffee, simultaneously. My evening will of course consist of staring at wild Elk whilst enjoying Whale meat, for dessert I will ponder the vast expanses that my new Troll like brethren present to me.

Yves - Senior Developer

A massive bug slay, memory leaks, crashes and unoptimised code.

Ricky - Developer

The new Inventory UI is now coming along nicely and I've been working towards bringing the several elements of it together so the functionality will be useable.

Matt - Art Director

Finishing up the high resolution model for the Paladin armour set. Been adding new build assets already for our next update, these include and L and U shaped Stairway. Finally I've started to implement and revamp textures and materials for our player controlled Robots! (previously featured in our tech demo)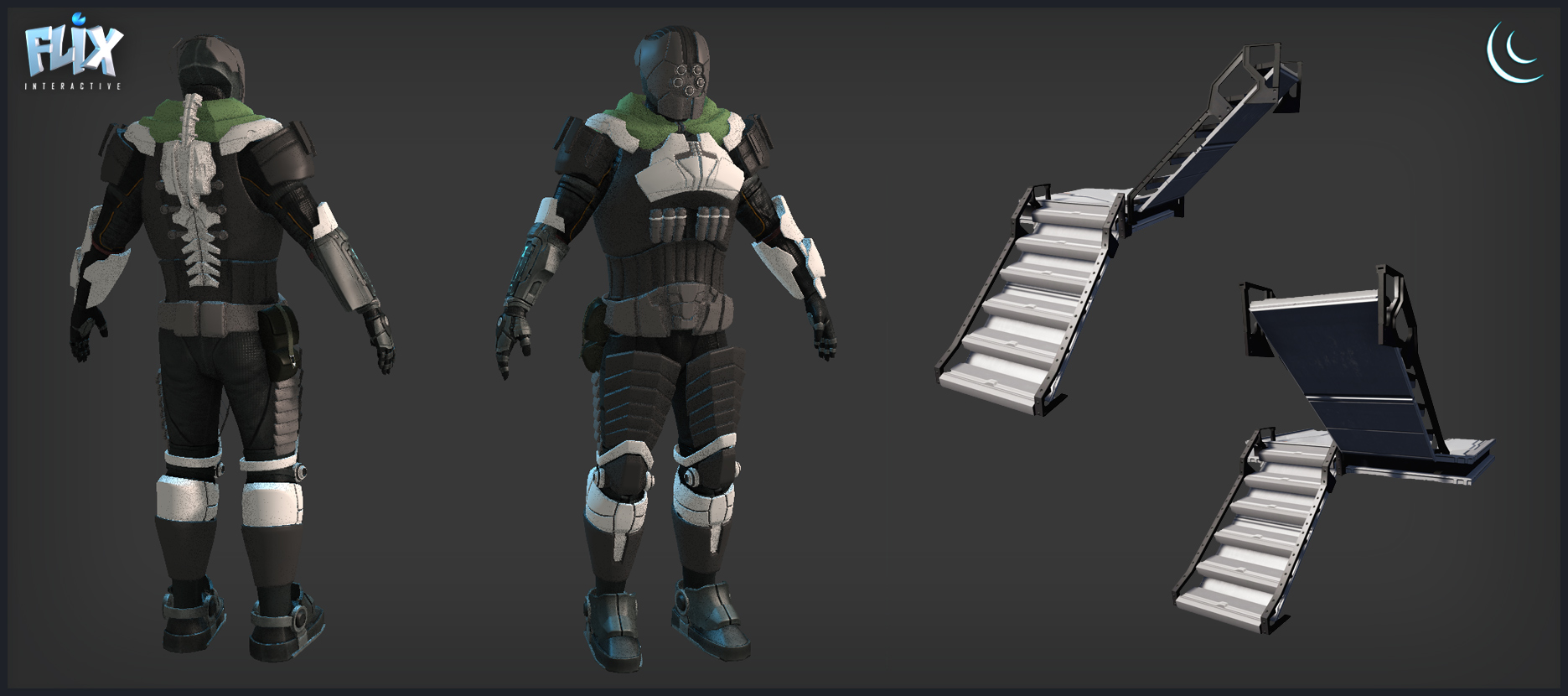 Marcin - Designer

This has been a very stressful week for everybody with getting the release finished and ready. I have been involved in only some of the bug fixes, but I was mainly busy with behind the scenes stuff, such as designs for the Inventory, Power and Fuel system, Replication Units (aka Spawn Pads) and Deterioration. The development of the inventory is in full swing, and just this week I created almost 140 different classes including new Items, Recipes, and Categories. Anybody else would go crazy, but I'm already there and only happy with a spreadsheet. :)

Joe - Environment Artist

The first part of this week consisted of helping test our shiny awesome new features for 0.1.7, along with fixing some bugs to do with level collisions, decals and a puddle of death people have been getting stuck in \o/

I then created icons and textures for the new Build menus, updated the new structure icons for clarity, and then finalised the layout concepts for the Build wheel.

Lauren - Animator

This week I have been rigging up and animating the IKA Drone, an allied robot specially designed to take out the three-legged flying Alien IKA and Vipers. At the same time I'm reducing the number of bones in the Alien IKA legs, which should improve performance when there are a lot around. I have also been rigging up a smaller, legless flying Bot for use as a scout.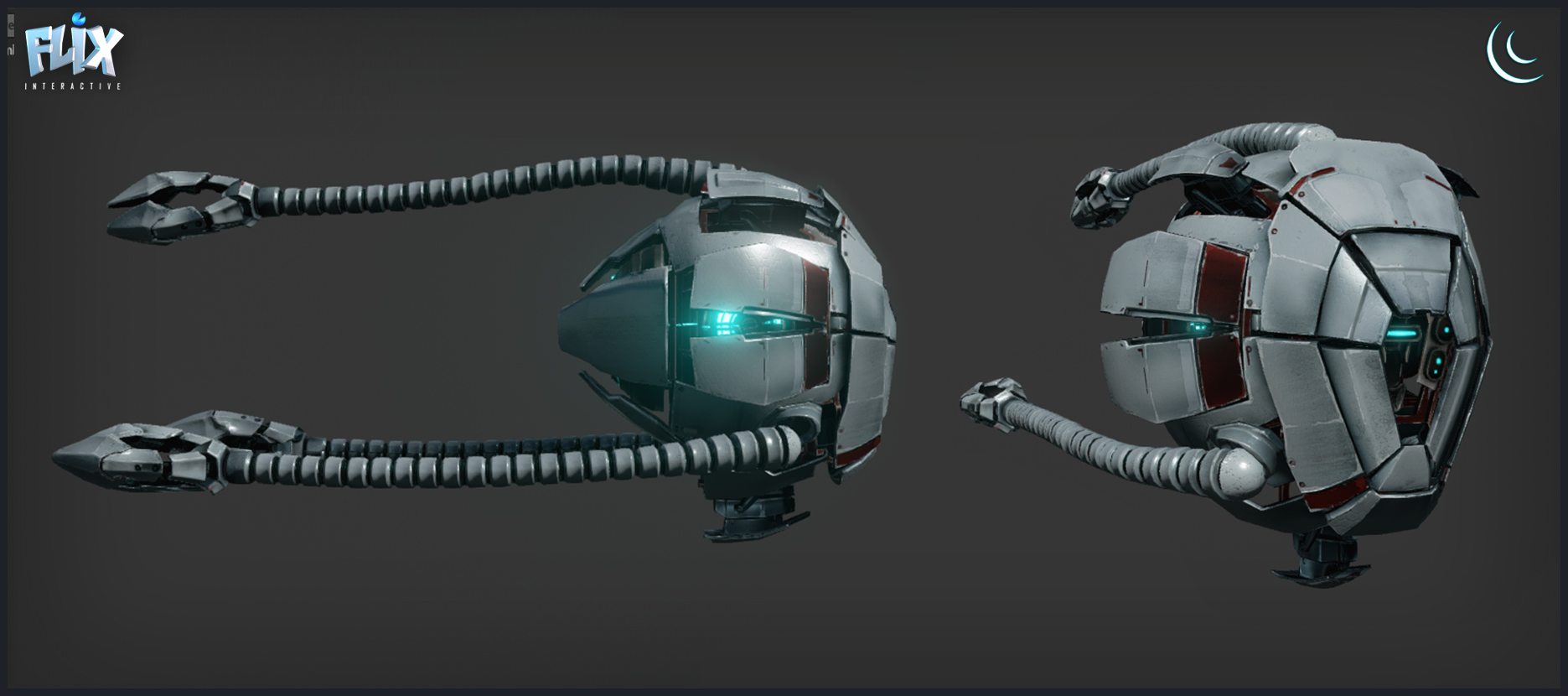 Simone - Concept Artist

This week I have been working on revisions for various designs and have started work on two new Utility equipment - Engineering Station and Repair Bench.

Tom - Character Artist

Just about to start a new ground creature lovingly known in house as 'the bear' images coming soon!

Andy - Lead QA

This has been a very long week, full of back and forth adventure. We managed to get a few fixes tested and in which was a big win for us. Then we had an issue with floating bases that just wouldn't go away, which meant we had a few late night. It all seems worth it though as we had a lot of love through our social media yesterday and this morning regarding our latest update.

See you in the fray!

-Team Flix