FEBRUARY UPDATE
We'll be taking a quick look at some key feature that will be included over the next few patches, introduce you to some of our new team members and talk about the Warehouse changes!
Warehouse V2: Name Change!
Upcoming features
New Team Members
Localization and Stretch Goal Lockdown
We've spoken about the Warehouse in a previous Info Update, but with the new name change and the inclusion of this feature in an upcoming patch I thought it was time we took a closer look!
GATHER'S HUT CONCEPT ART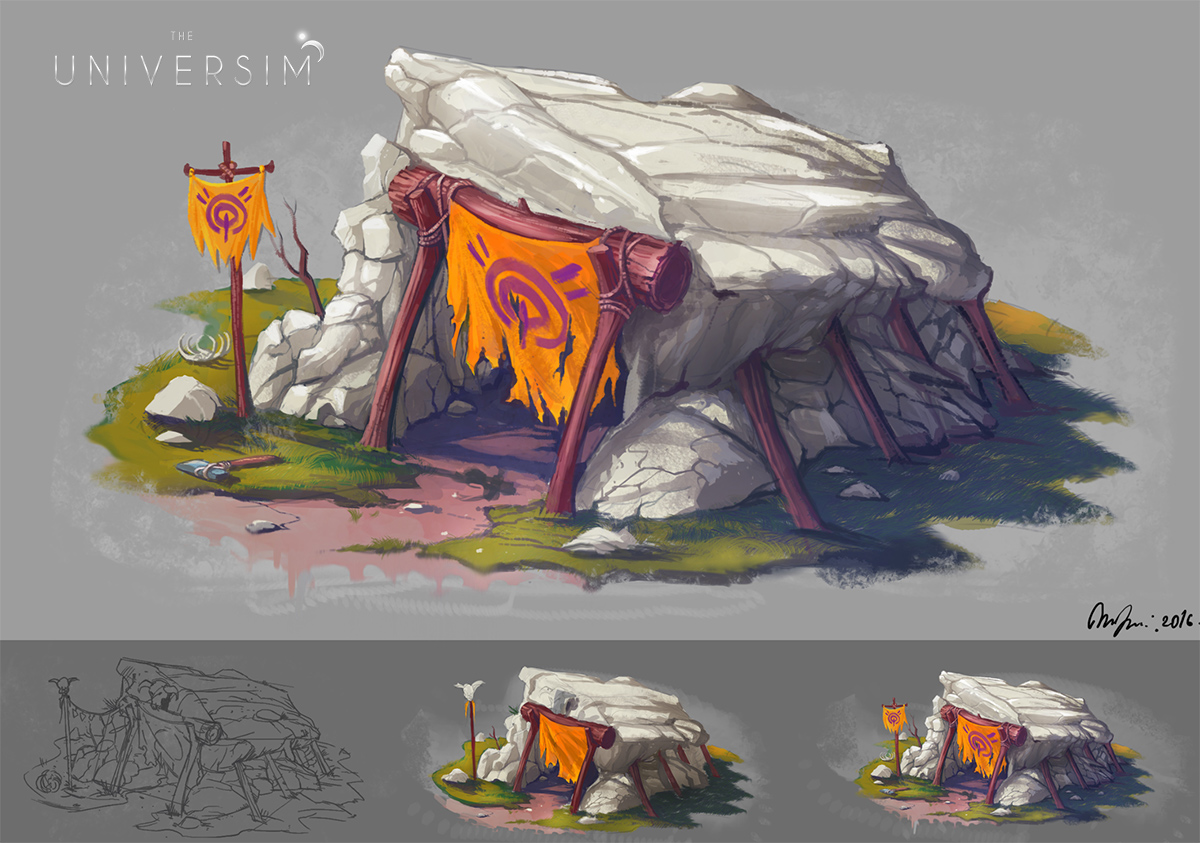 WHAT IS IT?
The gatherer's Hut plays the role of Resource Distribution Center. Nuggets will come to Gatherer's Hut to pick up resources. The Gatherer's Hut does not store resources and the player will need to build Stashes for that purpose!
After a Gatherer's Hut is placed the player can click on the building and chose available stashes from the panel.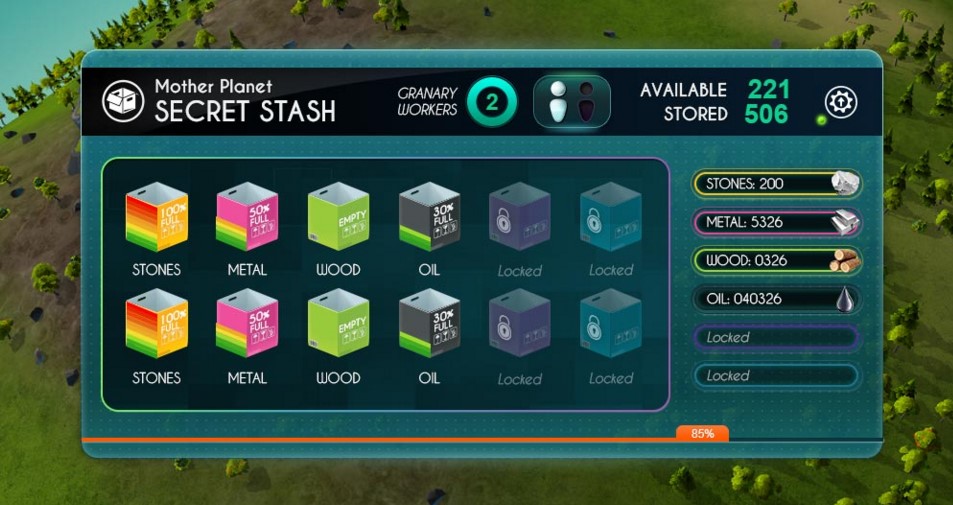 CURRENT AVAILABLE STASHES (names will be changed per era)

Stone Stash
Metal Stash
Wood Stash
Oil Storage
Gas Storage
Food Stash
STONE AGE STASHES CONCEPT ART

Stone Stash
In the stone age this Stash holds up to 200 Stone Points without the upgrade.
Each Stash can have up to 4 spots for resource piles, each spot holds 50 points of stone max.
Above is an example of empty and almost full stash. When Stash is full, a flag will be raised to let the player know!
RESOURCE PILES AND MODELS
Each resource type will have a certain 'Pile Size' based on the amount of resource points stored. The resource pile's model will change size and shape depending on the pile state.
Each Resource Pile has 7 states:
From 1-2 Resource Points
From 3-6 Resource Points
From 7-12 Resource Points
From 13-25 Resource Points
From 26-50 Resource Points
From 51-100 Resource Points
From 100- ∞ Resource Points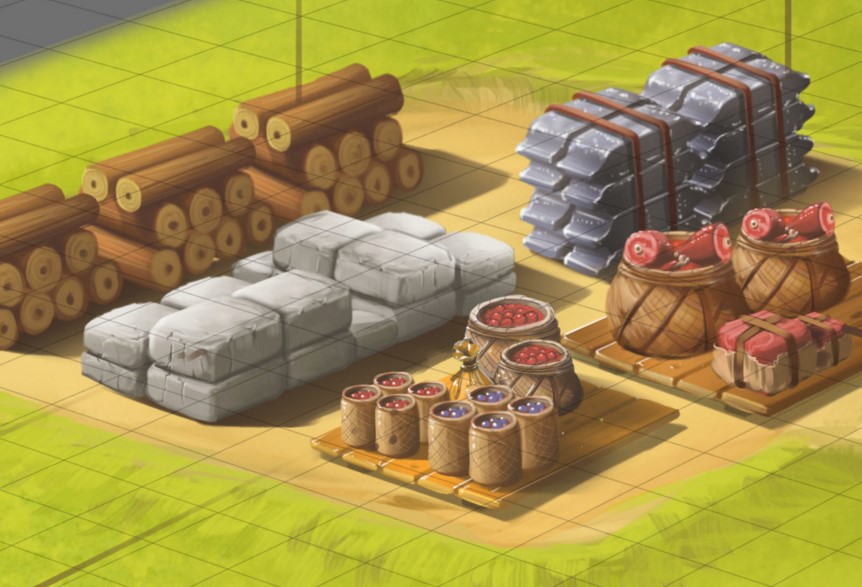 COLOR CODED BOXES FOR EACH RESOURCE TYPE
Orange Boxes Used to store Stone
Pink Boxes Used to store Food
Green Boxes Used to store Wood
Black Boxes Used to store Oil
Purple Boxes Used to store Gas
Teal Boxes Used to store Metal

In the UI, the top value on the boxes indicates the Capacity of the box and how much is currently occupied: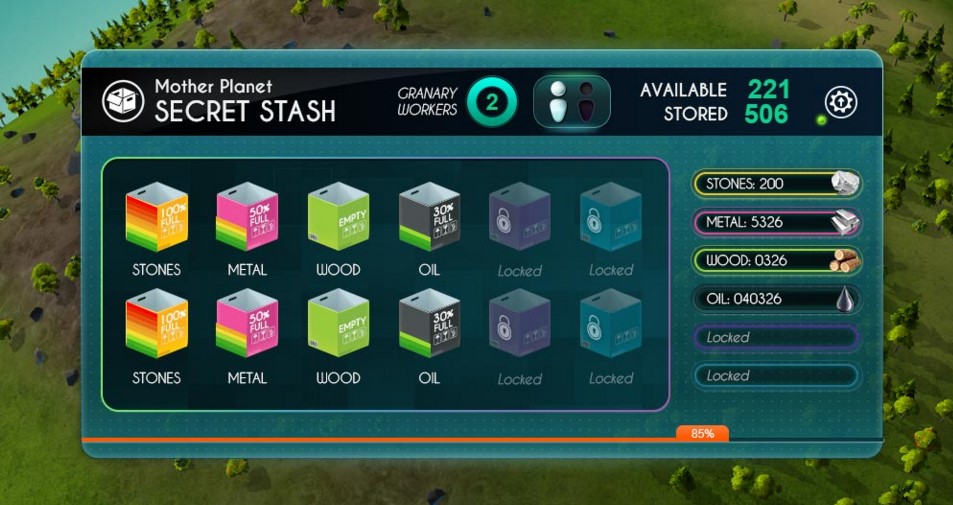 PICK UP / DROP OFF

Each Gatherer's Hut has a Pick Up spot. This is the spot where Nuggets come to collect resources for construction. Depending on the amount of courier workers, we can determine how fast or slow this process progresses. Each courier worker can only serve 1 Nugget (Client) at a time. If there are more Nugget Clients than Courier worker Nuggets, there will be a line of Nuggets queuing in front of the Gatherer's hut.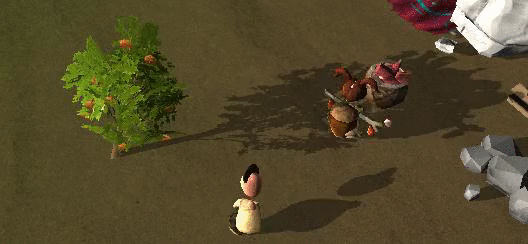 Couriers
Couriers are the Gatherer's Hut workers. They pick up resources from Stashes for Nugget Clients. Nugget Couriers can carry more resources at the same time than any other Nuggets. Nugget Couriers can carry up to 15 resource points at the time, without upgrades. Normal Nuggets can only hold 3 resource points!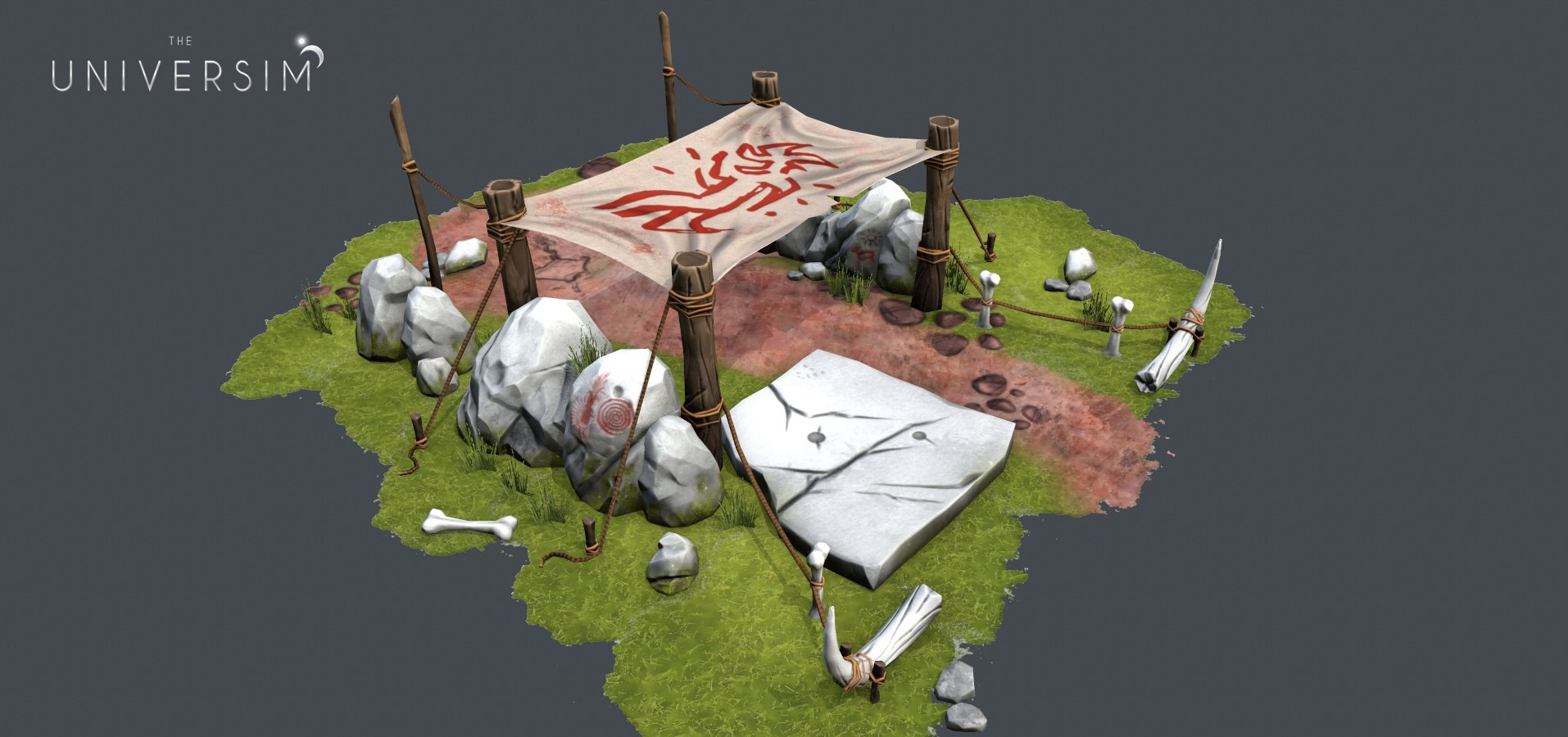 The Gatherer's Hut will come in a future patch once the team finalizes all the details! Please remember that all the above info is to be considered as "work in progress" and may differ the final version!
WATER CONSUMPTION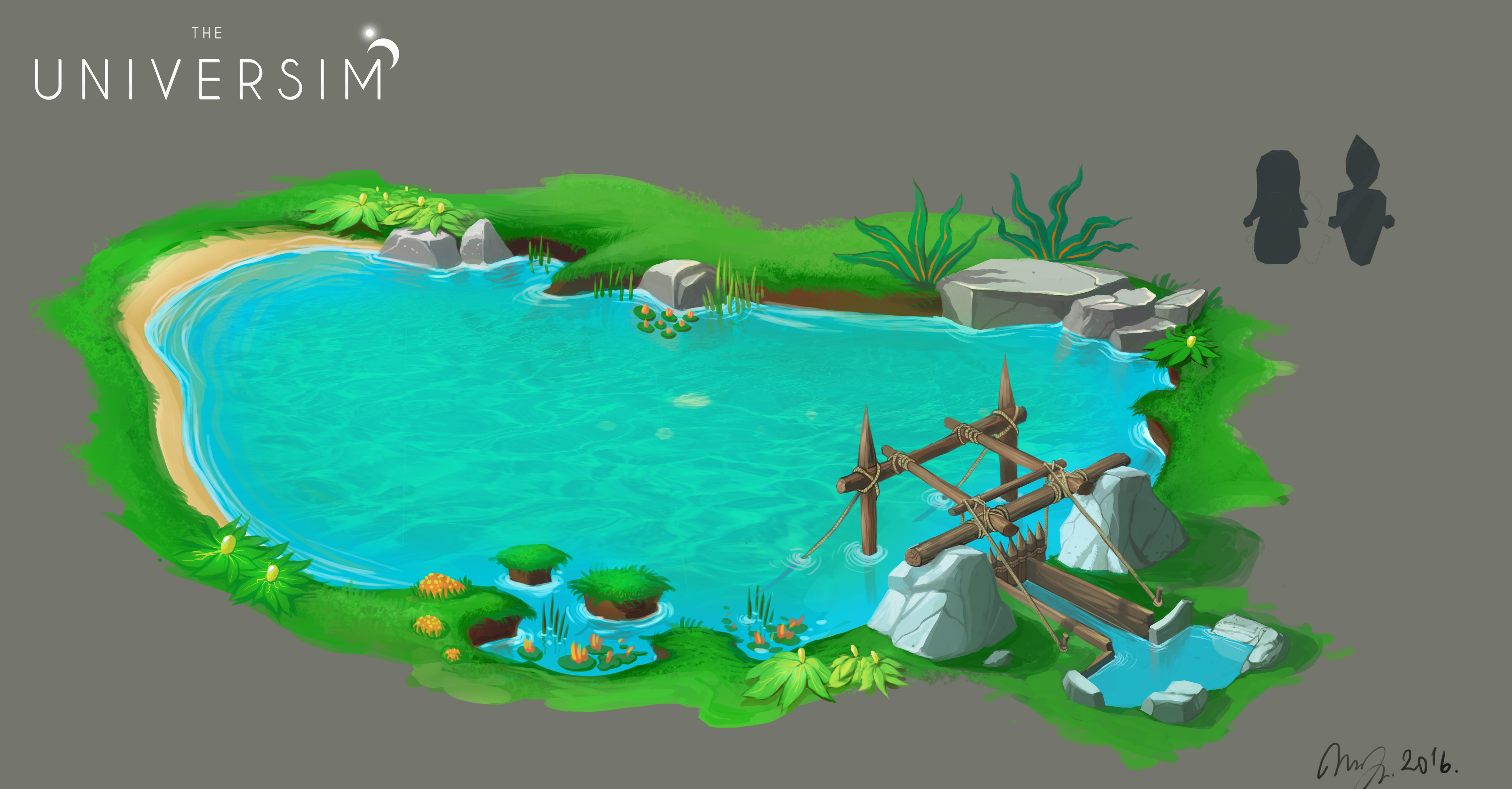 WHAT IS IT?

Every Nugget requires clean water to survive and needs to consume water throughout the day to survive. On the planet, there is a limited amount of clean/drinkable water that the Nuggets will have access to. Most of the biomes in the game have water sources upon which you will be able to build Water Pumps. Once a Water Pump is built, the Nuggets can then construct a Well. Wells allow nuggets to gather water.
STONE AGE WATER RESERVOIR
Players can build Water Reservoirs to collect excess water generated by pumps.
HOW IT WORKS:
When a pump generates more water than the Population requires, the extra water is stored in the Reservoir. If the population and water consumption grows to exceed a pump's output, Nuggets will begin utilizing the available water stored in Reservoirs.

REQUIREMENTS & SPECS
Players can build Reservoirs anywhere on the planet.
Stone Age Reservoir Cost: 50 Wood, 50 Stone, +1Wood and 1 Stone for each Meter from Pump.
Reservoir can hold up to: 350 kgal of water.
STONE AGE WELL
In the Stone Age, Wells are where Nuggets can drink water. Wells can only serve one Nugget at a time.

REQUIREMENTS & SPECS
Wells can be built anywhere. The further a Well is situated from a Pump, the more expensive it gets.
Stone Age Well Cost: 10 Wood, 10 Stone + 1Wood and 1 Stone for each Meter.
STONE AGE WATER PUMP
REQUIREMENTS & SPECS:
Water Pumps can only be built on the side of ponds/lakes with clean drinkable water.
Stone Age Pump Cost: 35 Wood, 35 Stone
Single Pump Generates: 5 kga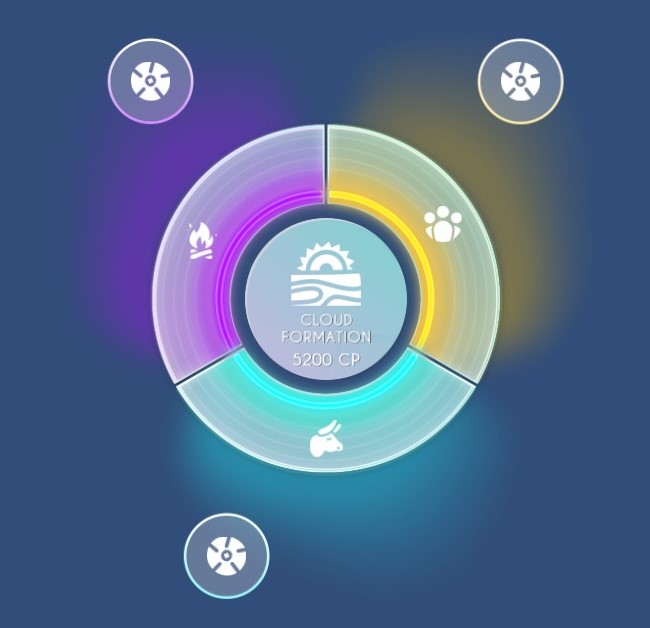 We've discussed Creator Powers in the past and the team has been hard at work getting this feature finalized, here's a look at the new Creator Power Wheel, It's still being finalized but we should be seeing it in game soon!
Next we have the re-designed stone age hut and the gathering hut.
In the below examples you can see the night time version (left) and the daytime version (right) of the stone age hut.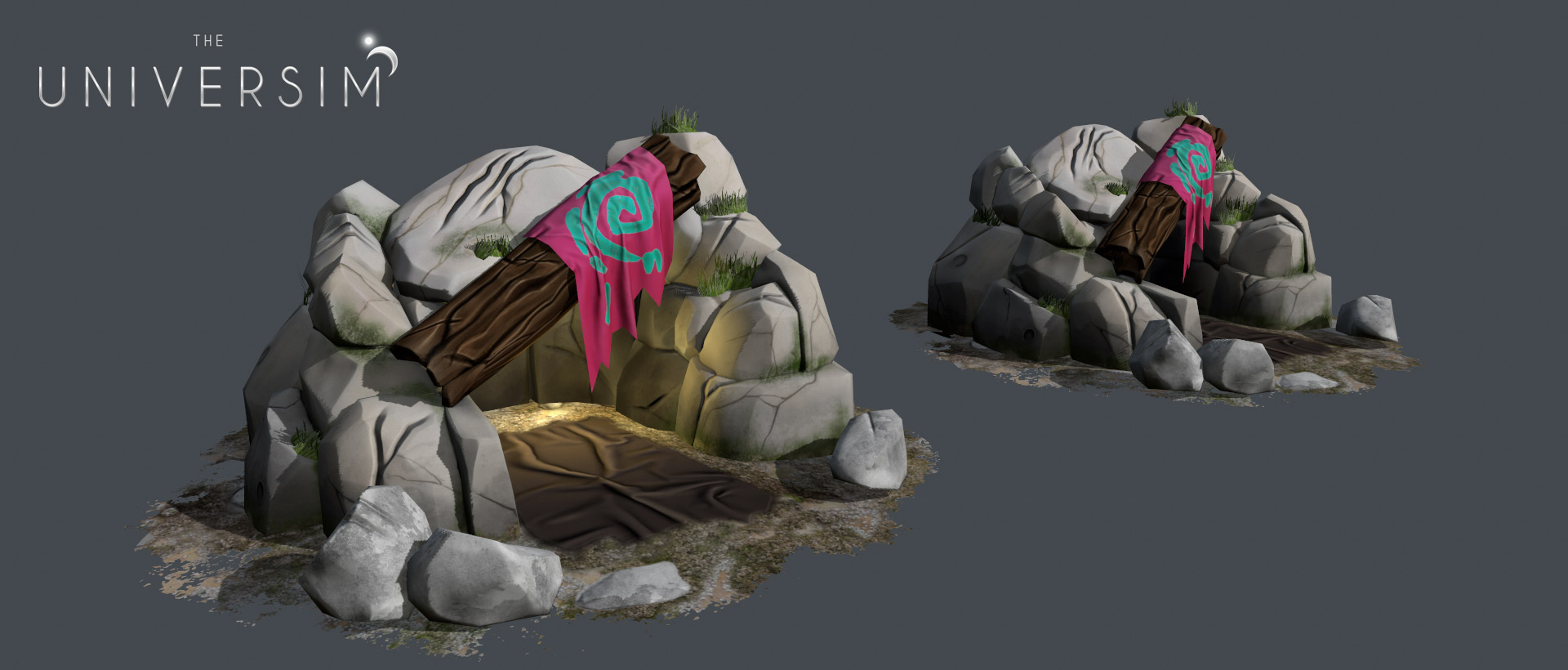 Concept art for a construction site (above) and it's scaffolding (below). These will appear whenever a new building is being constructed.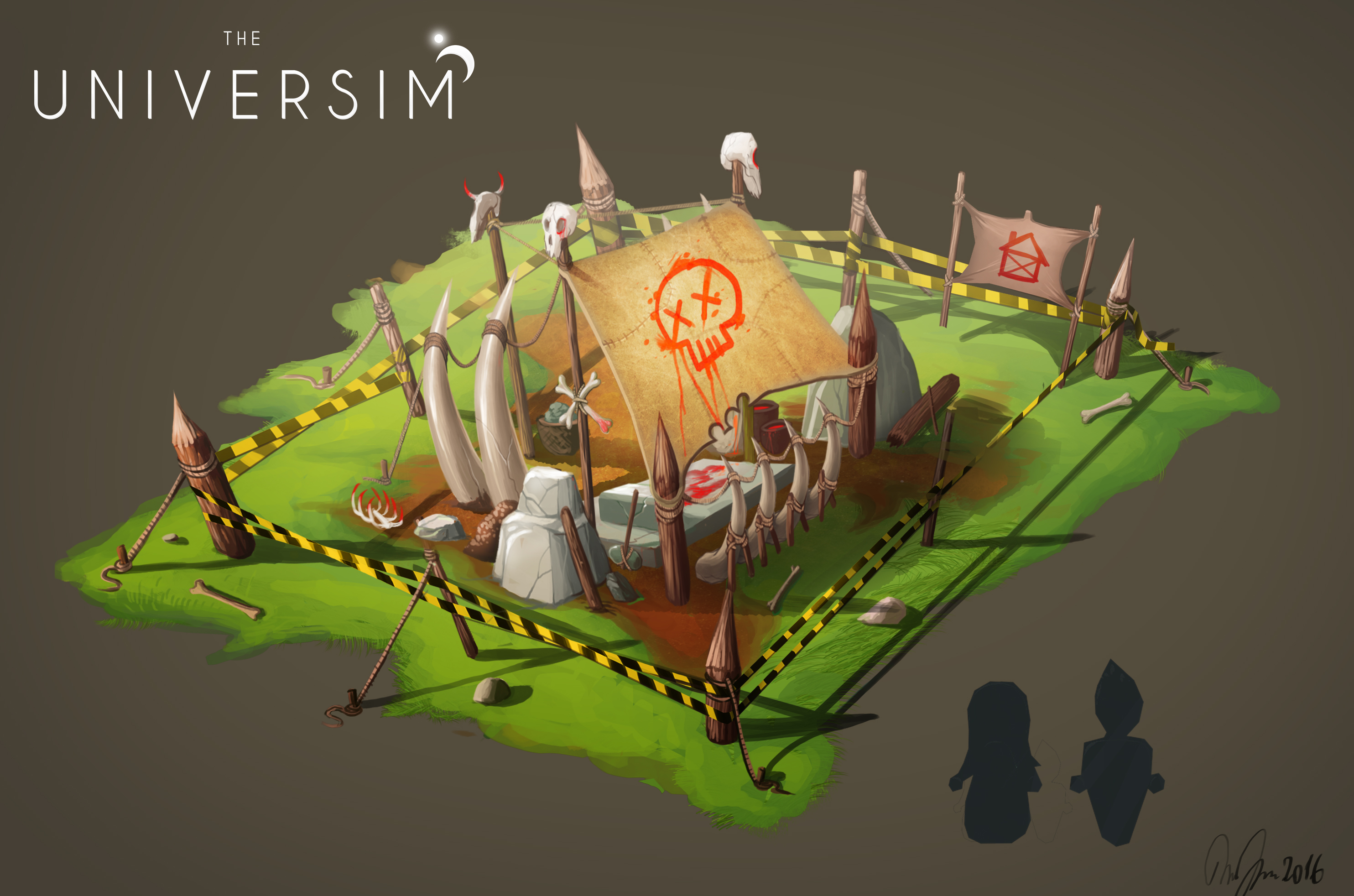 NEW TEAM MEMBERS!
I'd like to formally introduce two new development team members and two new volunteer moderators/QA testers!

First up our two new dev team members: Geoffrey Clark and Landon Kirk who go by @grey and @lando912 respectively. Geoffrey is a new full time programer and Landon is part time. They will come to the forums when they can to help answer questions!

Next we have our two new volunteer moderators/QA testers: @socman and @Arsouilleslic ! Both are completely volunteer and their primary goal is to help out alongside our development team with version testing and bug squashing! They are also helping keep the PA bug and issues section more organized, moving or marking topics that have been resolved or need further attention. Both also have access to JIRA, our bug and issues tracking software and add new tickets from topics you create!
LOCALIZATION AND STRETCH GOAL LOCKDOWN!
We finally have a list of the available languages for the final game.
English
French
Italian
German
Spanish
Russia
*More languages may come at a later date, but the final game will ship with these supported!
Stretch Goal Lockdown!
Once the current stretch goal is met there will be no further goals! This will allow the team to focus on all the current planned content.