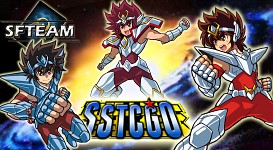 Well, a small update showing our exclusive artwork, made by artist Zaionic.
Original artwork will be shown in project's in-game menues and proper gameplay.
As you can see in it, Chronos will be VERY important in game's story.
We are working in a full lenght trailer, so pay attention to this line of news.
Hyper Fast Summary
Battlefield 80% finished.

Legendary Soldiers sections; done.

Deck Construction section; done.

We just ended programming "Booster pack" section. It would be 4 cards per pack.

Menues sections 90% finished.

Profile Section at work (Yes, every user will have his own stats page)
BloodCrisis
SFTeam