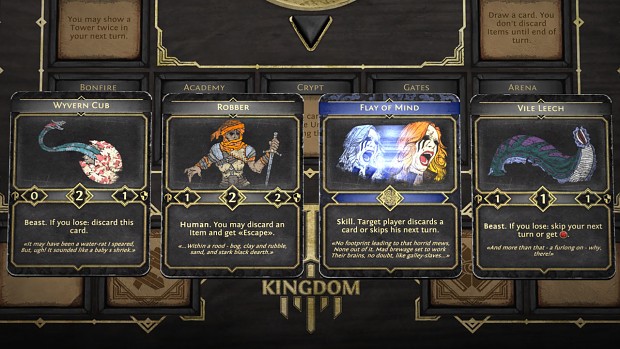 Version: 0.6.36.190.
Download Size: 40 MB.

In this 33th Fated Kingdom update, we fixed many bugs and issues that have been inconvenient lately. Now we are starting preparations for the release, which is currently scheduled for the first half of this month. Also in the next couple of days we are going to release a free demo version, in which there will only be starting content and a Hotseat mode for two players.
3 cards: «Forest Horror», «Burden of Knowledge» and «Funeral Urn».
Board square - «Thicket» (Choose a Creature type. Draw a Creature of chosen type.).
Flavor text for 4 cards: «Wyvern Cub», «Master Parry», «Vile Leech» and «Robber».
Cards and Squares:
«Earthquake» card allows each player to choose one of the actions.
«Buckler» card gives a «Block» or «Hit» in combat.
On the «Old Halls» square, the player draws 4 cards and selects a creature.
On the «Dungeon» square, the player draws one creature instead of two.
On the «Barracks» square, the player draws a creature or gets a wound.
Bug Fixes:
Guild selection did not work for everyone except the player who created the server.
Help screen move left and down in full screen mode.
One of the players might not have the choice of a guild in Hotseat mode
The player connecting to the server did not have the card counters in inventory.
The list of party members did not work for the player connecting to the server.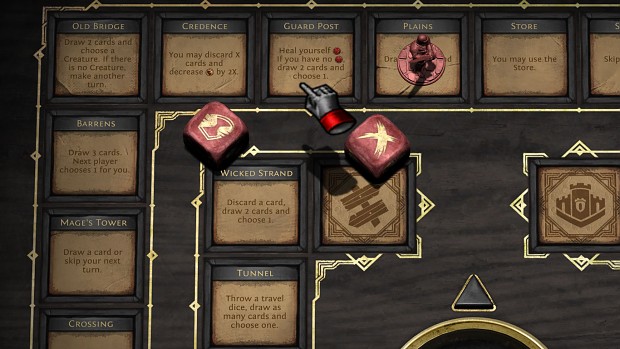 Other Changes:
Fixed errors and typos in descriptions of more than 10 cards.
Improved game performance on slower computers.
Vertical sync is enabled on all graphics presets.
The obsolete UNet network library has been replaced with the newer Mirror Networking, which should solve many problems with player synchronization.
Minor text and localization fixes.
Thank you for playing Fated Kingdom!