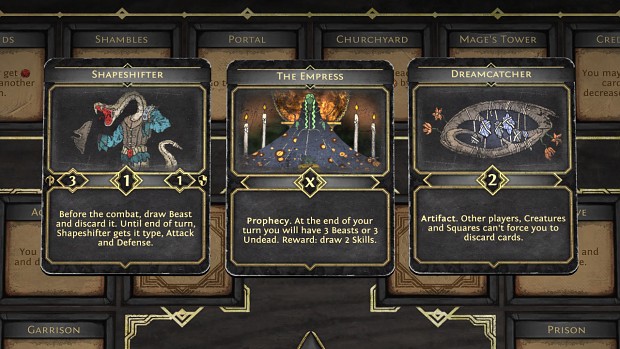 Version: 0.6.34.184
Download Size: 48 MB

We continue to make patches to the game after code refactoring. This update fixes a lot of problems that you might encounter earlier. Now Fated Kingdom is much more stable. We also added new cards, a board cage and art descriptions.

New Content:
3 cards: «The Empress», «Dreamcatcher» and «Shapeshifter».
Board square - «Thieves Den» (Draw a Human or discard a card).
Flavor text for 4 cards: «The Magician», «The Star», «Marauder», and «Mad Dog».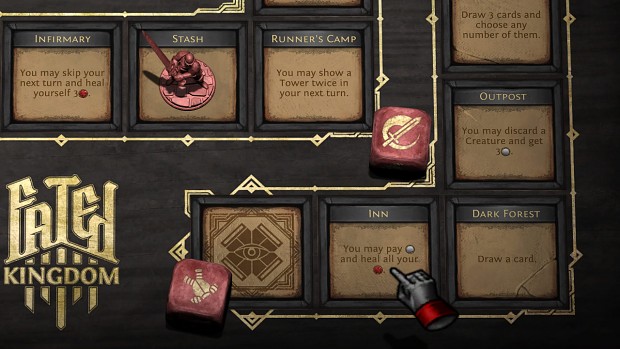 Bug Fixes:
When restarting the party, the guild selection might not work.
When connected to the server, the loading could last forever.
The Join button in server list might not work.
The cursor of the player who created the server might not be visible to other players.
The player's cursor could turn white.
Squares of the Inner Path appeared on the Outer, and vice versa.
Cards in the hand did not open for viewing on hover.
Cards could be duplicated when pulling them out of hand.
Some cards were displayed without text and illustrations.
When taking a card that lies on the deck, a card was taken from this deck.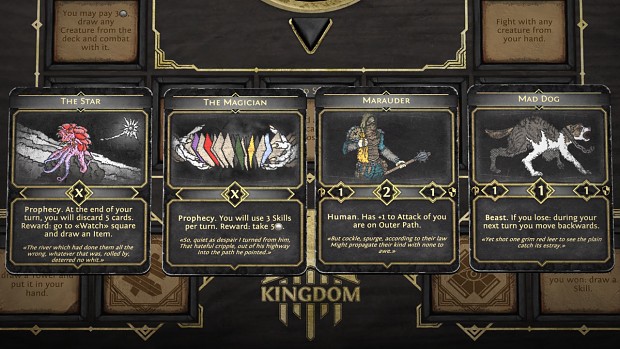 Game Balance:
A clarification has been added to the rules: if a player must fight with 2 or more creatures, then he does it in turn.
All cards that cancel wounds in combat now give a «Block».
«Scroll of Speed» card now gives an «Escape» and not allow to avoid combat.
The «Mirror of Soul» card now allows you to take only Encounter cards.
Other Changes:
Fixed errors and typos in descriptions of more than 15 cards.
When the server is disconnected, all players return to the main menu.
The save system is operating normally.
Minor text and localization fixes.
Thank you for playing Fated Kingdom!