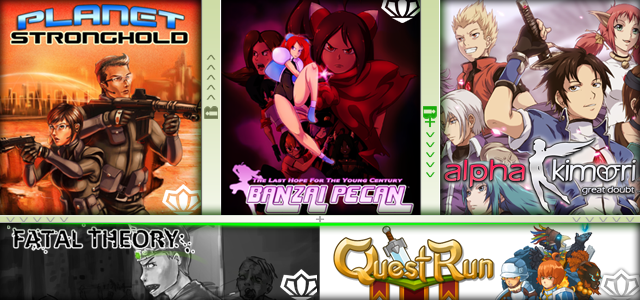 See on the bottom left, that's us!
---
We were contacted by IndieBundle.org to join their Anime Bundle during August for a September launch. Naturally we were stoked!
So whats in the pack? Well if you pay $5 you get the top 3 games in there:
ANIME BUNDLE ($5, standard pack)
Planet Stronghold by Winter Wolves
A Sci-fi RPG with battles similar to that of early Final Fantasy, but with much nicer art works.
Banzai Pecan: Last Hope for the Young Century by Serious*Impact Works
This looks like all kinds of chaos. A mix of beat-em-up and fan fiction all rolled into one. This looks right up my alley, so I will be playing this as soon as this article is over.
Alpha Kimori by Sherman3D
Another RPG, but this is more isometric strategy based. It boasts quite a lot of content and the battle animations look sweet!
ANIME BUNDLE ($7, bundle+ pack or the sweet sweet son of a bitch pack)
QuestRun by Cuve Games
Another RPG (Anime+RPG = Good shit!). This is a fast paced ongoing battle RPG with some really nice animations and special effects.
FATAL THEORY By 2 Hit Studio aka us, and you love it!
So we are in the bonus pack, so your only paying like a $1 for Fatal Theory alone. We were well excited for this, so we rigged up a nice update with lots of new content for the game on Friday. So, when you buy this pack you will get a Desura key and this will let you have access to our Alpha version. The new updates are as follows
Arcade Mode (1&2 Player, rigged up by popular demand!)
New Boss - Giancarlo (he will break you!)
Levels 1,3,5 have Many MORE ZOMBIES!!!!
Some tweaking (not so exciting to explain?)
In the previous update were 2 new Weapons for Nick. The 'Lectric Whip and 2xSwords. My brother and I take to the swords the most, as you just cut bitches to ribbons. The electric whip lets you cast thunder strikes to deal damage to hoards and large enemies. Don't forget to level your weapons up and check out their special commands at the 'Wep' buildings on the world map.
We are working diligently towards the next update, which will contain:
2 New Bosses (Spoiler: A boss returns with bigger moves to test your mettle)
2 New Levels (How many tanks can you fight at once? Probably no more then 2)
A New Weapon
These games are great quality, so we hope you can help back us. Enjoy the chaos!
-Matt