Hello everyone!
Here is the newest devlog for Farmwand. This time we will show you some wonderful floofers, and talk about a few special magical creatures, in the end, we will let you see the new progress we have made of the crafting UI.
🐾🐶 Woofing troops marching your way!🐶🐾
For all dog lovers, here come the first two batches of dogs that you can pet and adopt in Farmwand.
The Boxer is the first kind of dog that we added due to our absolute preference (my husband's parents have one!), then it came the small and cute Dachshund and Yorkshire terrier.
Look at these adorable little fellas! what's going on in their little heads and what are they planning? Guess you will have to find out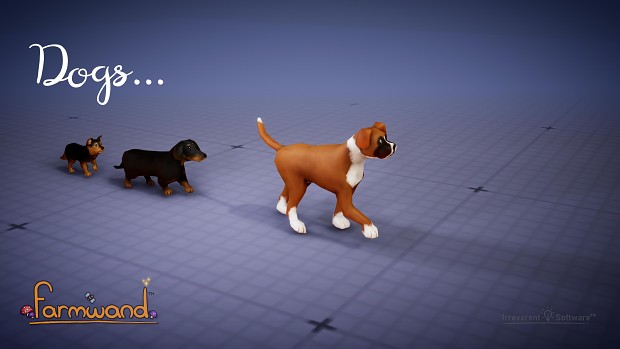 After having these first 3 puppers, we sort of couldn't stop...Thus we added a strong one, a pretty one, a short one, and a fluffy one...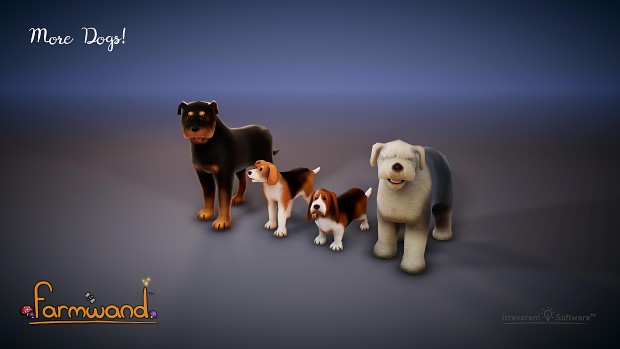 We couldn't help feeling "awww" while making these lovely animals, we hope you will enjoy their company in the game as well. In the 2 polls we held on Twitter and our subreddit, our followers have chosen husky and corgi as the dogs that they want to see the most so they are coming to Farmwand right away!
If you also want to see your favorite dogs in Farmwand, comment below for suggestions and expect a poll here and on our social media really soon!

(and don't limit yourself to dogs, all pets are welcome!)
🥔 Nom noms! 🥔

We have been adding lots of original and interesting creatures in Farmwand, today let's talk about "Nom noms". You may see these silly little guys running in your farm and trying to steal your crops, but don't be mad at them(and please don't eat them D: we know a lot of people want to!), they just truly believe they are rescuing their friends. With some sugar or candy, they are easy to befriend.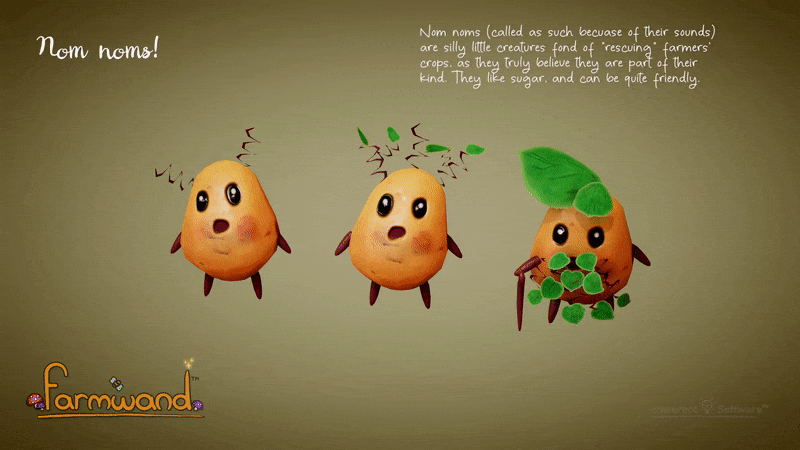 🌰 Acorn Cloak🌰
Sometimes in the forest people see a spirit who has a curious acorn head and wears a funny little cape wandering around with a mischievous grin. Some rumors say this spirit loves to lure children into the woods and make them get lost, however, some others say people have found fortunes under this spirit's guidance. We are not sure which story is true, just know that villagers call it "Acorn Cloak"...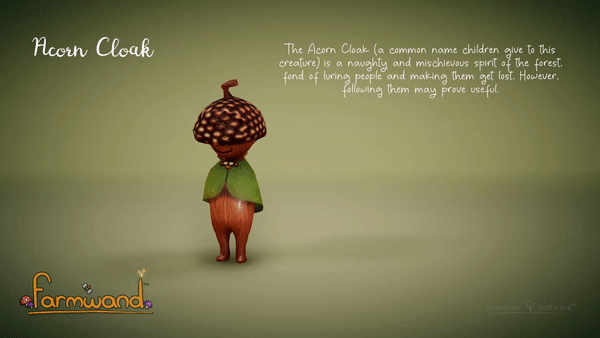 🧵 Ready to be a fashion master? 🧵
In Farmwand, you will be able to do everything with STYLE! A nice warm coat for winter stroll, some casual clothes for work and journey, and of course something pretty or fancy for a date with your sweetheart in town. Sigh...romance!
With the right fabric and material, you can make them all on the tailor's table.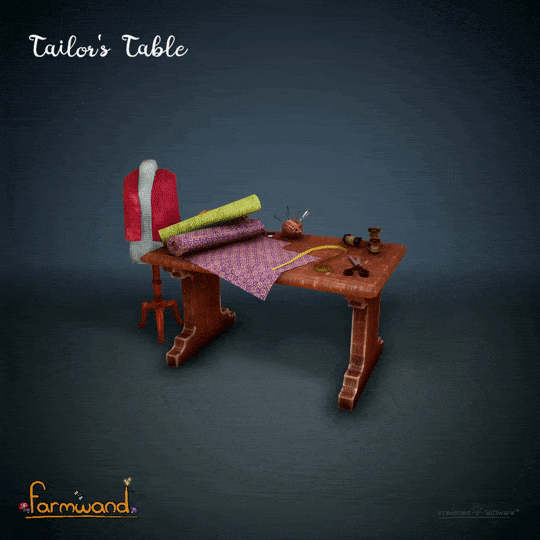 🔧 Work and more work on the UI 🔧
During the last few weeks we've been working hard on the UI, which included a complete redesign. We also worked (even if it is not as visible!) on a TON of internal code to handle all the crafting, loading and management of the many items in the game. Here you can see a bit of it in action :
There are so many things you can create in Farmwand, from simple farming tools like the ones you see in the images above to all sorts of magical items such as cauldrons, brooms and more. But not everything can be made in the trusty old crafting table, some things like outfits have to be designed in the tailor's table we showed before, or even in alchemy tables!
And there are dozens and dozens of recipes to discover through your adventures, as you explore and meet new people in the world!
⭐ Join Farmwand community!⭐
You can get new updates and share your thoughts about the game by following us on Twitter, or join our subreddit. You can also check out our new videos and Shorts on our Youtube channels and Tiktok.
Also, we are preparing the Discord server for Farmwand which will launch very soon, we will shout about it on all our social platforms when it's ready, so please remember to check it out and join us! :D