It's been 2 years of development of our first VR Game for Oculus Rift and HTC Vive.

We are a small team and we've learnt a huge amount from the development of Fantasy Little Jobs. VR is still a relatively new way to develop video games and that comes with a great deal of struggles.
We tested each mechanics over and over again, we wanted to produce a good quality gameplay while ensuring it felt fun!
Fantasy Little Jobs, offers many different mechanics, we have different stations where the player can experience different "jobs" and feel inside a different world.
We wanted to do something different, so we decided to integrate a classic arcade gameplay mechanics. The player has to be quick and solve as many customers's orders as he/she can.
The higher the player's level the harder the order is, which makes the game even more fun!
What we've learned

VR is simply fun! and has potential to become a great gaming platform, it's very immersive and offers a different way to apply gameplay mechanics.
I myself, has experienced this total immersion. After playing for a while, I believed I was inside the virtual world and forgot about my surroundings (watch out not to fall or hit someone on the head… it happens :) )
At the same time, we realized that is not that simple, we reviewed and tested over and over again until we found a good balance between gameplay mechanics and what a VR system has to offer.
We learned that the player likes to play with the objects in the scene. For example, taking a carrot or an onion and throw it on the grill and let it burnt (that's interesting). Taking the bow and see if the arrows can be set on fire.
Maybe drink one of the potions and see if it has any special effect... We let the player to play with everything from the start, forging weapons, washing the dishes (interesting ha?) and so much more.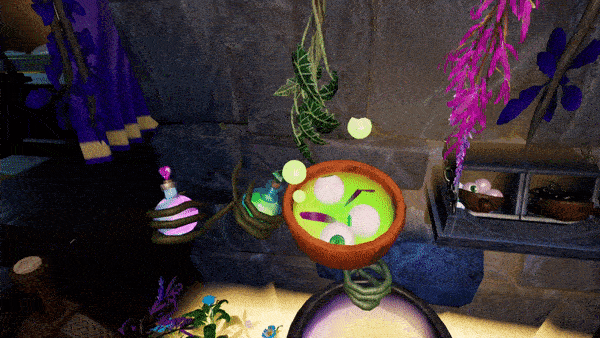 These are the small details that make a VR game more exciting. Let yourself go and try things, immerse yourself in this new world.
In Fantasy Little Jobs we transport the player to a different world, who doesn't want to be in a fantasy world? VR is the right platform for this.

I hope you can enjoy the game: Fantasy Little Jobs on Steam