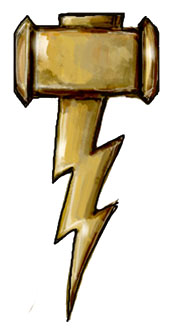 The symbol of the Elektropian nation
Teslagrad borrows its name from the city it takes place in. Teslagrad is the capitol of Elektropia, one of the four nations that make up Chroma, the universe that we have created. And while Elektropia is intended to be an amalgamation of Scandinavia and Russia, the other nations differ vastly in identity, ranging from jolly old England, to Germany and France. What does this mean, exactly? Well...
Our ultimate intention, what you might call our "game plan", is to keep telling the story of Chroma. There are a lot of untapped veins and unexplored characters that we would absolutely like to tell you about. One of our previous explorations of Chroma includes the game Minute Mayhem (warning: this page may contain evil spoilers!), which sadly we had to put on hold in favour of Teslagrad. Strictly chronologically speaking, Minute Mayhem takes place after the events of Teslagrad, and is a completely different game entirely.
Chroma is a universe with a lot of different stories to tell, and not all of them lend themselves as well to the silent storytelling of Teslagrad. So, perhaps after Teslagrad is released, we shall embark on a completely different adventure.