Hi
I've been working a lot since my last article, mostly setting up future mechanics so there's a lot of code involved but I also made some visual changes like adding new scenarios and I'm starting to plan what's gonna be my strategy for development.
Strategic Zoom
Recently I rewrote the code for my camera so I could implement more advanced behaviour like focusing and following specific objects and strategic zoom. What's strategic zoom? it's a feature I saw for first time in Supreme Commander, basically it's just the ability to zoom directly to the point the mouse is pointing at. In Supreme Commander you could also zoom really far away and see all your units and buildings as 2D icons instead of 3D models, I'm not sure if that feature could be useful in a city builder so for now I'll just use a regular zoom out.
Exotic Locations
Like I said in the previous article, I need to diferentiate this project from other city builders so one way to do it would be to add different locations: planets with extreme weather, asteroids and abandoned alien megastructures. Of course, the changes can't be only cosmetical so I would like to add different challenges and maybe even mechanics to some scenarios.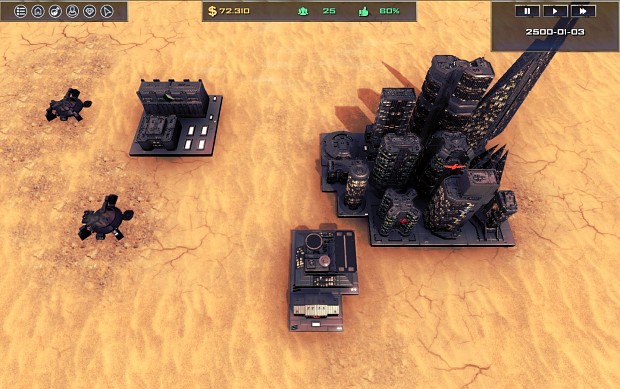 This desertic scenario could use some giant sand worms.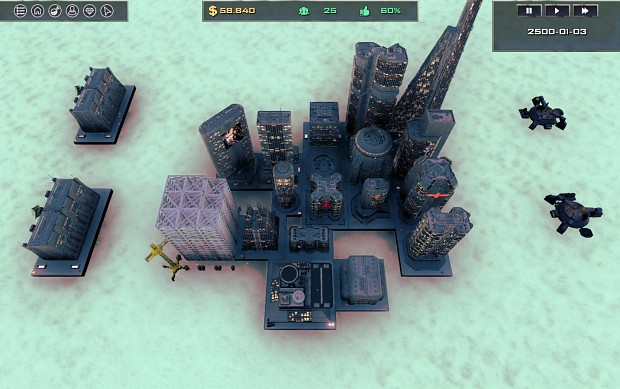 Maybe you'll need to compensate for the freezing temperatures in this ice planet scenario.
My current plans
Development
This is not my first rodeo, in fact this is my third game project, my previous projects were also finished and published entirely by me. Now that doesn't mean that this will be a cakewalk, a city builder is a really big project so I plan to use Early Access, that means I need to decide what to prioritize. I imagine some features like building, economy and basic combat should go in the first E.A. build while others like Fleet Management and Advanced Economy and Complex Citizen Behaviours could wait. Also content should be limited, probably I should focus in only 3 different scenarios mostly used as sandbox. I have a campaign in mind but maybe I should wait until I have more scenarios before making it.
Marketing
This is a tricky one. So far I've tried reserving a portion of my time to promote my projects using forums, social networks and blogs like this one but they are pretty niche, most of my traffic always comes from Steam itself. This is my third game so maybe I should try something different like reaching out to publishers. I understand there's many who are publishers in name only and will take a percentage of your sales just for basically doing the same as you already do for promotion so I would have to try with stablished and respected publishers that have experience working with indie games (I have a few in mind but I won't tell names until I have contacted them and I'll only do that after I have more visually appealing material).
Funding
This is always a problem. Usually I try to limit the scope of my projects so I can deal with it using my own savings but a city builder is a pretty ambitious idea and since I need to diferentiate from existing projects I cannot go too crazy cutting features and content (besides I already decided to do things differently this time). I already discussed the idea of reaching out to publishers so they could help with funding too but another idea is to use crowdfunding. Now this idea is very challenging (a campaign is pretty much a parallel project to the game itself), I have no idea how I would deal with physical rewards and because I'm chilean I would not be able to use Kickstarter so I would need to try with Indiegogo.
My pessimistic side tells me a crowdfunding campaing will certainly fail, my optimistic side tells me to get out of my zone of comfort and see what happens and my pragmatical side tells me that even if it fails it could be used to reach more people and get more visibility.
It's a bit early to decide, like I said I need to create more visually appealing material and that's pretty much my short term priority, create mechanics and content that help me to create clips and gifs that show a cool looking city builder in action and of course enough material to create my first trailer.
Thanks for reading,
Jorge