In EverDead engineers have the ability to build a variety of exciting things for use in night combat. Over the course of the next month or so I will be revealing exactly what can be built.
Why not start with something exciting like a flamethrower turret?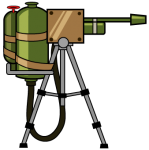 Be sure to save your scrap because this one is pretty expensive. With decent range and high attack power this weapon has been a fan favorite to everyone who has played EverDead to this point.
Be sure to come back next week for a sneak peak at more equipment the engineer class can build!