Hi everyone, I've tried to write shorter blogpost for weeks, but it failed every single time. Until today:
Good progress again this week (although I should admit I lost quite a lot of time teaching myself [this]). Singleplayer races are working. That is, you can now place flags, make a track, start a race, and actually do your race. The arrow I talked about last week is working too; here you see it in action:




Singleplayer races are of course a bit weird (you always win :P), multiplayer is what this minigame is all about. I expect it not be that hard to implement, but we'll see.
The game client can now read the codes [generated] by [the fish generator] and turn them into an image, which means you can now actually see the fish in your inventory. Still left to do is linking these fish to the fishing minigame, integrating the generator in the server, and adding different behaviors to the various fish species.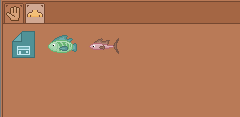 I am satisfied with my new take on the duel music so far, but I decided I want to give it some more flesh before I show it to you. I expect to show it next week!
And finally, user Johnmatthais did a post on the forums about a new server he set up. I though it would be nice to give him some help, so if you're a tester looking for a place to play, give the server 'ADAG' a visit if it's up! If you're not a playtester yet: please be patient ;). If you've been reading this blog you know the new update is slowly but steadily nearing completion, and I plan to invite new groups of playtesters to come test it! Lots of groups, actually, because my waiting list is HUGE at the moment. Oh, and in case you're wondering why I'm not giving any IPs when referring to servers: Olvand uses [its own DNS system], which means you can link server names to IP addresses.
If you want more development, see [twitter] or [facebook].