Hello everyone!
Though I regret to inform you all that we have nothing to show visually, we have made some progress. Our major concern for this week was actually the presentation of the project to our teachers, so we couldn't afford to work on the game all that much while we got the files sorted out for it. However, with the presentation behind us you can expect us to be able to focus more of our effort on this game.
For the major changes I'm here to announce, we now have our two major threats in the game, in the form of the Looter enemy to the right and the Armor currently pursuing our poor Shadeborn in this picture. The Looter will seek all treasure he can, attacking the player on sight with a dash attack that leaves him vulnerable if he misses. The Armor will stick to its patrol route or stationary location, scanning the area. Upon finding someone other than a Wisp (yes, this includes Looter enemies), it will aggressively charge at them and attack, killing the target in a single hit. Think of it as a food chain: the Looter can kill you and the Armor can kill the Looter.
In the picture you can also see our inventory system on the top right, with the player being able to hold two artifacts at once. The top artifact is considered the active artifact, and it's the one you'll use when you press the button. By pressing another button you can swap which artifact is active. Whenever you pick up an artifact when both inventory slots are taken, then the new artifact will replace the active one, through this we hope to give players who put in the effort the means to create cool chains of abilities to traverse levels in quick and interesting ways.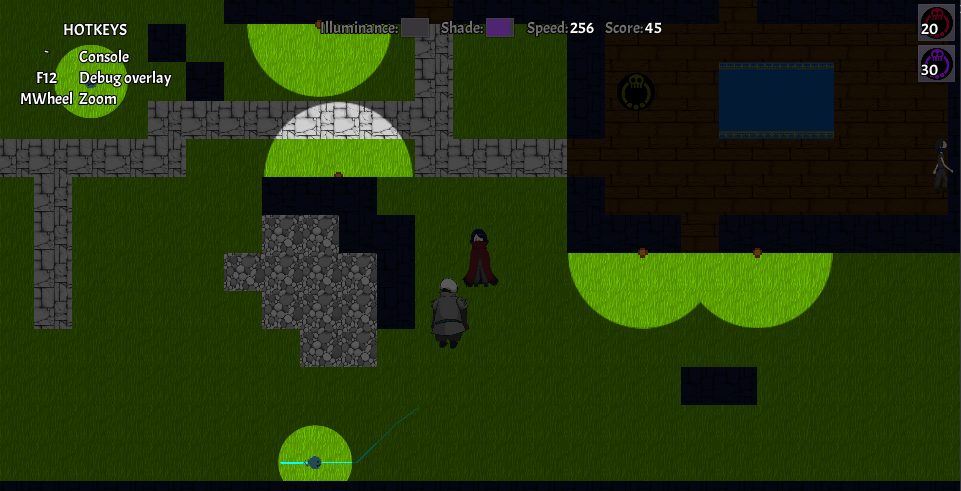 On the design front, that job was overtaken by the needs of the management part for this week, and for art we have our artist working on something to be released at a later date when we think it's ready to be shown.
I would like to apologize for how lacking this update may strike you as, but rest assured that we will endeavour to continue making this a good game.
-Francisco Fonseca