Every unit has a body and equipment. The body can be for example a guard, cavalier or a farmer.
You can choose a body and attach different equipment on it. Like weapons and armor.
These bodies and equipments have to be researched and every building has a different selection from the equipment and bodys.
You cant choose a cavalier in your barack, because its stable exclusive.

The goal is to create a Rock, Scissor, paper principle combat system, but not a static one.
It should feel more dynamic and that is what I try with the unit creator.

The goal is to present multiple viable unit combinations, which makes matches of Revenge of Lords more varied.

In most RTS games you have a small choice of finished units and in some you just build the counter unit.
If you played the game for some time you know every unit and his counterparts.

In Revenge of Lords are much more variants of units. You have to interpret the enemys units and combine your researched equipment to build suitable units to counter them.
There are two important properties which every equipment has:

Weight: Depending on the body the movement-speed and the attack-speed is reduced.
Buildtime: How much buildtime adds this part to the overall buildtime.

Different Weapons counter different armor and vice versa.
Shields adds a block with lifepoints.
Axes do additional damage to shields
Fire arrows can set enemys on fire.
and so on ...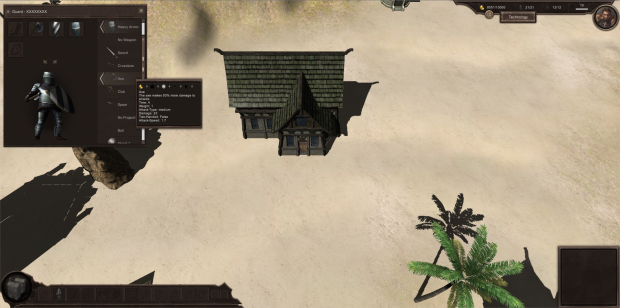 Maybe you come to the opinion that the players are gonna change the designs all the time to counter the enemy, but in Revenge of Lords, the buildings gain more efficient in building the specific unit everytime the unit has finished training. By changing equipment the building looses the collected efficient.