Hey, we reached our Kickstarter Goal!
Stretch Goal: Escape Pods, Ship to Ship Docking, Alien NPCs, Planetary Landings, 3D Integration and more. See KS Update 4 for details.
Kickstarter Exclusive: Capital Ship Crests and Logos: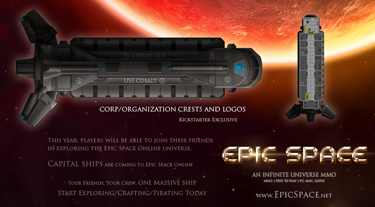 A custom Emblem/Crest on your capital ship and anyone in your Corporation. It can be your own logo, or we can design it for you! Only those affiliated with your organization will have one as well. But only a few groups will actually have one. This is a Kickstarter exclusive tier.
We're crowdfunding Epic Space Online. An Infinite Universe MMO. "Kickstarting" gets you one of three types of capital ships: A Carrier, Cargoship, or a Destroyer Class.
More Info:
Kickstarter.com