Yeah, you read it correctly, ENTE's PadPack for World of Padman is back! Almost 13 years ago ENTE adapted his PadPack to the stand alone version of World of Padman (v1.1) and released the maps PadCastle, PadGallery and PadCrash in a significantly revised form. When World of Padman was released in version 1.5 back in 2010, many essential changes in the game were made, so that not only the maps in ENTE's PadPack had errors due to the dependencies to now missing textures, sounds and shaders. ENTE actually wanted to fix this at that time, but for various reasons it did not happen any more.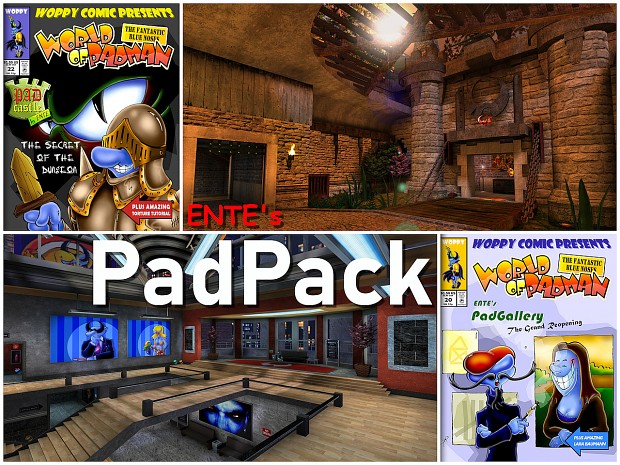 Remembering that a few weeks ago, on the 20th anniversary of the PadMaps, we took a closer look at ENTE's PadPack from back then and found out that not too many adjustments are necessary to make it compatible with WoP 1.5 and newer. Some shaders needed to be revised, some missing content needed to be added and the skyboxes received some smaller improvements. The old levelshots needed to be redone and finally the different versions of PadCrash and related files had to be removed from the PadPack, because these maps are part of the standard installation since WoP 1.5.
After ENTE had a closer look at it and he could test a beta version in advance, he was enthusiastic and was very happy that all this was possible without recompiling the maps. He immediately gave the green light for a release and after we beta tested both maps intensively together with our hard-working testers, ENTE's PadPack for World of Padman 1.5 and newer is available for download. For installation please see the readme file in the package. Grab it!
ENTE, alias DuckWire reacts on the release of the PadPack for World of Padman 1.5+ an presents his maps PadCastle and PadGallery. Sorry, this video is only available in German.