I am happy to announce that Enro's full set of outlines has been complete.
And when I say outline, I mean it as that is what I will only be recieving. As mentioned earlier, my budget can only afford the outlines so I have to color it myself, but I needed a method that did not require of me to actually color it. The solution is to create layers, and that is the task that is being done right now.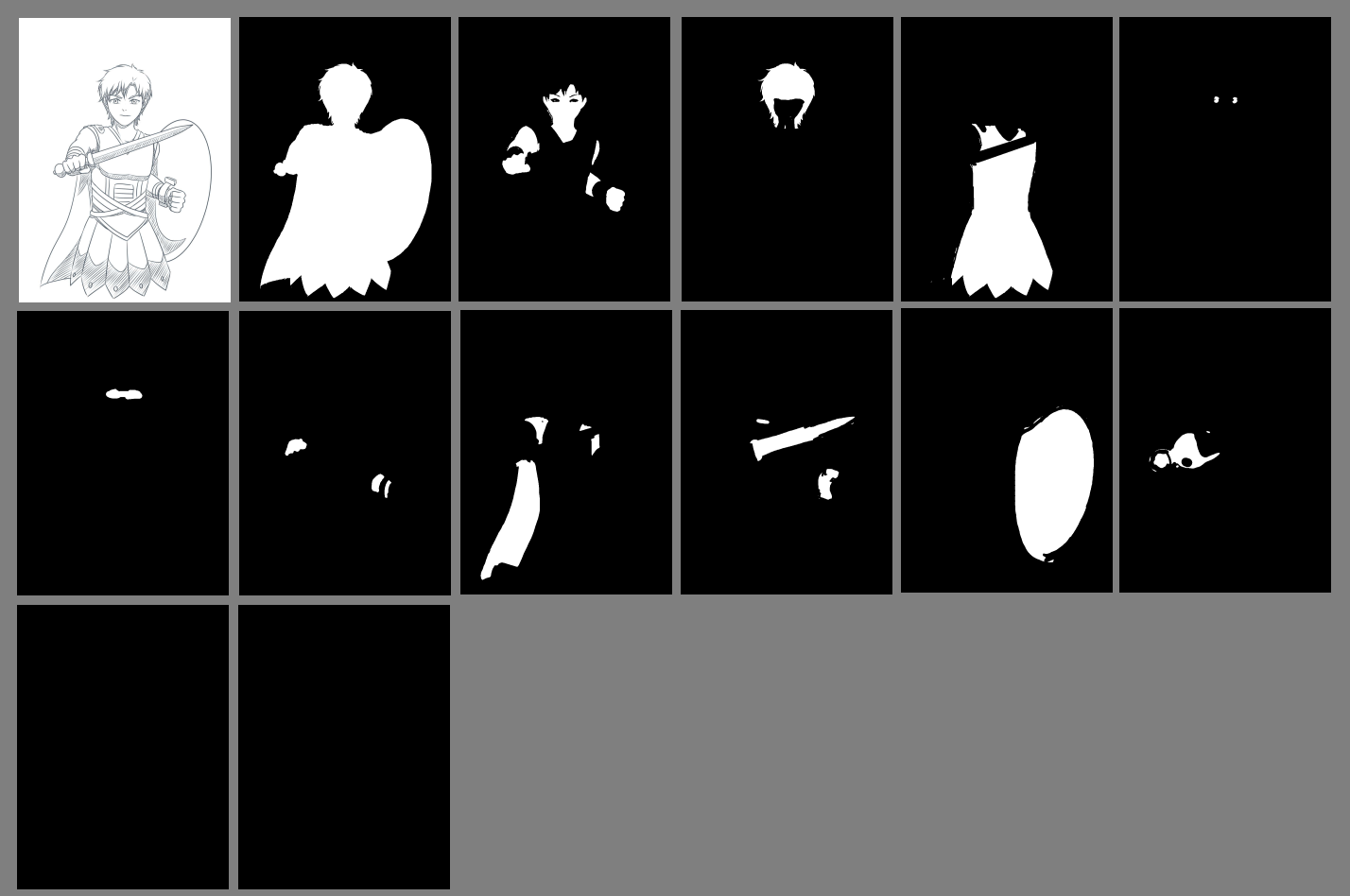 Layers for the second Enro sprite in the set.
However, this is a lot of work, almost as much as coloring it. But with this method of coloring, I can not only have the computer color it for me, but can give the player the ability to create custom palettes, so it's going to be worth it just for that.
Enro's sprite set has 38 sprites and there are 11 layers to create (as of now at least). This task takes a few hours for just one layer for every sprite in the set, so I'm looking at many, many hours of layering. Thankfully the big chunks are being done first and these cover up the most area. That means that if I finish one layer, the next one will be easier since the previous layer is on top, so there is less area to cut out.
The next task will be the second character, Escudo, but before we get to that, I want to make some promo pictures to update the site. That thing has been disheveled for too long, so I'll be working with my artist to create promotional images of the entire cast.
That should do it for this update. Currently there isn't much going on because sprites take a very long time to create, but hopefully next update I can show you the color editor and see what great things you can do with it.
If you don't want to wait for weeks at a time for updates, I update on a more frequent basis on the Toolkitz Discord, so come check us out there.
You can also follow the progress on our other social sites.
And don't forget our beta. Even though the game is now going under a major reconstruction, the beta will still remain until the new demo arrives.