Hello everyone,
all our work and our passion have materialized in Energy Hunter Boy, an action / shooter game with procedural and editable scenarios!

The game is now ready for publication, and we are only finishing the last details to prepare the release on Steam. Our journey will start soon!

It has been a long journey that lasted almost two years, but in the end we succeeded ... our game is ready to be published!
We have spent the last few months optimizing gameplay, fixing bugs and improving game performance.

It has been a long job but now we are proud of what we have done and we can't wait to publish the game on Steam in the coming months!

We are excited, a new adventure begins for us!
Voxel worlds
The scenarios are generated with voxel technology, and even the vegetation, trees and plants are always generated randomly.By this way the scenarios will always be different, fascinating and modifiable at will.
In fact by gathering energy you can activate the 'terrain tool' that allows you to dig or build the land at will, to achieve the objectives of the missions.
Furthermore, by digging the ground, it is possible to obtain resources from the vegetation (Vigor points)!
There are also procedural sources of fluids that can also be toxic and lethal!
Enjoy the journey, the exploration and the fighting!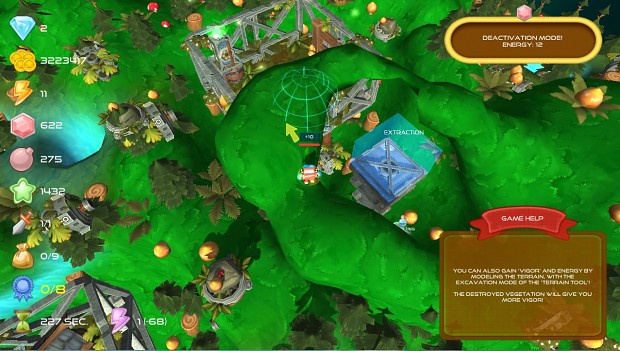 Gameplay
The aim of the game is to collect and extract the the number of health objects required to pass the level.To do this you must go in 'deactivation mode' to deactivate the selected power generator, then the 'health' items will be created. You have to collect and bring home these items.
To enter in 'deactivation mode' and to deform the ground you need ENERGY. This energy can be earned by collecting the many bonuses that appear every time you kill an enemy!
The energy decreases every second.
You have to take also the VIGOR objects to increase AMMO and AUTONOMY of the little robot.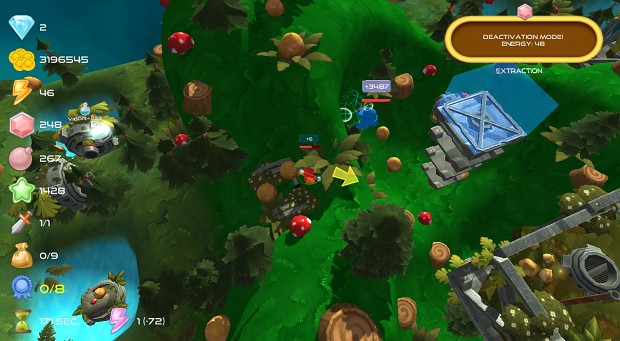 Energy!
Energy is fundamental in this game.Through the energy it is possible to deactivate the power generators to overcome the levels, it is possible to use the 'terrain tool' to deform the ground at will and reach all the places of the scenario, it is possible to dig and destroy the vegetation to collect the 'Vigor' necessary for our little robot!
In other words, you will be a true ENERGY HUNTER!
You will have to destroy as many enemies as possible to collect energy bonuses.