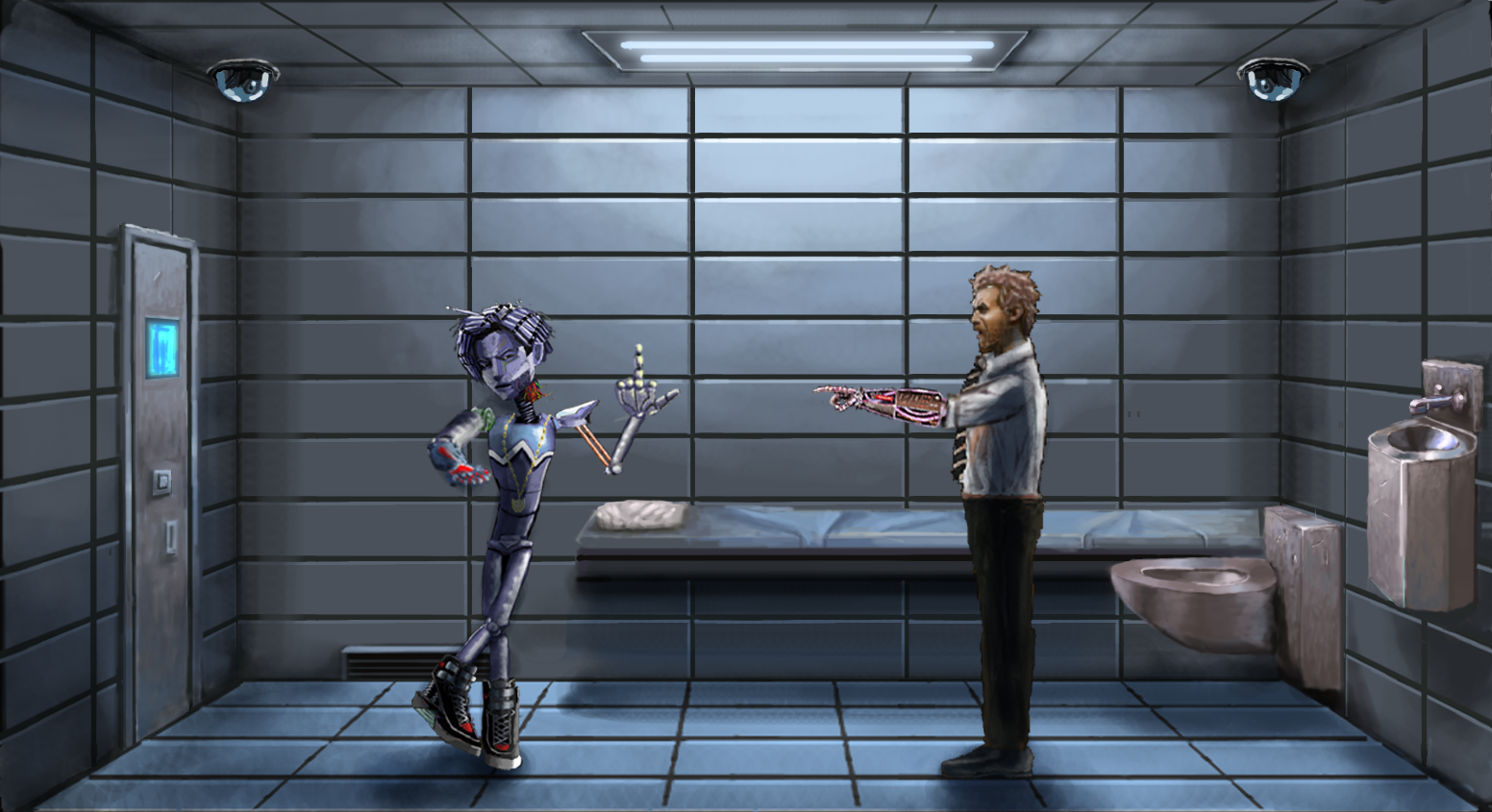 "This is your fault we're in this secret offshore prison, robot John Connor!"
"Bite me, Syrian Bruce Willis!"
The big news is, Neofeud's official alpha is very, very nearly finished, with essentially all background scenes completed, and most all of everything from art to writing to programming vanquished, with exception of voice acting, which will be the final stage. I'd hesitate to say the work is "Finished" with a capital 'F' since any game developer or programmer knows, testing and debugging is half the battle. Contrary to GI Joe's advice.
Still! Much much work has gone in and there is again much thanks to be distributed.
Before I get into it, once again, credit where credit is due:
THANK YOU!
Thanks to @ssmigiel again for contributing a staggering 11 tracks to the Neofeud soundtrack. Here's a sample of some of the fresh, and appropriately industrial music.

For more awesome tunes from the producer, Scott, you can go to grievous.bandcamp.com or find him on Twitter at the above-mentioned handle.
The other half of @minxilla, @bittersweetdb has also given some great auditions and will likely be doing Neofeud voice acting in the near future, schedules permitting. so look forward to her vocal talent on a future Neofeud trailer.
Thanks also to Noirjyre for continued support and helping with figuring out how to do this merchandising thing! We're learning micro-business skills to keep the work going all the time nowadays, so thanks for the help!
One last thank-you to Ian Ruotsala (Xenophile), who is currently looking for programming work. As the other coder who worked with me on the Deus Ex-based game Terminus Machina (which received 9.5/10 on Moddb) I can say that Ian has the programming chops, so do hire him!
All of this is above and beyond their official monetary patronage, so, truly, a huge thank you from yours truly for supporting me and creators as a whole.


At any rate, here's a full status report on Neofeud:
- Backgrounds: 100% done. Some animations remain but scenes at this point are pretty set.
- Story: 95% done. Just need to write prologue(s).
- Programming: 95% crushed. Just need to flesh out the final levels.
- Characters: 95% finito. Just a few more animations of chestbursters exploding from the liquid metal entrails of the US President. 110% of character portraits completed -- counting additional portraits painted for Neofeud [url=Patreon.com supporters.
- Music: 95% complete. Again, big shout out to @minxilla for helping out with awesome tracks.
- Voice Acting: TBA -- Going to finish everything else and test enough to get an absolute cut of the script before getting in the global virtual soundbooth with voice talent.
- Sound: 60% but this is a minor mole hill compared to the rest of the Mt. Everest-worth of work.
Here is some additional work that has been completed over the past month:
The G8: Global Economic Summit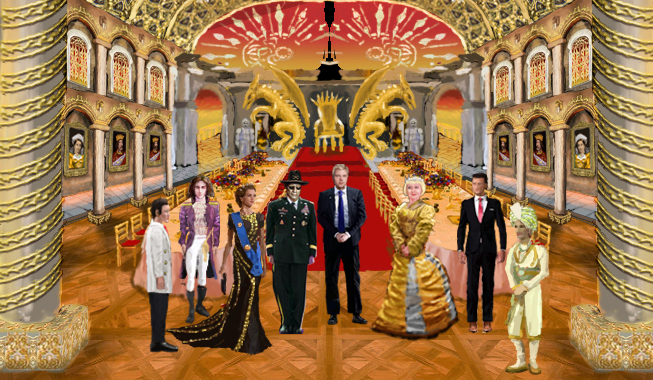 "Prosperity has never been greater. The flourishing of all of our houses remains at all time highs. Gross Celestial Product is up 30%, and dynastic employment amongst titled, fully-documented sentient species is at 99%. The outlook on luxury good consumption is remarkably bullish: geosynchronous resort cities are booming, luxury skycraft and spacecraft are churned out by labor-free robotic plants by the dozen. Our Martian Colony has broken ground on a second private resort-city with Venus terraforming coming along smoothly, and profits from asteroid mining has taken off."
"We have never been more prosperous, our future has never been brighter, in all of history. Dare I say, we, the Neofeudal elite, are doing God's work. Now, I'm not one for self-congratulation, but I think we all deserve a round of applause."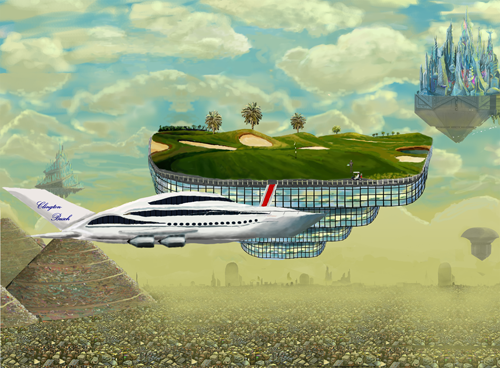 The Fulcrum Palace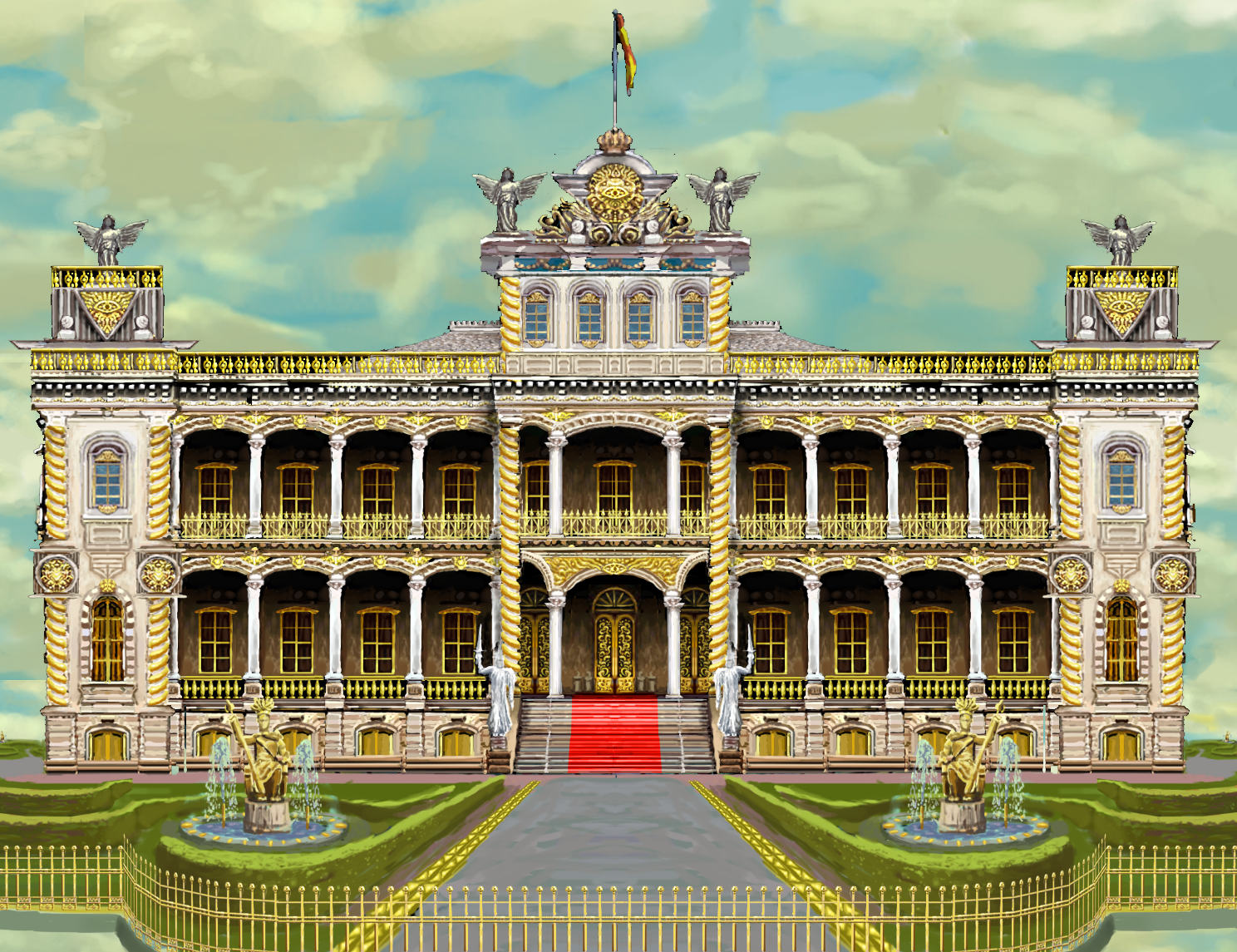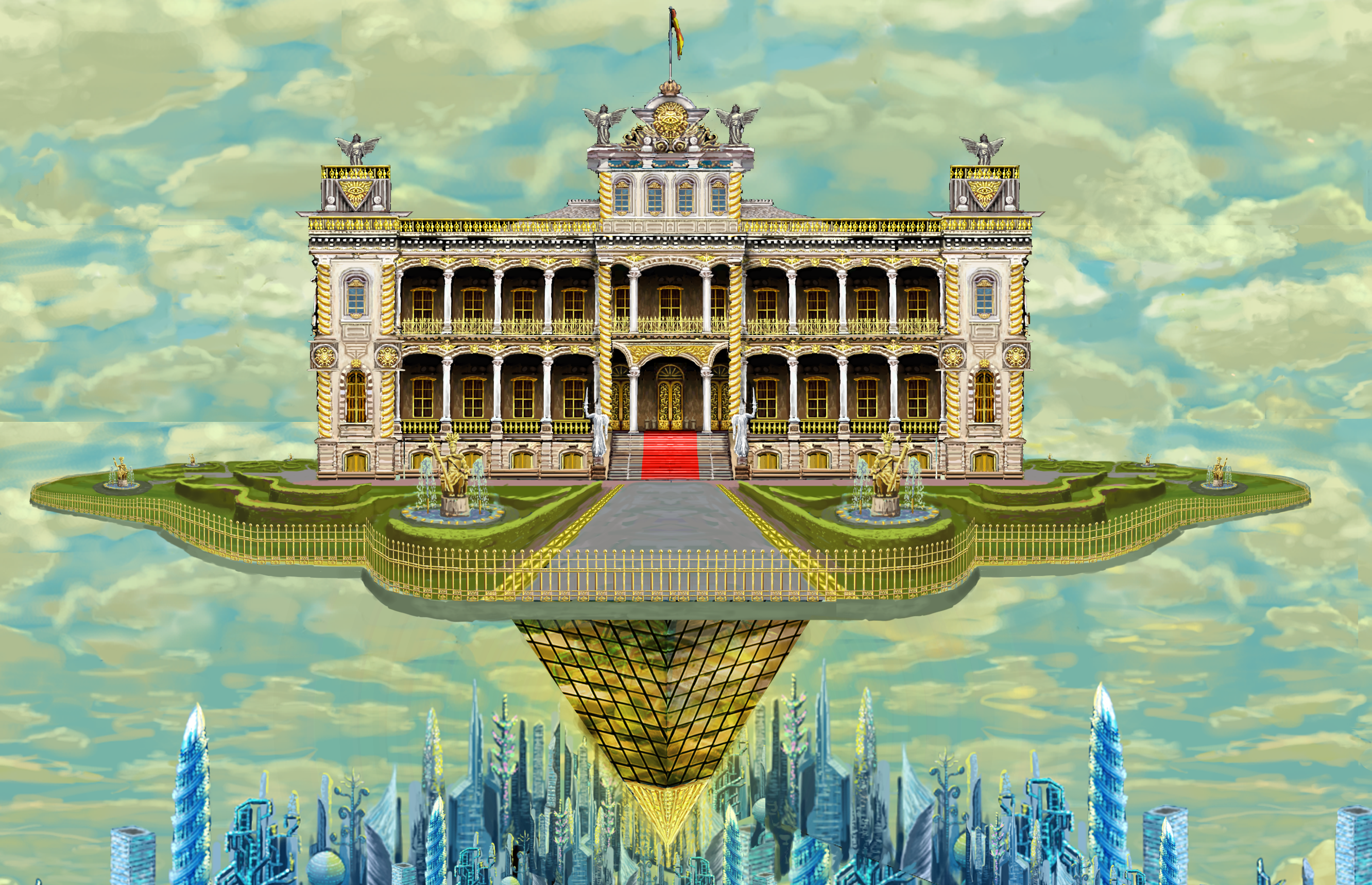 (In-game excerpt):
"The Fulcrum Palace. Constructed by my father, Warren Clington-Busch, this 'crown jewel' above Coastlandia is estimated to have costed as much as the entire Stratoplex city below it -- a living symbol of wealth inequality."
"It contains millions of carats worth of diamond and is adorned with ten times the gold ever mined from Earth, harvested from a rare 'auric comet' captured by lightspeed spacecraft half-way to Alpha Centauri. My father purchased the most prized artifacts of the Louvre and the Smithsonian when the United States and European Union went bankrupt as their economies withered up, installing the Mona Lisa and the Declaration of Independence smugly into his personal galleries."
"The heart of The Fulcrum is classified, but conspiracy theorists suggest it is powered by a massive black hole."
"I like to joke that the 'black hole' powering it is the unfillable void in my father's ugly, loveless heart. He doesn't find that funny."