After a brief hiatus so I could start a new job and sell my house, EleMetals is back in development. I can't wait to share everything we've been up to, and where we're going with it. This is the kind of game we run home to work on, and constantly think about. We're creating the kind of game WE want to play. This post is part road-map, and part postmortem for our early part of development. Not sure if it's going to help anyone, but it feels good to get it out there and identify issues.
We showed the game too early.
EleMetals has gone through so many revisions and changes, especially with the environment. We were changing the game so drastically, and so often, I was worried we would almost confuse people as to what we were making. We're finally happy with the direction we're taking, and feel it's the most efficient and variable way we can create it while still maintaining the look we want. I'm hoping to share some of our process in the future.
Here's a picture of us showing the earliest demo of EleMetals at the local IGDA Multiplayer Mixer last September. We had a different look back then, not by much, but different. The game was so incredibly broken, it was practically a tech demo. Even so, people had fun. At least they told me they did!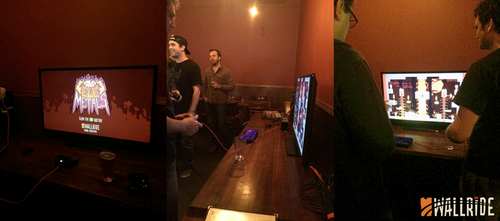 Too concerned with starting a studio, instead of creating a game.
Simple as that. We wanted to do this full time more than anything. Dumb mistake. Moving on. The majority of EleMetal's development was done in my guest bedroom at my old house. Two desks crammed together with a small piece of paper taped on the door with "Wallride" written on it. It was awesome.
It's not ready! Don't show it!
Ugh. This is a terrible habit I have as an artist. I'm so concerned with first impressions, that I have a hard time sharing the process until its "finished." As you'd imagine, this is a pretty bad thing for an indie game that wants to have an open development. We didn't share anything. If you look back on our Dev blog or IndieDB, there's pretty much nothing there. Moving forward I'll be sharing as much as I can. Things may not be perfect, but everything is in development until that big red launch button is hit.This photo was from Gamer's Rhapsody conference in Minneapolis last November. We had quite a crowd all day, jumping in and out of our single, 4-player level we had available. People seemed to really enjoy the game, regardless of the handful of bugs. You can see the updated art style, and how it's a much more vibrant game.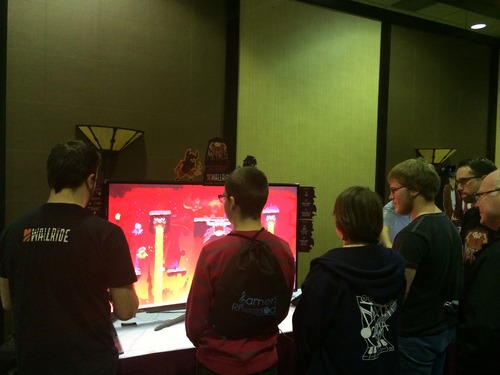 So these were a few of the obstacles I realized we were hit with. It feels good to get it out there. After taking a short break from development, I feel like we have a fresh vision for the game. Updated to Unity 5. Super excited about some of the new features we're putting together…- Totally new death system, way more dynamic and interactive than the previous soul pull. Mess with other players while they're down. More on that as we test it!- New trap pacing system, the game gets harder as the match continues.- Semi-random level creation, recognizable stages that are a bit different each time.We're creating a bit more of an illustrated and organic look to the environment. It's still a square grid underneath, but it's nice and hidden. I'll be writing up some short features highlighting different aspects of EleMetals, so until then check out this screenshot of where we're at.
Follow our Dev Blog for more pictures and videos of development...