Elizabeth Reed's Story
Liz lost her little sister when she was just a teenager. One night, robbers broke into the house where they lived with their parents and the little sister was killed in the fight.
Although the robbers were later found and arrested, Liz always felt guilty because she couldn't save her sister. From that moment, Liz decided that she would help and defend the innocent and defenseless from the injustices (this reminds me of another story...).
She enlisted in the police, receiving promotions for commitment and dedication in a short time and then she joined the special forces as a detective.

Liz is very diligent at work and she's always the best in action. The danger does not frighten her, especially when it comes to safeguarding people in need. Her hard side of character hides sweetness and sensitivity in private life.
Character Design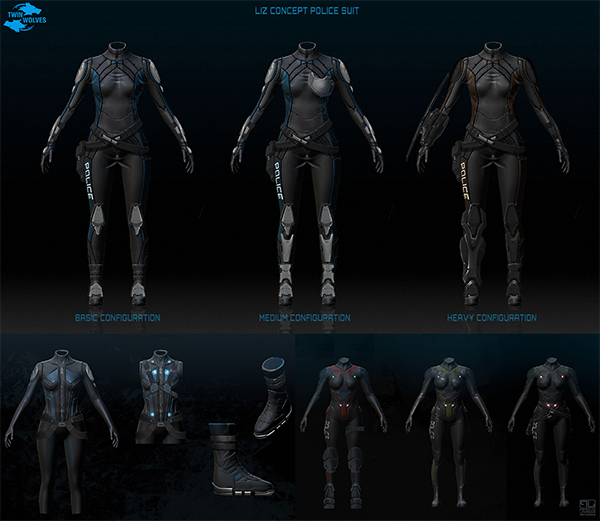 Paolo Lamanna, a senior character artist, took care of the main character realization. He started from a mood board and some sketches previously created by Alessandro Galimberti and reviewed by Arianna Fusetti, our 3D generalists, where the goal was already clear! The character had to wear a credible futuristic combat suit, as sci-fi was not the context of the game. The main challenges of this realization were two:
aesthetically, he had to create a credible suit that did not diminish the femininity of the character
he had to make sure that this suit (and the whole character) could transmit a good number of details while remaining within a limited number of polygons, constraint quite important for processing in VR
Paolo was inspired by motorcycle suits, obviously integrating fabrics and details that would make it slightly more hi-tech and suitable for combat. Even the various protections are very tight and this has allowed him not to overturn the polygonal mesh of the character.
Thanks to the diversification of materials, the final subject appears to be an excellent combination of softness and rigidity, in order to move freely but also to be more protected where needed.