The second playable character class in the game is now to be revealed;
The Elf Protector - Elven Society Defensive class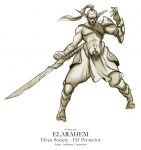 "Before Men was known to the Elves, the Trolls were their main concern. They shared the woods with these beasts, who would like nothing more than to have it for themselves. The Elven Protectors was therefore trained and has guarded the cities of the Elves ever since."
- In-game description of the Protector
Anthony Cournoyer has once again come up with a sweet, sweet art-piece for Elarahem. The defensive Protector can take a good beating, but - don't be fooled by the appearance - has a weaker attack damage. The long object he is holding is actually something that works like a shield.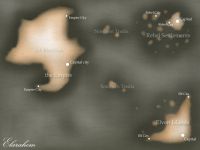 We've also decided to upload the primary World Map. For now, no cities has been named becuase of the fact that we are considering the names we have given to them. We just wanted you to have a look of what the world will look like.
The game itself has not progressed that much since the last News-post. The work on the function that allows people to register new accounts has been launched and we're hoping to get it done soon.
Unfortunatly, since not one of us has done this before, we cannot estimate the time when you will be able to play/beta-test the game. Be sure that we are working though ;D We would also like to take the opportunity to thank everyone that has encouraged us to continue developing the game!