With the help of our new Bugtracker we've managed to squash numerous bugs both big and small thanks to the help of our supportive fans. Without your feedback we wouldn't have been able to locate many of these bugs so on behalf of the Elder Kings team I really have to send out a big big thanks to our players.
0.1.4a isn't just a bugfix patch, it also brings a couple of new features to the mod. The first is another new portrait set, the Po Tun of Akavir are the first of the Akaviri to receive beast portraits bringing the eastern continent closer to completion.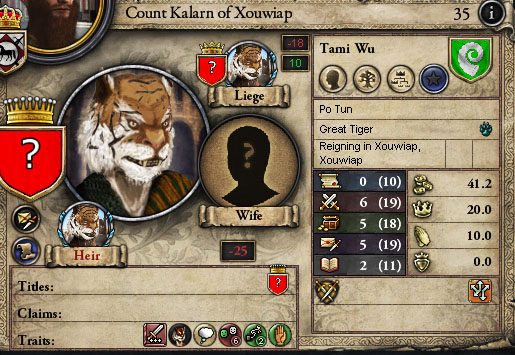 The Po Tun now function as a beast race, much like the Argonians and the Khajiit. This means they cannot interbreed with most other races, any offspring that manages to slip through the net so to speak will turn out to be an "abomination", a severely mutated creature that will die shortly after birth.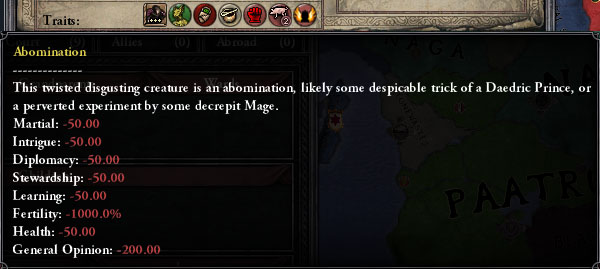 In the case of the Khajiit however we have made an exception; Po Tun and Khajiit can freely interbreed, although any offspring is considered a "Halfbreed" with reduced fertility but increased Martial (to represent increased physical strength and size) and increased Health.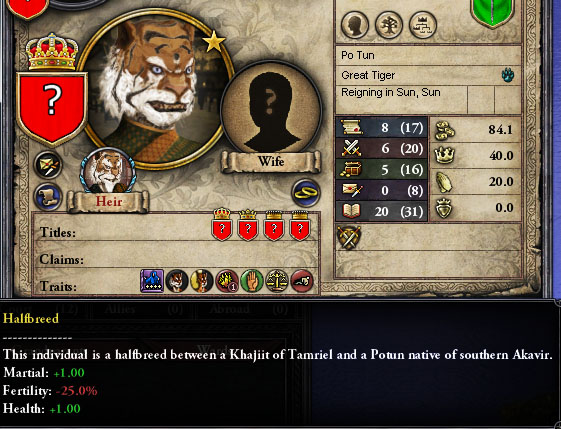 The second feature which is likely much more relevant to ardent Mer-fans and Immortals is the new Edicts system.

This system allows a character to bypass the one crownlaw a lifetime hardcoded limit in CK2, but it isn't a "cheat" system. The Edicts themselves have the same limitations as the Laws; you can't jump straight from Minimal Crown Levy to Maximum Crown Levy in one jump, you have to issue each Edict in turn.


As you can see, the Edicts also come with additional costs; they cost prestige, your vassals view the action as tyrannical (it can even net you the tyrant trait) and it is inherently dishonourable so any honourable characters will lose that trait. Edicts can also only be issued once every 10 years, which in the lifetime of a 300 year old Mer isn't really that long.
0.1.4a Changelog
- [Compatibility] Updated Elder Kings to CK2 2.0.2
- [Added] Portraits for the Po Tun of Akavir.
- [Added] Edicts; an alternative method of changing Crown Laws.
- [Fix] CTD caused by new Argonian Portraits.
- [Fix] Employing Courtiers cost now matches requirement.
- [Fix] Portrait should no longer disappear on status change.
- [Fix] Sabrecats now cost to hire and maintain.
- [Fix] Wrong Terrain types on several provinces.
- [Fix] Vampires not being immune to infirmity and incapability.
- [Fix] You can no longer enslave your own people through sieging one of your own occupied provinces.
- [Fix] Skyforge is now built at game start.
- [Fix] Many localisation issues.
- [Fix] Several wrong ID#s in Title Histories.
- [Fix] Broken Trait checks in Nicknames.
- [Fix] Job Actions checking c_hrothgar, which no longer exists.
- [Fix] Missing Trait Icon for the "On Assassination" trait.
- [Tweak] Dark Brotherhood efficiency has been increased.
- [Tweak] Landed characters can no longer be made Assassins.
- [Tweak] Empires & High Kingdoms no longer require Crown Laws to form.
- [Tweak] Teenagers can no longer form High Kingdoms or Empires.
- [Tweak] Po Tun are now a "beast race", they cannot interbreed successfully with other races except for the Khajiit, with whom they will produce "Halfbreeds".