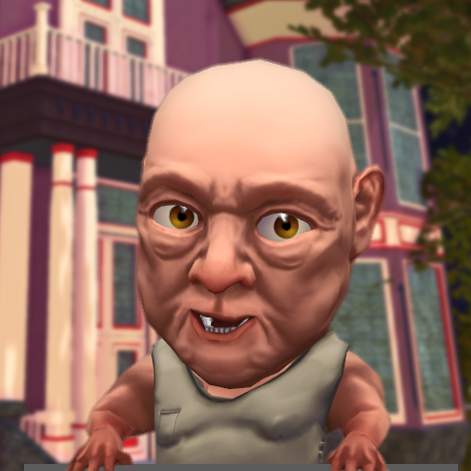 First of, and this one is REALLY exciting! Our Facebook page is now live, you can find it here : Eco Tales Facebook make sure to like it for steady updates!

In addition, Jona has been a so called Straw Man, or gräsänkling in Swedish during most of the week, so he's managed quite a few hours every night, most of these have been spent in SpeedTree so that's why this post is extra long!
---
Jona : Wow, what a week! It's been amazing, and things are sure starting to look more and more interesting. That's why you have to make sure to follow us on Twitter @EcoTalesGame and also me @Gruckel, did Lech mention we have a Facebook page now!?!
This week I managed to find my credentials for an old Unity account, in it I found the SSAO Pro plugin which is now attached to the main game camera, it's amazing, so amazing in fact that I decided to buy SE Natural Bloom ; Dity Lens as well... Not that they are related.
These two along with Colorful FX which I recently upgraded, will form the basis of our post-effect line-up, I wanted to write some of my own, but that'll have to be a fun side-project for when I'm bored with asset creation.
Onto SpeedTree stuff, the grass you see in some of the images in the post are based on a custom mesh I modeled in 3ds Max, this mesh is then instanced multiple times in SpeedTree and spread out with random rotations and scale over a larger area than one mesh could cover, in this case it's about 10m². This also allows for the grass to use the SpeedTree wind parameters, very exciting!
SpeedTree sometimes give away free assets, an hour of painting and bam, new asset!
Below are some trees I created in SpeedTree, I'll probably create a different leaf texture, given how this one is built upon the large bladed ones from the last mentioned one, but not in the way you might expect. The sprite is actually created inside of SpeedTree using a small bush that I made. A tutorial for how this is done will definitely be made!
I also had the opportunity to look at a lot of SpeedTree models which were already made by someone who has been using it for a long time, I learned a lot and it gave me quite a few ideas. Here's a bush based entirely around fronds, which means that it's completely built upon alpha cutoff planes.
I wish SpeedTree had a better LOD-system for fronds, but I guess it'll have to do, these assets aren't really that triss-heavy anyway.
So what else did I do this week? Well, over the course of the weekend we had a small workshop, managed about 20 hours or even more in less than 48 hours. I as I am one to do, did a lot of shader research, mainly however I focused on creating two new characters.
One fit male and one fit female, I also created the gear needed to not have all characters walk around naked whilst wearing nothing in our screenshots.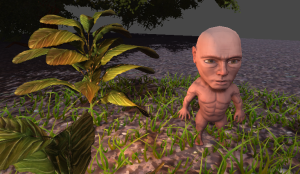 Fit male with standard shader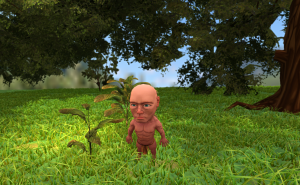 Fit Eco male with clothing using a custom shader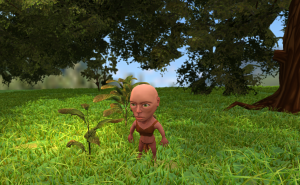 Fit Eco female with clothing using a custom shader
---
Krister : Wow, what a week! It's been amazing. I have started drafting the camera, as we have a lot to decide on and plan I still need to prototype and make general systems and look deeper into any bought systems, getting to know them and how we might be able to use them.
The camera I have worked on is your general third person camera system, you know, move it around, wiggle it a bit, zoomable, that is the camera we might use for the adventure part of Eco Tales while the shop part likely will be something different.
Besides that I have done other programmy thingies, as a coder or a human being I don't know but I find great pleasure in trying and learning new things so after buying a starter Arduino kit for some of my students at LBS Stockholm (sv) I got so jealous watching them working with it I just had to order my own which quickly arrived and after getting a Light-emitting diode to blink I got into something bigger namely begging Eco Tales ( Facebook ) for forgiveness for not spending every moment awake working on it, but I think I managed to sway her a bit.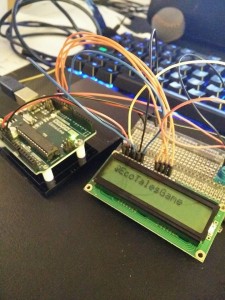 Sucking up to Eco