Big news this week if you missed it, we launched our account system, and you can now login and back the game/upgrade your pledge. Check here if you missed it: Strangeloopgames.com
We're hard at work finishing the task list for alpha, and expect it to be released Mid-November. You can see our task progress below, as soon as we get those finished we launch it.
Live Streaming
We're going to start doing weekly live-streams of the game on Fridays at 5pm Pacific Time. Everyone will be able to watch via Twitch, and Dev Tier backers and above can enter our test server and take part in the demo! We'll email out a link to Twitch later this week, looking forward to hearing people's comments as we demo.
Here's the updates this week:
Updates
Eric - eric@strangeloopgames.com
Crafting is complete! Hooked up the last bit of code allowing owners of the crafting table to charge a fee for its use. You can set it up to charge whatever item you want, meat, wood, ore – anything that exists as an item in the game.
Crafting comes at a cost however, as many recipes have byproducts. For example, refining ore also generates tailings, which causes pollution. Players will have to deal with this somehow or risk destroying their world.
As a bonus, I brought stores back in. When you setup a store, you can trade goods. Need ore and only have wood? Set up a trade and other players can exchange goods with you.
Fuller - nfuller@strangeloopgames.com
Work on buildings continues. Getting the last bits nailed down to make the whole process a lot smoother.
Aside from some wrestling with bugs, I also brought back torches to light up the world. You can hold a torch and it will cast light or set the torch down. We'll be looking at more advanced lighting techniques in the upcoming days post-alpha, but for now, you can at least find your way back home in the dark.
You can also name your buildings!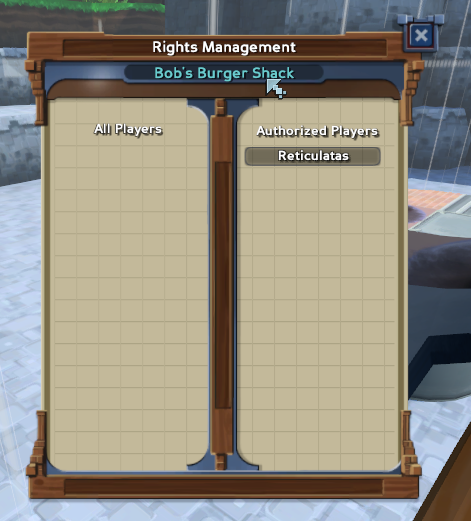 Jeff - jeff@strangeloopgames.com
Account system is ready to release to the masses! Hazza. Now onto the laws system.
John - john@strangeloopgames.com
Launched the account system with Jeff, getting prepped for Alpha, reviewing features and designing tweaks. Adding more tools to the ecosystem simulation and working to balance that. Lots of tasks lighting up finished and ready for review in our Task Tracker, which is a good feeling: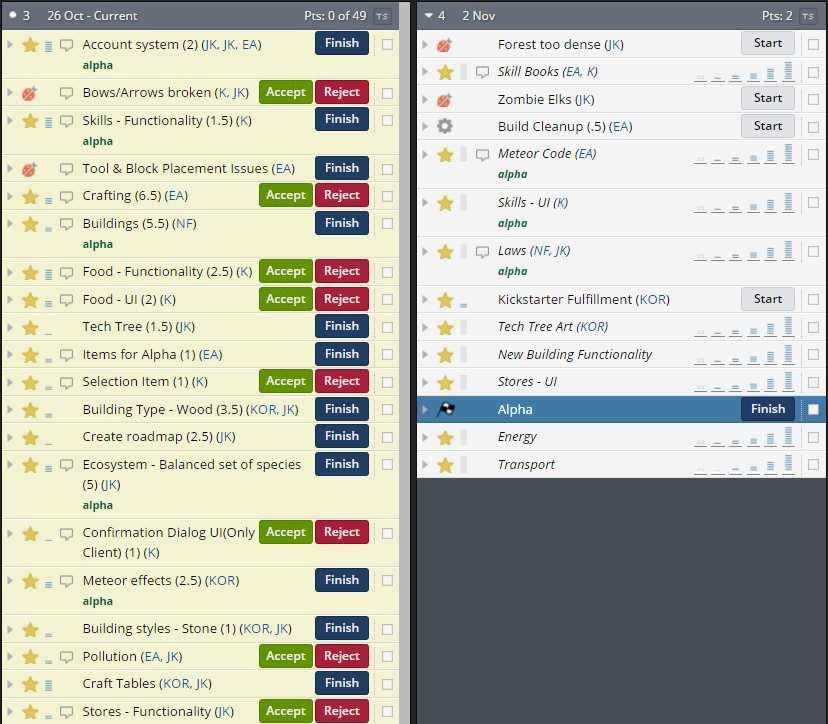 When we get all those tasks finished Alpha will be released!
Created a Search and Select dialog for choosing the fee in a craft table (and later for stores):
Confirmation window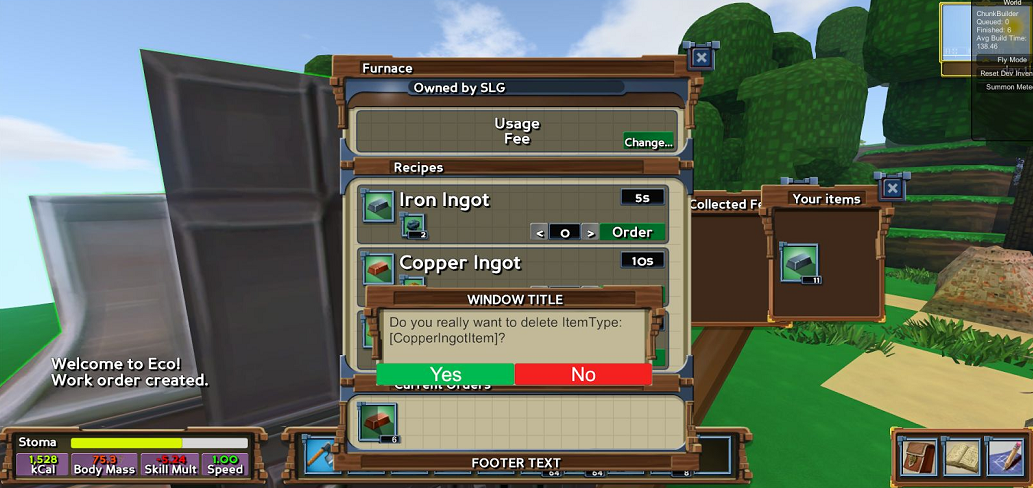 Food function and UI work finished.
Food task is finished, temp-art info panel is placed at bottom-left.

If you consume food you will see increasement( + changes)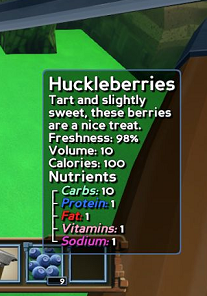 If you do something, you will also see decreasement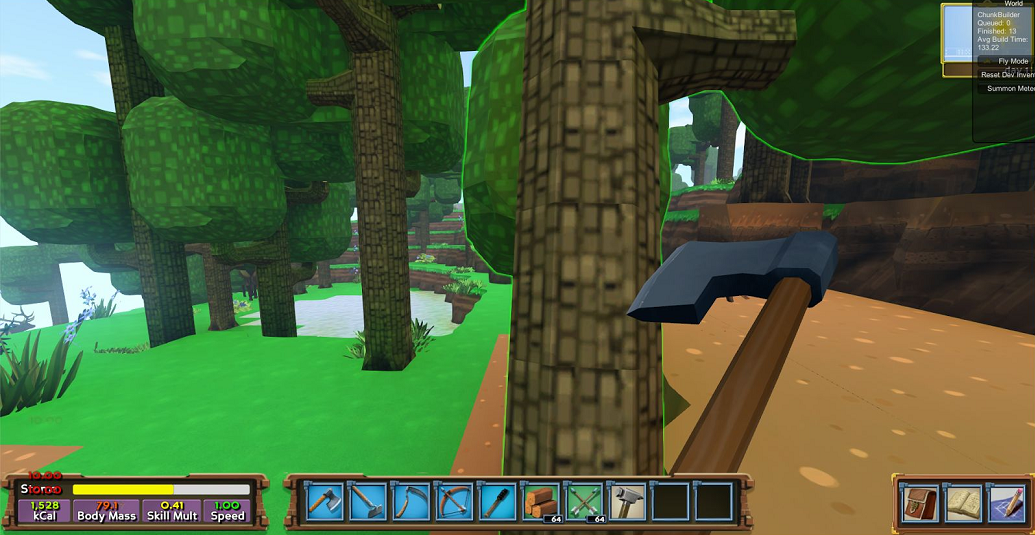 And, of course, you can see detailed information with mouser over





Working on skills to make your guys power up.
Keegan – keegan@strangeloopgames.com
I've been working more on meteor effects and getting the log and stone building types in-game.
What a nice little stone hut you've built there, player! It'd be a shame if something happened to it…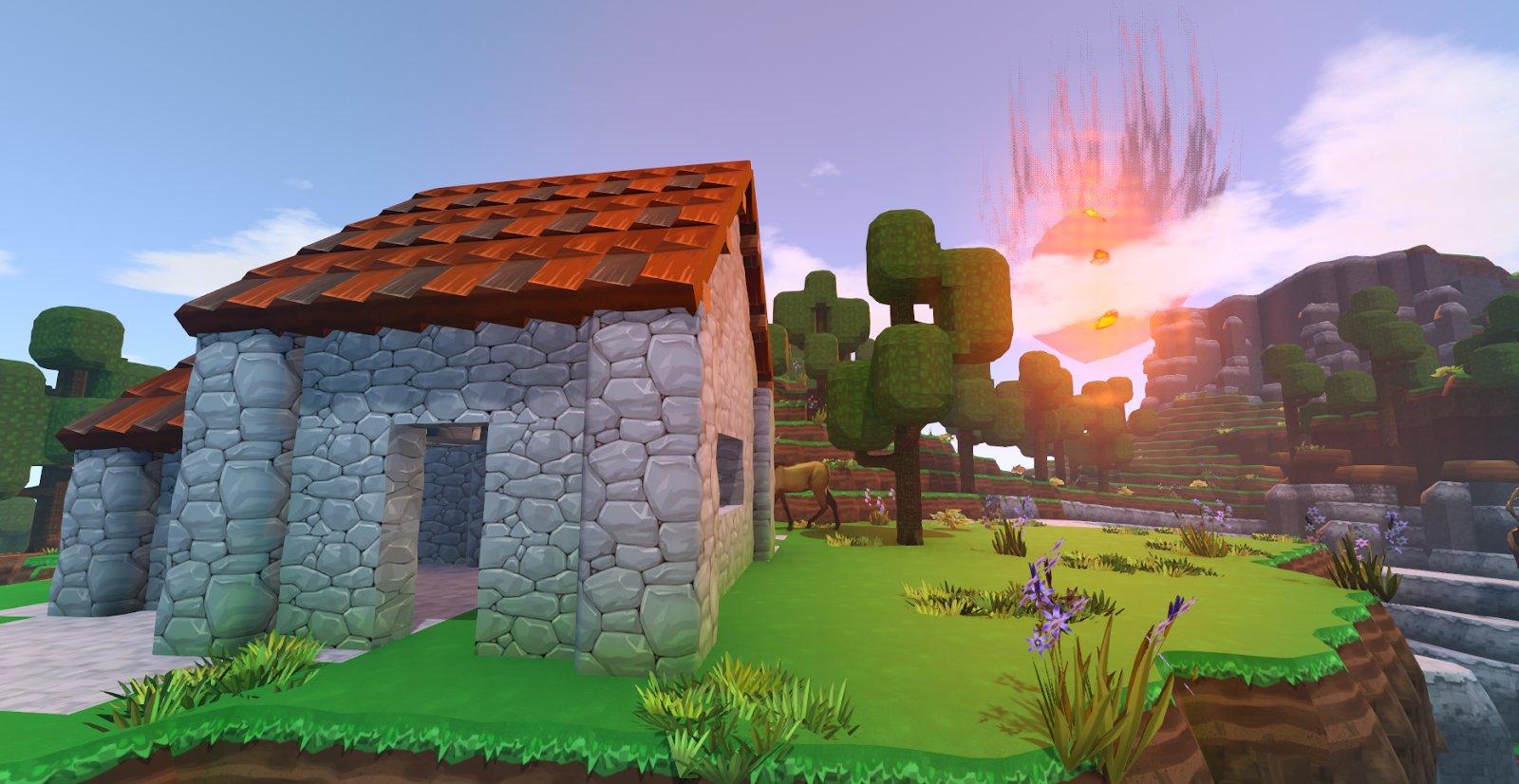 Milenko - milenko@strangeloopgames.com
Finished Work on the stone hut, optimised the mesh, did another batch of UI icons, edited some textures and did some high level design prototypes for the game avatars. And started designs for all these different types of crafting tables.
Thanks and as always email us with any questions.
-John K