Easter is almost upon on us this means it is time to grab your bunny mask and joust some evil Easter bunnies or anything that could be one!
Of course you also need to shove a lot of eggs turn your throat til you explode. Wait, no, just enough so you don't starve.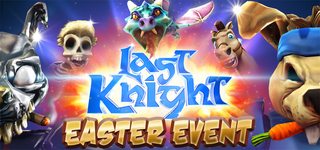 This weekend is your last chance to grab Last Knight for 75% off! If you already have it this is also a good time to recommend it to your friends.

Here is the introduction to the Easter event:
In case you have not found a Bunny mask yet you better get going and find one. Luckily in this Easter event they are much easier to find, just look out for some giant Knight Suprise TM eggs.

Here is a small sample of the randomly generated bunny masks:

If you now want one for your Easter decoration or just to paint something more exciting then a odd distorted spherical thingy you can print this bunny head with your 3d printer: Thingiverse.com No 3d printer? Don't worry, in a couple of years everyone has one.

While the Easter event is going on you can also search for eggs in the menus which change things in various ways. Just click on them to crack them open and again to deactivate them.

This update has a couple of changes requested in the forum:
- Easter event
- AZERTY french keyboard layout support
- Right Thumbstick press is now a 3rd person camera cycle button (With a keyboard you can now cycle through with pressing K)
- Fixed Water Buckets and Lava Buckets being swapped in the stats screen

tl;dr:
Eat bunny masks, wear eggs, 75% on top sale, don't tell your friends, hug evil Easter bunnies

Happy Easter! (in advance)
David Hagemann
Toco Games
@TocoGamescom - Lastknightthegame.com