Until now we have shown lots of different families and their different combat styles, but this time, we will focus on the other main element our game will have, levels. Vikings were our first family and that is why we focused also on their own stage first, the drakkars level, but now we will show you the progress of the new one, the TRAIN LEVEL.

This level will be linked to the cowboy family and it will take place in a couple of crazy trains that will constantly change. The main factor about this level comes from the fact that we will build a variety of trains that will randomly appear every battle.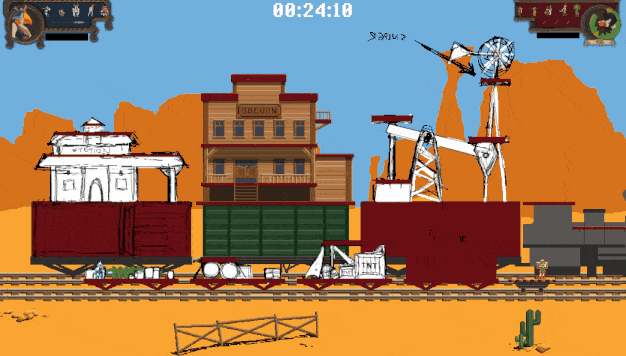 We designed two train types the big wagons for the train in the back and the smaller wagons that will appear in front. The train in the back will give the stage a greater verticality compared to the previous viking level and it will also add a continuous straight battleground on the lower part of these wagons.
Our idea was to make a level as dynamic as the previous one but with one main and important difference, there will be no water beneath to kill you. Instead you will have the always moving floor, that gives the player the possibility to catch up and avoid the fatal ending. Although this fatal ending will still happen if the player gets out of screen for too long...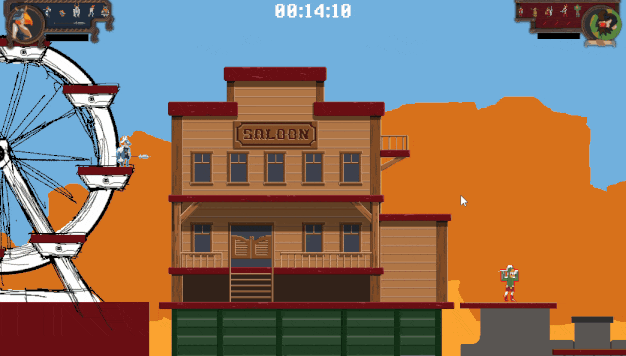 We are still discussing if we should add the shrinking level concept on this stage as we did with the drakkars level (where ships are destroyed after a while making the battleground smaller). In that case our idea is to simply change the number of wagons of the new trains making them shorter, but we don't know if the level needs that...