Hello DvDrummers!

It's been a while since the last update, but the Big Update is Here!

In all this time We have worked hard to rewrite and improve a lot of DvDrum features, and We are very happy to release the new version!
The new DvDrum philosophy is oriented to the best drum simulation and maximum creative freedom.

This is a big update with a lot of changes, please give us your feedback about problems or bugs found during the play, Thanks!

This new update introduce a new drumkit file format: ".dvx"
The previous Drumkit, SoundSet and KeysMap files will be removed automatically, because are no longer compatible with new system.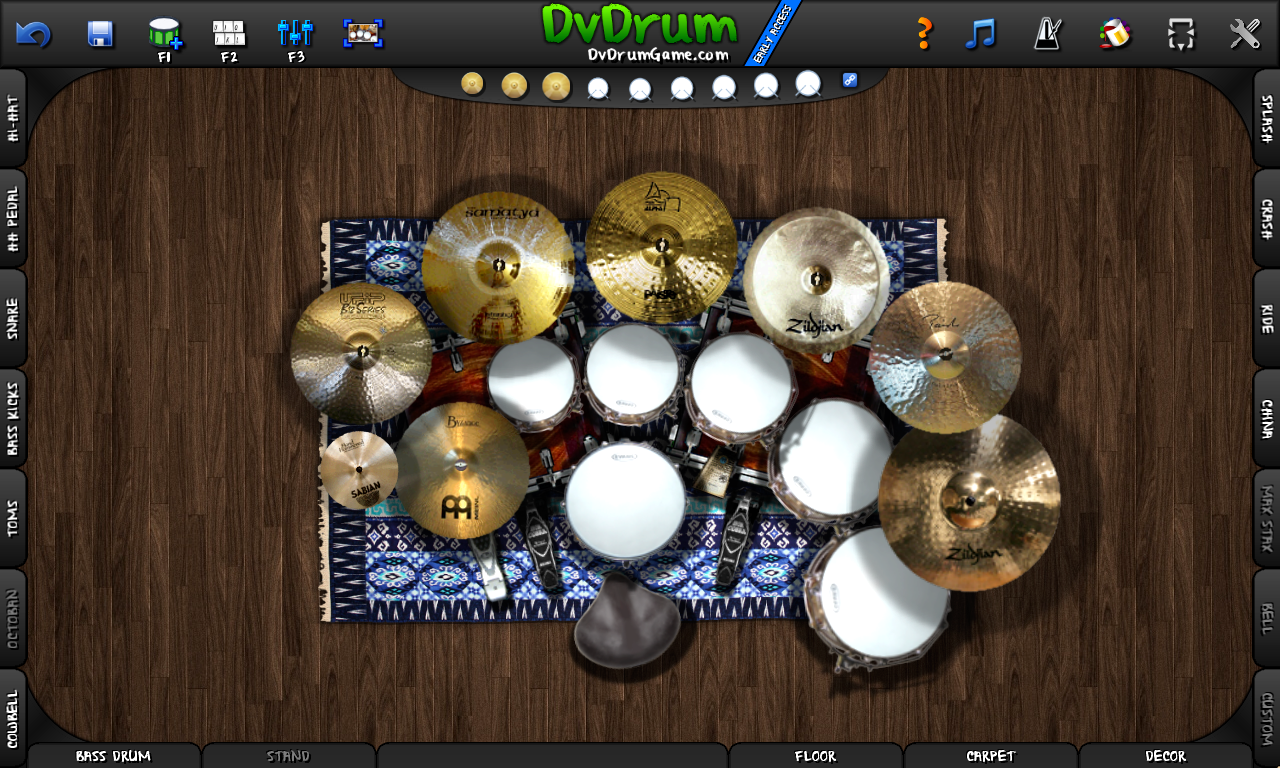 SEMPLIFIED DRUMKITS MANAGEMENT!
Added Auto-Assign Drumkit on Slot
The Slots Are Organized to 4 per Page Now
Removed the Limit of 4 Drumkit on Main Menu
Removed Slot Settings Section
Remove Drumkit by Pressing Mouse Right Button on Drumkit Slot
Fast Drumkit Creation by Pressing on a Empty Slot
Is Possible Duplicate the Drumkit by Presusefullsing Save Icon in Drumkit Section
Suspended the Drumkit Name Colour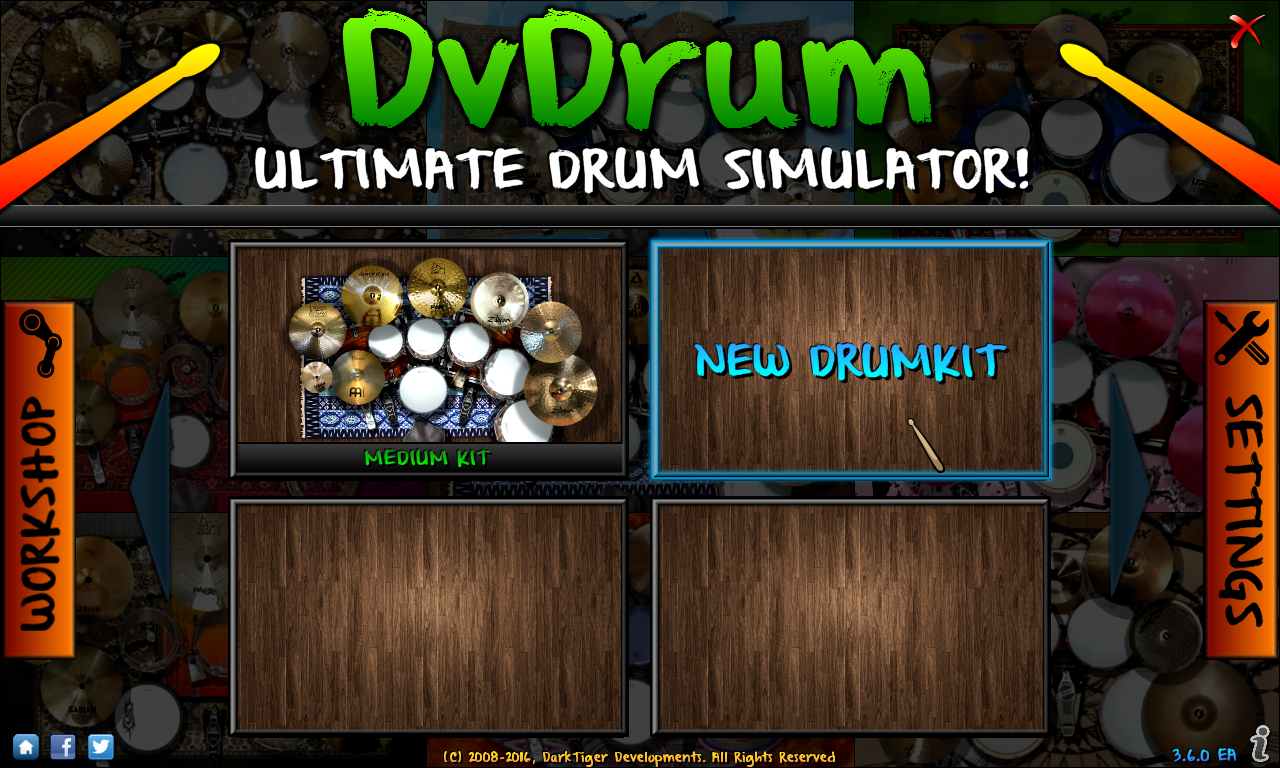 NEW COMPONENTS MANAGEMENT!
Completelly Reworked the Components Management
Every Components Have a Customizable Name now!
Added New Window to Add the Components
Added Automatic Component Name Numeration
Removed the Components Number Limit!
Added a Short Description for Every Component
Added Button for Remove Components
Added Button for Rename Components
Added Key for Fast Component Modification (F5), Very Useful!
F5 to Change Image\Position\Scale\Angle\Layer on a Component!
Stands are Independent Components Now!
Carpets are Indpendent Components Now!
Added Type Indication on Component When Mouse is Enter
The "Low Gain Snare/Shading Snare" Needs to Be Linked on a Snare Now
Removed the Load Icon, It is Useless Now with Automatic Loading
The Save Icon Can Duplicate the Drumkit or Save the Current
Revamped Drumkit Interface
Removed SoundSet and KeysMap settings, All in One now!
Added HotKeys to Main Drumkit Sections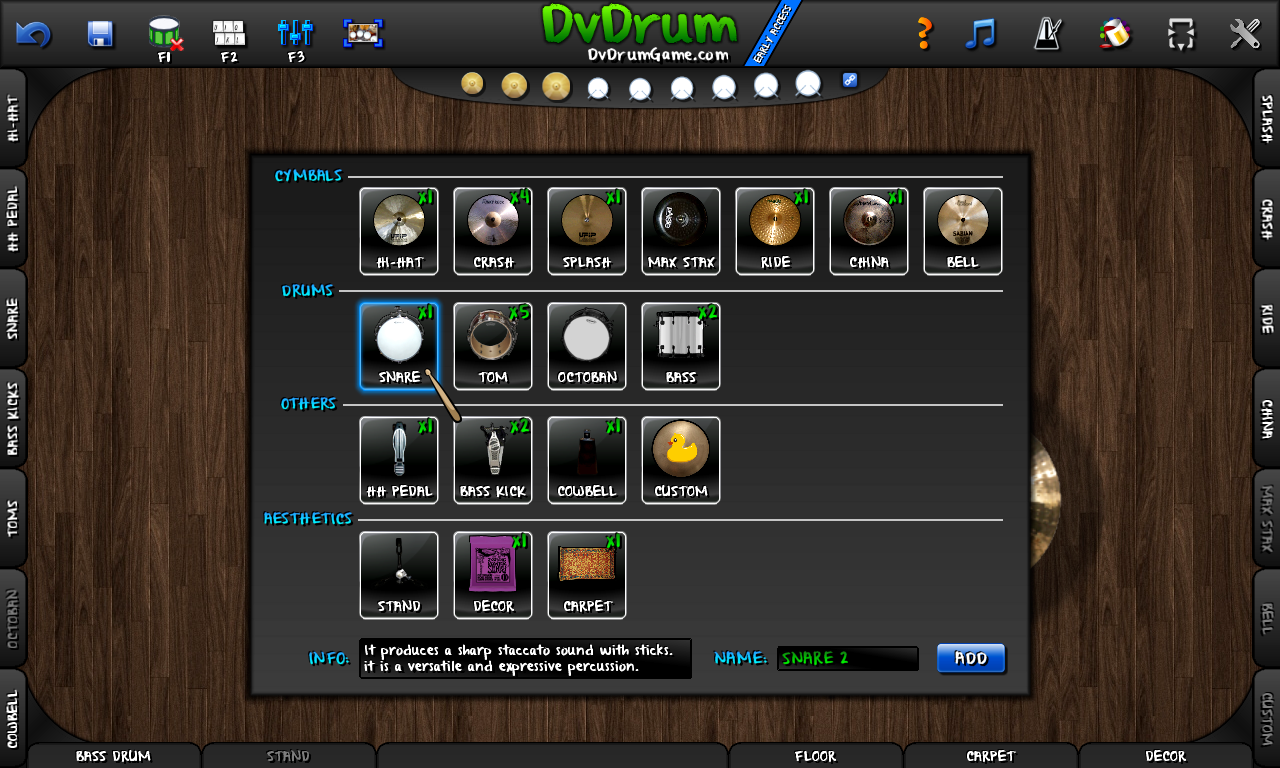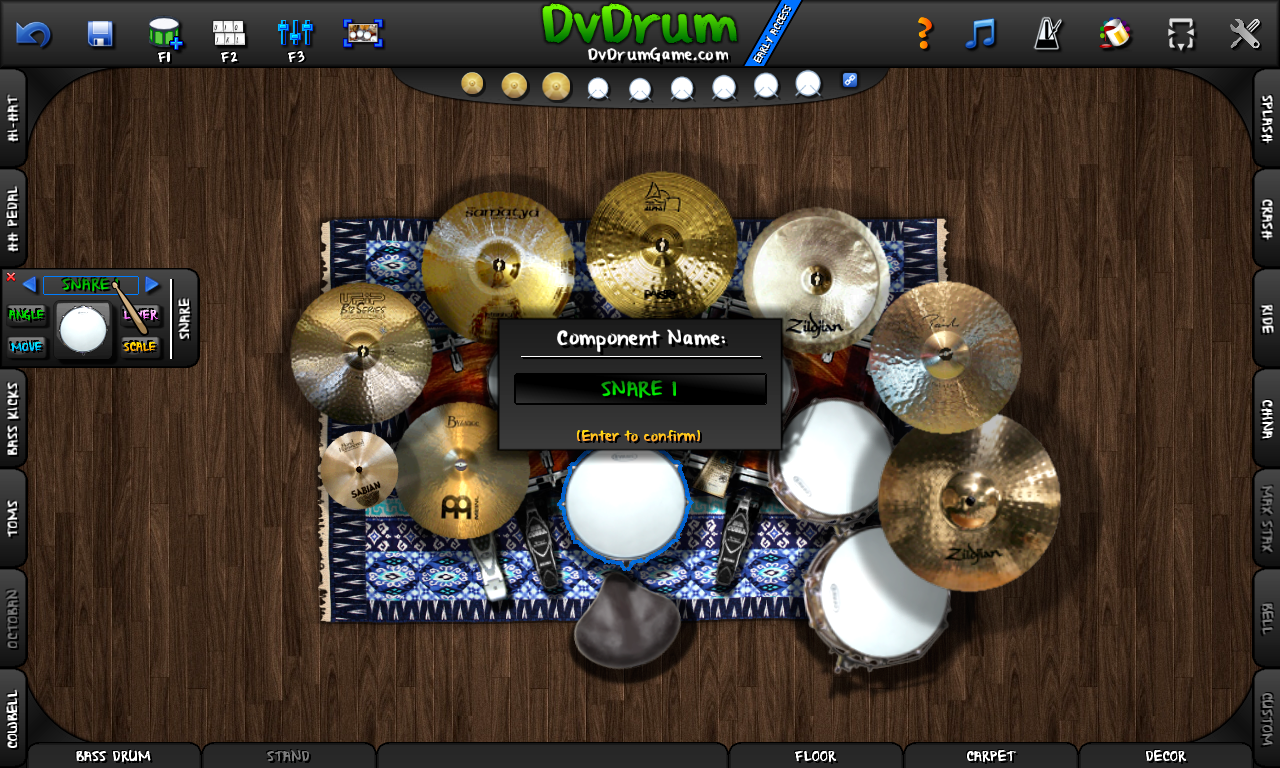 NEW COMPONENTS TYPES!
Added New Component Type: "Octoban"
Added New Component Type: "Max Stax"
Added New Component Type: "Bell"
Added New Component Type: "Custom"
The Custom Type is Useful to Add a New Type with Custom Images and Sounds
P.S. This New Types Need More Work.


SUPPORT FOR CUSTOM IMAGES AND SOUNDS!
The Custom Images and Sounds will be Loaded In DvDrum at Start
Add Your Image in "Appdata\Local\DvDrum\Workshop\Images\"
The Images Needs ".PNG" Format
Add your Sound in "Appdata\Local\DvDrum\Workshop\Sounds\"
The Sounds Needs ".OGG" and Mono (1 channel) Format
P.S. This Is the First Step for Workshop Support, Please Test It Very Well!


REVAMPED INPUTS MANAGEMENT!
Increased to 4 Keys Settable for Every Components
Added Action Hold Keys to Change the Sound Mode
Increased to 2 Keys Settable for Every "Low Gain Snare/Shading Snare"
Removed the KeysMap File Management. All in One now!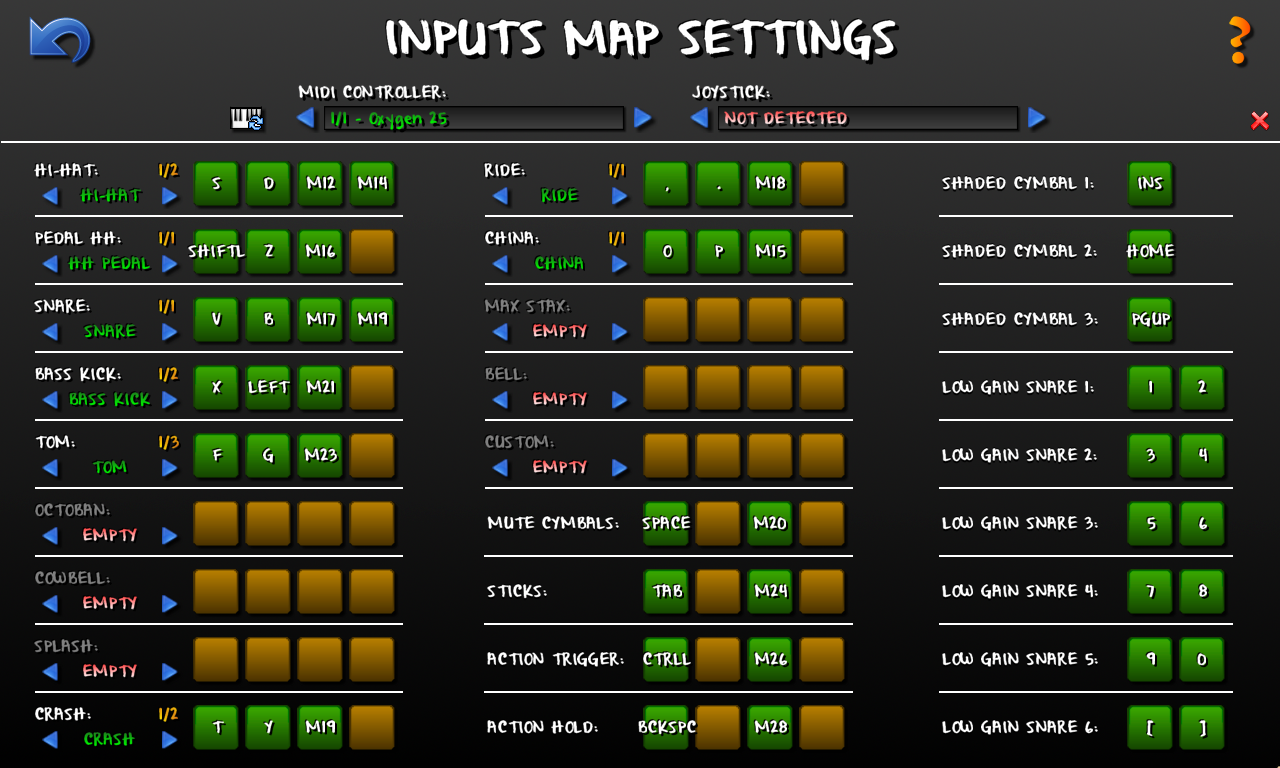 REVAMPED SOUND MANAGEMENT!
Added 2 Sound Mode: "Standard" and "Action Hold"
Sound Mode is Switchable by Pressing "Action Hold" Keys
Hi-Hat Open/Close is Switchable by Pressing "Hi-Hat Pedal" Keys
Removed the SoundSet File Management. All in One now!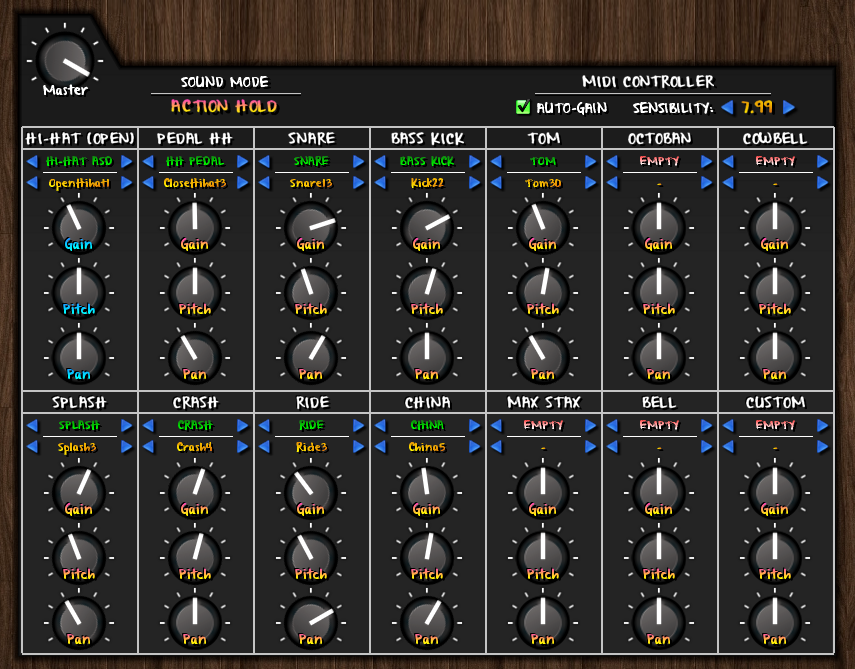 OTHER CHANGES:
Increased FPS Cap from 144 to 240 (This Could Improve Reactivity)
Improved Reactivity by Some Code Optimization
Suspended Legacy/Compatibily Mode for Maximum Performance
Fixed an Audio Bug when a Sound is Double Assigned on Different Components
Improved RAM Management
Reduced DvDrum Size on Disk
Various Bugs Fixed
NEXT STEPS:
New Features to Facilitate and Improve Drumkit Building
More Realistic Sound Simulation, Every Hit Sound Slightly Different
New Components Sounds
This is a big update with a lot of changes, please give us your feedback about problems or bugs found during the play, Thanks!

Have Rockin' Fun!
\m/ __ (- . -) __ \m/