Hello everyone,
We are happy to exit Early-access after 4 months (11 may - 6 sept).
During this early-access, we really improve the quality of the game, by adding new monsters, change the skill tree system, improve the dungeon creation and adding content.
New skill tree system:
The old was really linear, without branching and only improve the 3 fighting skill:
The new one is more complex, with the possibility to have an influence on the exploration abilities, increase the base stats or add effect on spells (a bow shot can become multiple shot, fireshot or multiple fireshot!!!)
We add more monsters to balance the fight:
We add some monsters with healing system.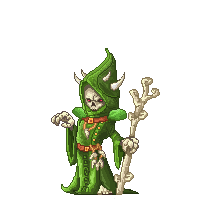 We add a new character:
Rose is a healer, to help you in the end of Act 2. Boss goblin was a little strong. Rose get heals and capacity to increase DoT damage of all your team.
More content:
We add one Act (around 6-7 hours of gameplay, for a total 20-25h solo campaign).
The new act (Desert & Pyramids) contains 9 new monsters, 2 new characters, new background (fight / introduction), new rooms, and 3 additionnal soundtracks!
We changed a lot of things and add so much more but I won't write everything here. You can find every patch notes in our steam news.
The game will exit early-access, today at 9am PDT: