Item Tooltips
Item Tooltips have been completed and now display the stats of the items: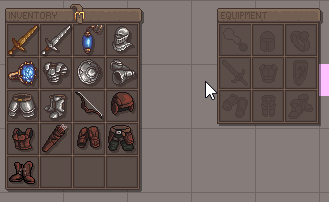 ---

Enemy Movement
I have now implemented networked enemy movement. Enemies will now chase players when they come into range, and will actively pathfind towards them. I've also implemented a spread feature so enemies will not overlap when chasing.
Below you can see a small test video of the new enemy pathfinding in a co-op game with 2 other players:
---
What's Next?
I want to expand the enemy AI and allow for 'interchangable' behaviors. I have set it up for this, I'll just have to add the conditions in such as "Attack the lowest HP character" or "Stay at Range and Shoot" etc.
I'm also going to be compiling the art assets together again and set up the menus. After that I'll be designing the Knights basic combat, and animating his attack sequences, so stay tuned for more!