Yesterday, I released a new version (v0.2.0.1) which includes a range of new improvements and features. As a result, we posted the game on Steam Greenlight Concepts to increase it's visibility and we also moved development from 'pre-alpha' into just
'alpha' since the game engine contains most of the high level
requirements. We shift our focus to mid-level game features such as creature development, mid level game logic, new objects and creatures, creature and resource management... to name a few.
The most significant change of this release is the completion of the Level Editor and the first set of Tutorial levels made using this editor. The are 5 new levels which explain how to:
Move Creatures
Move Objects
Collect Resources
Activate Objects
Craft Objects.
With the new Level Editor, I've also created new Level and Level-Chain Classes that keep track of level winning/losing conditions and connect the levels with each other, in order to load the proper levels once the player completes one.
Levels are stored on the server so that whenever we complete a new level or make changes to an existing level, the player will automatically have the latest sets of level.
The following screenshot is from the level "Activate Objects" and it shows a new 'Quest Completed' popup, which informs the player about quest progress: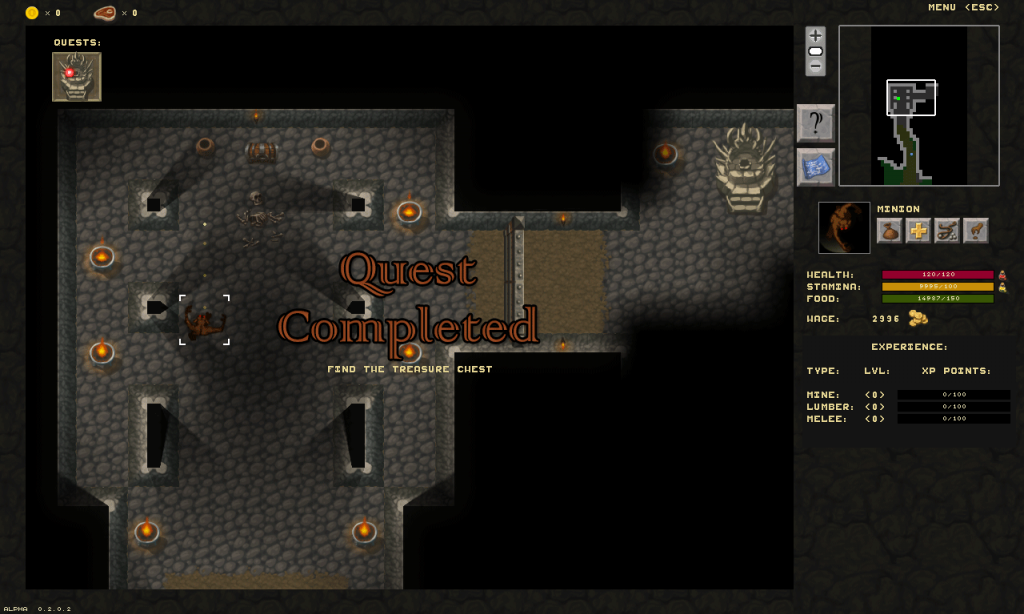 Here is a Summary of the remaining changes in this release:
New Features:
New Tutorial Level window with 5 new tutorial levels. Check back for more soon!
New Save/Load window with map preview.
Improved UI window with improved navigation.
New Quest completed notification.
New Level class that shows level won/lost notifications.
New Level Chains that allow levels to be loaded once it's parent level was completed.
Improves Mini Map with creatures proportional to the size on map.
Improves creature AI.
Improves Level Editor.
Upgrades Web-Server.
Recreates game-save storage methods on server.
Combines all logins into one login screen at startup.
Updates the website.
Bug Fixes:
Path finding improvements
Fixes bugs with shadows
Fixes various bugs that crashed the game.