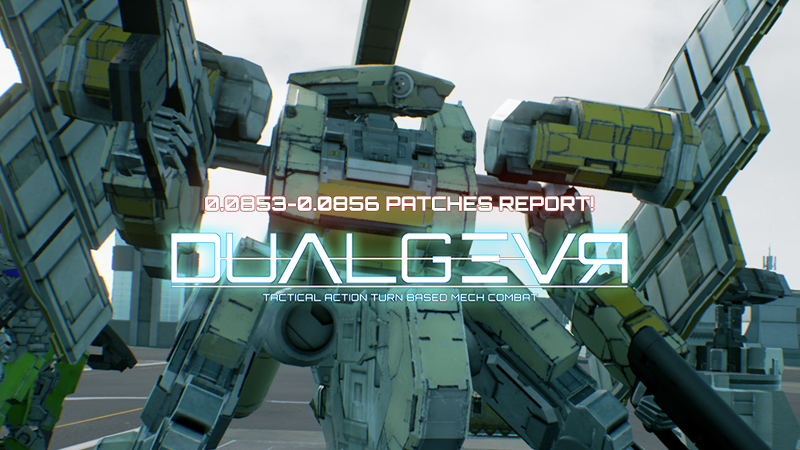 Hello, commander,
It's time to call you with that because you are chosen! Thanks for your support from the first launch on Steam Early Access! Improving is on the way. We provided four patches around the month to fix some amount of issues to build a strong basement before The Major Update. Let's check out the detail and some clues about the next Act we're working on it!
Also check out the update on Steam Click Here!
Patch Notes (Dual Gear Early Access Beta 0.0853-0.0
Skills
SG, Improve "Vector Shots" and "Binary Array" Camera.
CN, Fixed Wrong Prediction on Crosshair Aiming when player using Left Shoulder Cannon.
SMG, Improved switching opposite weapon animation in "Combination Strike"
SMG, Fixed wrong aiming at the opposite weapon in "Combination Strike"
VM, Improved a Locator Sphere of Array Strike, and Perfect Array for more correctly use.
VM, Improved projectile prediction of Vertical Missile to resolve all mistaken missile.
VM, Added Surface to Air Shots to Array Strike, and Perfect Array cut scenes. KN, Fixed infinite Sting Ammo when using any multi sting attack (e.g. Follow Sting and Machinegun Sting)
Counter Attack, Fixed non-functional counter when DG enemies cast any attack to player units.
Counter Attack, Fixed shaking, and too much swing Camera when the enemy was killed by counter-attack so quickly.
Array Strike and Perfect Array are fixed, you can put all missile into the right drop inside the wire sphere.
Range Issues
Added "Off Range" and "Out Range" to Vertical Missile Aiming. Now a player cannot lock-on any target inside Off Range and outside Out range.
Fixed Array Strike locator to be un-firing inside the Off Range area.
Crosshair
Add correct Red Dot Displaying on Vertical Missile.
Skip and Speed Up Event
Added Scene Speed and Skip to Talk Event, Cut Scene Event.
Added Skip to Briefing Event (Mother Base Menu)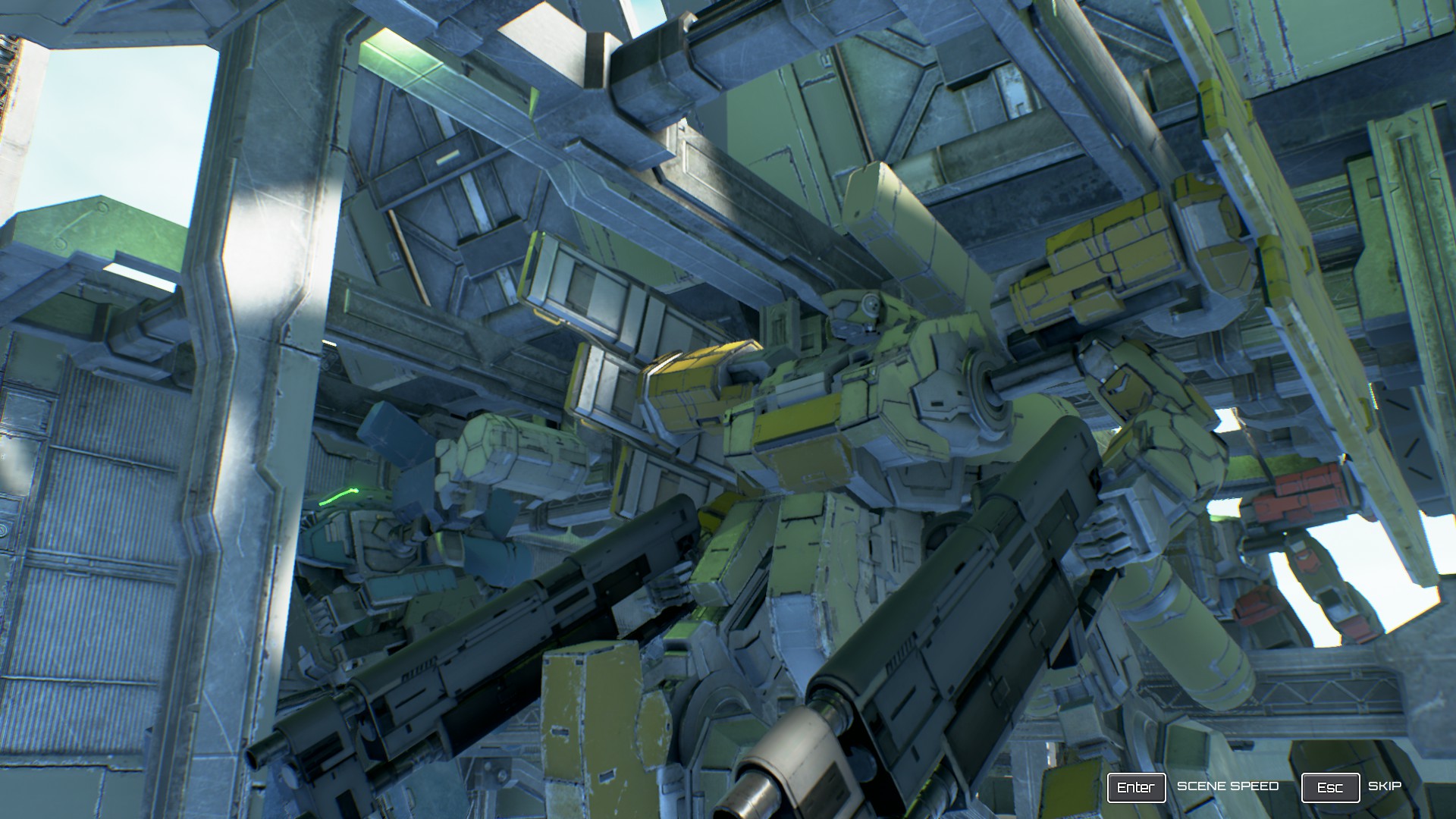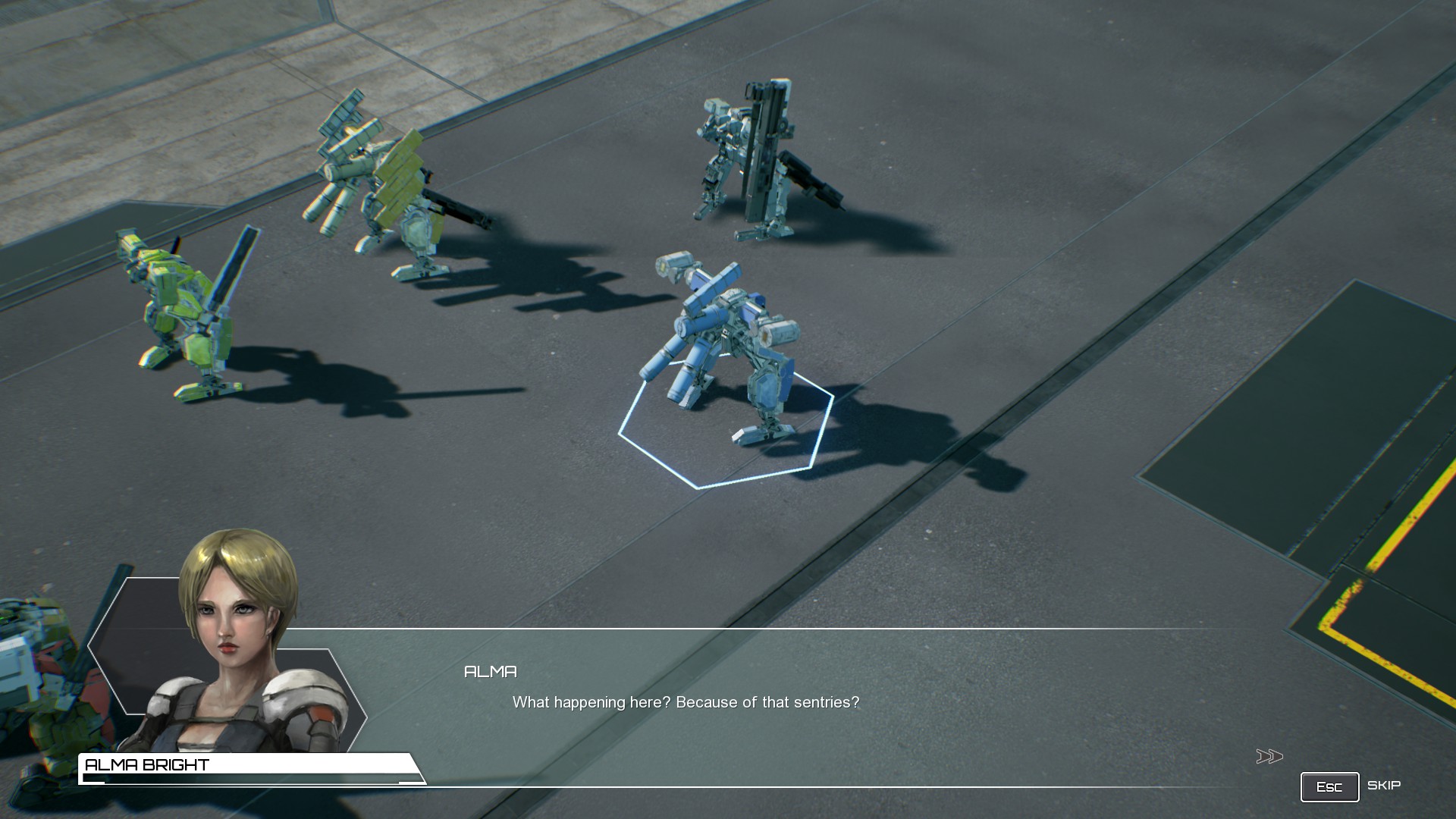 Animation
Fixed wrong shoulder animation when Mech Actor playing cannon animation.
Improved cannon barrel animation when the mech actor starts using Canon Skill.
Fixed wrong shoulder Animation when Mech Actor playing Array Strike (Vertical Missile) Animation.
Improved Wheel Boost Animation. Some wrong translation of joint animation has been removed. Also, speed adjusted.
Improved Run Animation. Now Mech Actor will not prepare to move by slowly tiptoe before the run.
I little touch on Skirmish Drop Animation (Enemies drop down from the sky)
Improve Show-Off Scene Level Up and Unit Loadout. All mech will play the fits animation depend on their equipped weapons.
Tactical View
Removed Jamming of first Clicking from Order Set Buttons (Turn End, Combat, Unit End)
Improve wrong Red Enemy Icons that are duplicated themself in any swapping event.
Game Event
Added Ajay Unit to Force Requiring in Mission 04 (Messa Naval Dock) The mission requiring Ajay to activate both switches.
Combat Mode
Removed all Ghost Enemies from Mission 04 to prevent a Soft-Lock when any player killed them by the non-intended attack.
Removed Overlapped DDE Guide that' appearing if player swaps any top menu by mouse clicks.
Skirmish Mode
Added prevent code to fix displaying Minus DMGs after player playing a skirmished exceed to 40 upper waves.
Added prevent code to fix wrong Armor and Core point gauges that was stretch over the border UI. It's happened after 40 waves upper in skirmish Mode.
Save Issues
Fixed Unfunctional AutoSave. Now the AutoSave will active with any stage in Customization and also, any Mission Saving.
Fixed Data Reflect when the player did any customization and auto-save is confirmed. Setting data will replace all unit setting in Save Slot 01.
Fixed over playtime count in the tutorial mission when player re-start with "new game"
Fixed over playtime count in skirmish mode.
Improved In-Mission save to prevent any problem that happens during Switches Activate Gameplay in Mission 04.
HUD
Fixed and improved Controller and Keyboard Guide Icons to displaying correctly. However, some of the icons still temporary and will fix by some revamp soon.
Adde Mouse Cursor in Skirmish Notification Button.
Now we can choose Skip to any in-game event and some speed up the scene to compact your play time. Yes, still need some improvement however, we decreasing a new minor patches to prepare for the new major update. New content and story are the major we must provide for you all, commander!
A solid roadmap and some preview will coming by the end of September. Also, the detail of Unique ArtWork for our backer who supported us for a long long time ago.
Before let you back to enjoy the week end. We put some captured of BABEL Orbital Fortress Mission that's coming in Next Act! It's space combat? Ok, commander. I'll give you keyword "Sand & Space"