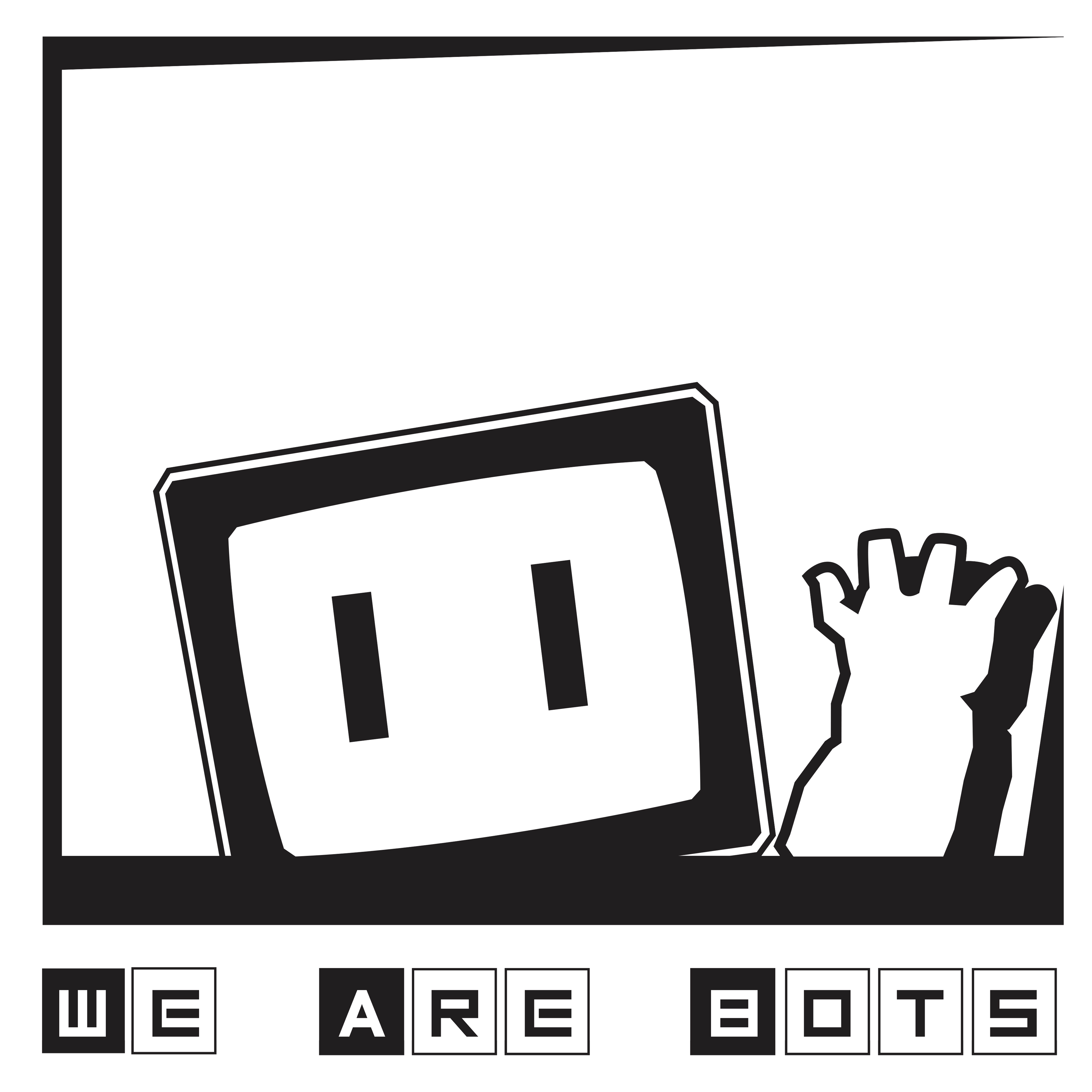 WHO ARE WE ?
We Are Bots Studio (Wearebots.fr) is a young video game development studio based near Paris, founded in 2015 by Adrien UFFERTE, with a simple purpose: having a total freedom on the creative process and making sure that the team is deeply passionate and engaged in producing the best games possible.
After first experiences in different companies, the core group that initially created We Are Bots were left unsatisfied with the way the creative process was enforced in seasoned teams. The solution was plain and simple: create your own studio, make your own games.
This time we are coming with a very serious project, wich has the potential of becoming a very innovative and immersive experience for survival games. No zombies, no ennemies of any kind, just you alone in a wrecked ship drifting into eternity…
WHAT IS DRIFT INTO ETERNITY ?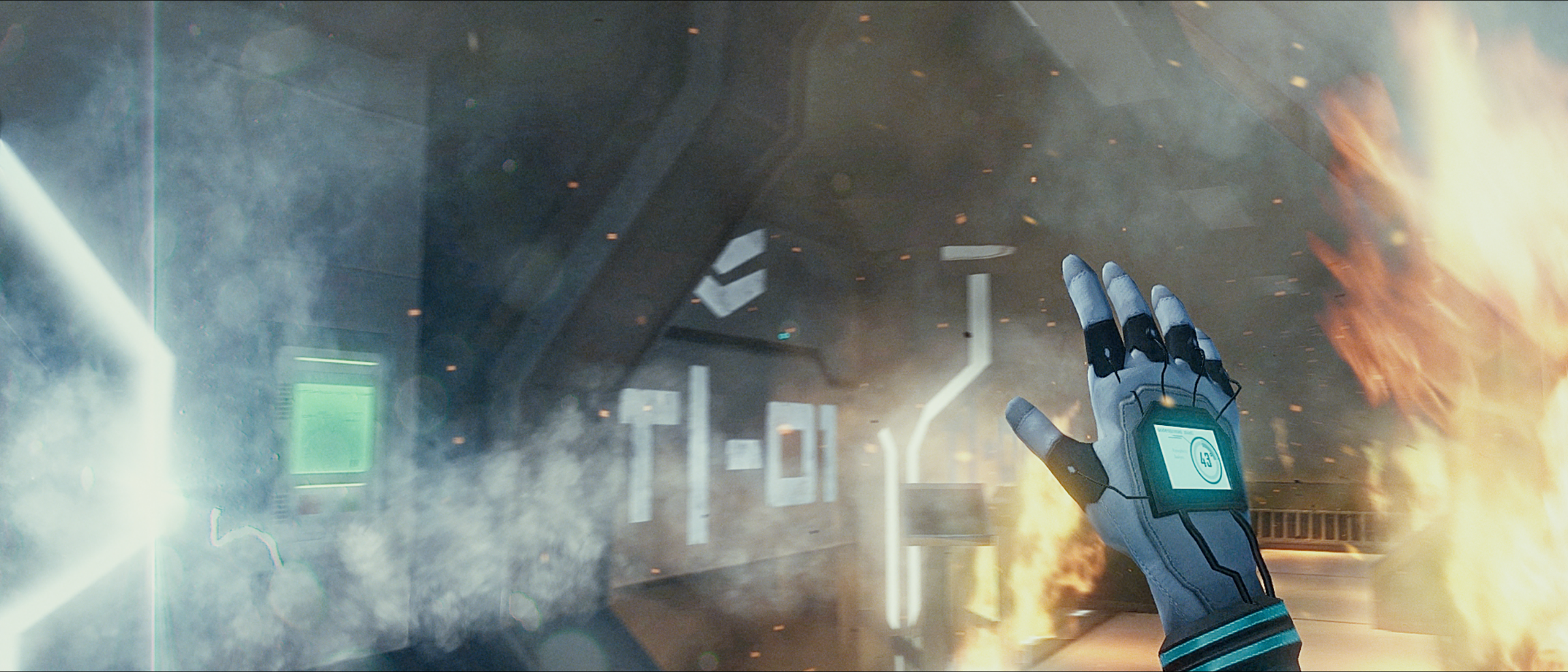 Drift Into Eternity (D.I.E) is an immersive First Person Survival Game. Trapped in a wrecked ship, you will struggle to stay alive: salvage what you need to repair the damaged systems, close the many breaches slowly riping the hull open, and try to withstand your thirst and hunger while keeping your spirits up.
While all of this is going on, you also have to worry about the dwindling amount of resources in the ship, any enhancement of your generic tool (the glove) or of your environment to make your survival a bit less difficult.Of course, you're also trying to figure out what happened and if there is any chance of salvation. Otherwise, it will just be a matter of how and when you'll die.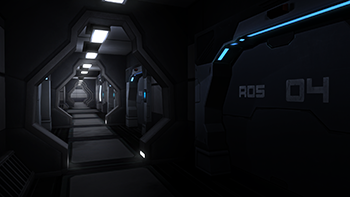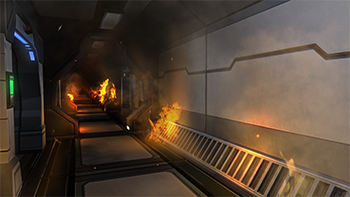 Over 50 different rooms are already in the ship.
Half of the rooms are randomly generated. Every game a new ship!
Fix breaches and your environment, extinguish fires and search the ship for food and water.
Make sure to fix as many problems as you can during the day, since it will worsen every night.
Make the best out of the 63 items that are already in the game.
Try to not die from a bad wound, a devouring disease or from an alien infection.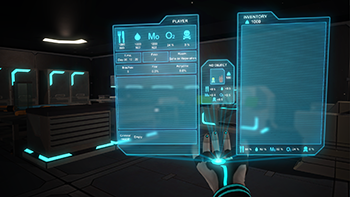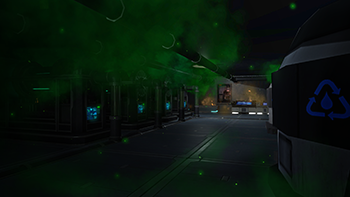 GAMEPLAY CONCEPT & INSTRUCTION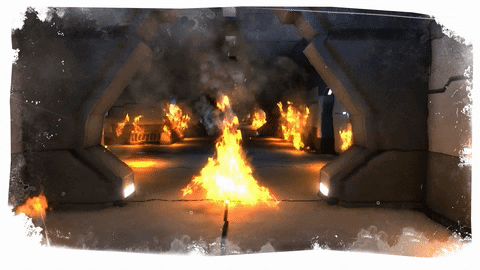 Drift Into Eternity (D.I.E) is based around the « fail is fun » concept. Therefore, a classic playthtough would lead to numerous death to understand what's the optimal way to deal with this or that problematic situation. Besides the basic informations, tutorials are meshed with the environment and will require some efforts from the player. This adds up well to this idea of gathering knowledge with several playthrough.
It is important to note that the positions of non-generic rooms in the ship are randomly generated, same goes for the content of any container in these rooms and for the events. Those elements are to break any routine and force the player to adapt to his environment, making each playthrough unique.
As time passes, your chances of survival will decrease and your only objective is to die as late as possible!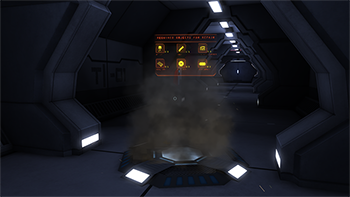 _________________________________________________
Physical LayoutRequirements : 2GB max
Average Game Demo Session Duration: 40 minutes
Number of player: 1 player max / Single-player mode
ARTISTIC STATEMENT
Drift into Eternity (D.I.E) was inspired by both our love for science-fiction classics and for survival games,. As for the structural aspect of the ship, it was inspired by the Brutalist architecture (Le Corbusier).
Brutalist structures are massive, geometric, angular shapes with an abundance of straight lines... deprived from organics forms and curves. These are the foundations of our old-fashionned universe of science-fiction.
___________________________
Apart from being an artistic choice, it was also a means to overcome the challenges we were facing as a small unexperienced, team with a low budget ; as well as a means to meet our ambitions with this game. We wanted the player to experience the game in a first person 3D environment while limiting the interface to only diegetic elements and feedback, so that he could immerge himself into the stark and cold corridors of the ship, and emphasize the feeling of being lost and alone in a huge and empty spaceship.
__________________________________
__________________________________
That's all for today ... I 'm sure I forgot a lot of things but I tried to be as specific as possible. Next time I will approach every way possible to die and survive in an article called "Dumb ways to die in Drift Into Eternity (D.I.E)"! Hunger & Thirst, Oxygen, Morale, Fire, Acrycine (poison), Wounds, Diseases... you can already check a little explanation about survival mechanics on indieDB: Indiedb.com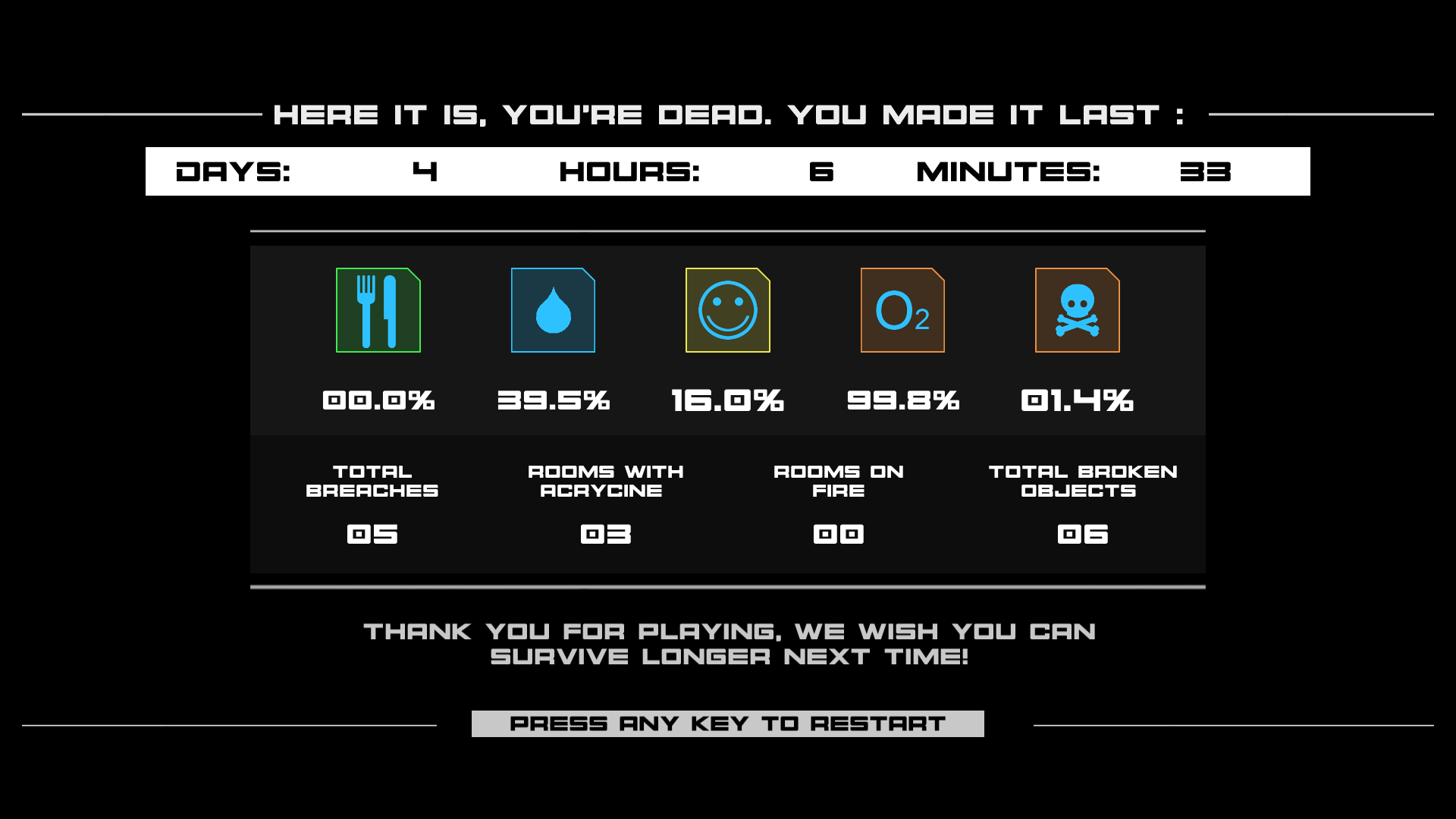 Keep on surviving!
Thank you to all future survivors for your support.