Drag[en]gine Game Engine Release 1.10
Some of the changes:
Added ECBehaviorVRHandAction. This allows to assign individual actions to each player hand to easily handle player interaction. These actions exist in addition to the regular actor action.
Added OpenXR support.
Reworked Console Launcher and Live Launcher to use Shared Launcher Library.
Updated ExampleVR in the Drag[en]gine Examples repository with VR Hand support and a small ball throw game interaction example.
See the full changelog here: Changelog Release 1.10.
Download from Microsoft App Store:

Also managed to get the IGDE (development environment) on the Microsoft App Store. You can install it from there to get automatic updates
Now both the Game Engine and Development Environment is available on the Microsoft App Store.


The video below shows the updated ExampleVR showing VR hand support and the ball throw game interaction.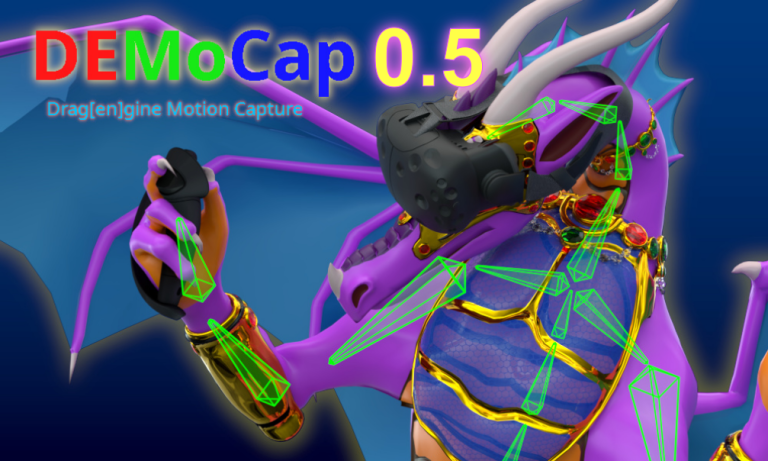 Some of the changes:
Fixed problems with all-bone capture mode and captured root bones being transformed twice.
Modified ECBCapturedAnimation to shows reset pose animator if no animators is present.
Improved Auto Human and Auto First Person View motion transfer to use precise hand controller placement.
Show hand model instead of controller model.
Added input device test window.
The DEMoCap submission to the Microsoft App Store is still being worked on. Certification of the submission is still stalled but should move on soon. Additionally DEMoCap will be also made available on Steam later on.
The video below shows a complex motion capture test with non-humanoid actor. The captured animation has been imported into Blender and post-processed into a video sequence. This has then be rendered using Blender 3.0 and GPU rendering.
This could be now improved by improving the scene in blender as well as motion capturing also the wings. Here the goal had been to test full body motion capture. Wing motion captured is a separate topic.