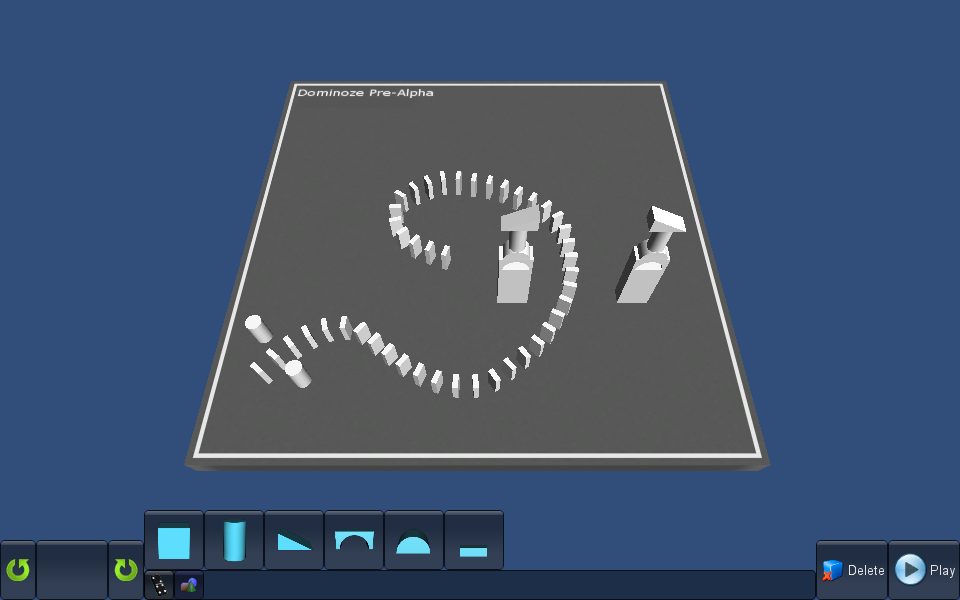 Dominoze Pre-Alpha Unity Web Build
After a couple days of work fixing, refactoring and adding code, I made some really good progress on the pre-alpha. You can now create trails of dominoes by simply dragging your mouse around. The game will follow your cursor around adding control points to what is called a "Catmull-Rom Spline" and calculate the smoothest path from one to the next.
Oh, and if you're not happy with the trail, then you can always click the Delete icon and erase some of them, and then just single-click to add them individually (and drag your mouse in the direction you want it to face in the process).
I took out the "terraform" button and added simple building blocks inspired by wooden toy block collections you can find online. You can stack them on each other, rotate and move them; and even put dominoes on them!
Here's a video of everything in action:
I'm hoping to get another update on Friday with all the objects given concept textures: A green patchwork floor, textured dominoes and wooden blocks. I'll probably need to set up a bug tracker soon, too. Almost all the work has been experimental or conceptual; but a lot of it will also be carried over into the alpha.
Anyway, feel free to try things out for yourself by going to the pre-alpha Unity Web player. I'm probably going to post what I have on Reddit for this coming Feedback Friday. I might even do a Google Hangout to get some first impressions and ideas. Maybe I'll see you there!